Floating production system designs evolve for a lower oil price
The resurgence of the floating production systems market that began last year is set to continue as operators seek to capitalize on lower pricing throughout the supply chain and replace their reserves. Engineering and design firms have unveiled cost-effective floating production system solutions for a lower oil price.
Jun 1st, 2018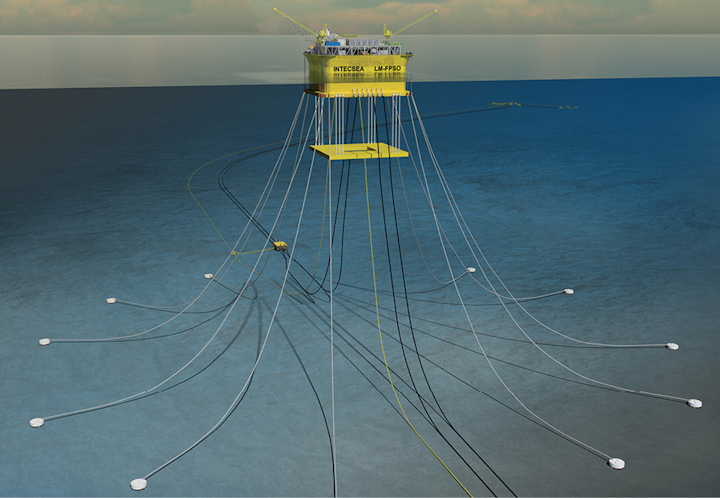 Jessica Stump,Assistant Editor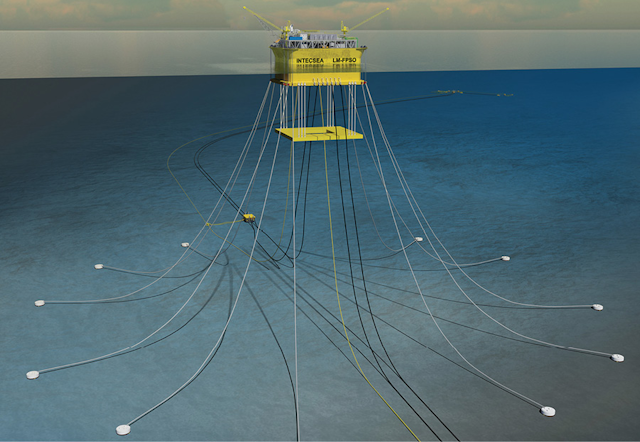 The LM-FPSO's motion response enables the application of large diameter steel catenary risers in wet tree applications. (Courtesy INTECSEA)
The resurgence of the floating production systems (FPS) market that began last year is set to continue as operators seek to capitalize on lower pricing throughout the supply chain and replace their reserves.
Westwood Energy forecasts 64 FPS units will be installed between 2018 and 2022 with a total value of $64 billion. During the same period, the analyst firm predicts 68 units worth $61 million to be ordered, 17 of which are expected this year.
In its latest FPS report, Energy Maritime Associates contends that the FPSO market recovery is under way and is expected to reach 2011-2014 levels. After almost two years without an order, 13 FPSOs have been commissioned since 4Q 2016. This year so far, three FPSOs have been awarded with another 10 possible orders by year end, bringing the annual total back to levels not seen since 2014.
David Boggs, EMA's managing director, said: "The gradual recovery that began in 2017 has firmly taken hold with FPSO orders expected to reach pre-oil crash levels. In line with our 2018-2022 forecast, there should be at least 10 FPSO awards this year. Oil companies realize that costs in the supply chain are unlikely to reduce further and now is the time to act. After substantial reductions in capacity, industry consolidation, and certain sectors working for below variable cost, it is only a matter of time before margins begin to rise."
Designs and innovation
Engineering and design firms have unveiled cost-effective floating production system solutions for a lower oil price.
INTECSEA has introduced a range of low-motion (LM) floaters – the flagship LM-FPSO, the LM-FLNG, and the LM-SEMI. The LM-FPSO can operate from shallow water to ultra-deepwater (3,000 m/9,842 ft+) fields. The design maintains all the advantages of conventional FPSOs while enabling the use of steel catenary risers (SCRs) and top tensioned risers (TTRs). However, it does not need a turret or swivel.
Comprised of field-proven components, the LM technology is said to improve platform habitation and helicopter operation while maintaining quayside integration. The technology's improved stability also makes the floater less sensitive to the topsides vertical center of gravity and weight changes resulting in reduced risk to the project schedule and cost during execution.
The LM technology consists of a solid ballast tank (SBT) that is attached to the floater hull though groups of short tendons. The SBT contains compartments for high density material (concrete, slurry, or iron ore) to provide in-water weight and maintain tendons in tension for all design conditions. The remaining SBT volume is completely flooded with seawater at its in-place condition. During the pre-service conditions, the SBT is in a retracted position relative to the hull and maintained in this position through its buoyancy force. Once the platform reaches its in-place position, the company said, the SBT is flooded and lowered using two of the mooring chains at each corner, which are temporarily used for this purpose. The tendons are then upended and installed. No coupling or installation derrick barge is required for the tendon installation.
The floater's motion response enables the application of large diameter SCRs in wet tree applications and the hosting of TTRs in dry tree applications. Plus, it enables well drilling and completions from the floater, which is currently not feasible on conventional FPSOs due to their inherently high motion response, the company pointed out.
The rectangular-shaped hull enables easy layout of the topsides facilities with proper separation between process and living quarters. It also allows large displacement, if needed, for easy hull fabrication and placement of cargo tanks.
Geeta Thakorlal, president of INTECSEA, said: "With the easy oil long gone, operators are increasingly turning to more remote, hostile, and often deepwater environments. However, the challenge is the financial viability of these fields. The LM technology is incredibly exciting because it represents a major step forward in improving the economics of these offshore developments."
The LM-FPSO, the designer claims, transforms the economics of harsh, remote offshore fields with savings between $500 million and $1.2 billion per project. The designer in collaboration with Korea Research Institute for Ships and Ocean Engineering performed a five-week comprehensive LM-FPSO model testing program in Daejeon in November 2016.
Thakorlal added: "The combination of established, field-proven components and motion response verified by model testing, along with our technical expertise and industry track-record, has proved the LM technology as a reliable and cost-effective solution for all water depths and environments."
Aker Solutions unveiled a lighter weight semisubmersible platform designed to help unlock more marginal oil and gas fields in harsh environments in October 2016. The Lean Semi aims to bring onstream fields holding as much as 300 MMboe at water depths of 100-400 m (328-1,312 ft).
Bureau Veritas has awarded MODEC approval in principle for the FSRWP vessel concept. (Courtesy MODEC)
The topsides weighs about 6,000 metric tons, which the company claims, is 30% lighter than similar solutions. Platform delivery time has also been reduced. Depending on necessary specifications, the platform can be delivered in 29 months.
Valborg Lundegaard, head of Aker Solutions' engineering business, said: "We envisage these platforms will be ideal in developing marginal resources that are located next to bigger fields with excess processing capacity. The concept combines lean design philosophy with the highest levels of safety."
The platform brings together elements from two proven designs in the North Sea and Gulf of Mexico. It is the result, the company says, of a review of every single platform item to enable a 60,000 b/d production capacity at a lower investment cost.
The platform has an unmanned hull combined with a single flat top deck to ensure the structural integrity. Also, the topsides is designed to use standardized equipment, meaning equipment skids and small modules can easily be placed directly on the deck.
Approval in principle
Recently new FPS designs have received approval in principle (AIP) from classification societies.
Bureau Veritas has granted Mitsui Engineering & Shipbuilding Co. Ltd. (MES) AIP for the noah-FPSO Hull and associated design and construction methods. The AIP provides assurance of the feasibility and reliability of the noah-FPSO Hull design. This is a next generation FPSO platform, and "noah" stands for new offshore adapted hull. The hallmark of the platform, according to MES, is that it allows a flexible approach to design and construction of the hull reflecting production requirements, rather than adjusting the production facilities to the hull's design.
MES pointed out that the noah-FPSO Hull can be applied to any operational field as a platform, optimizing both engineering, procurement, construction, and installation (EPCI) processes and operation and maintenance. Also, the wide deck area permits the installation of more complex and heavier topsides in comparison with conventional FPSO conversions.
The modular design concept, assembling appropriate modules, meets the variety of requirements of individual oil fields, and provides for flexibility in the event of design changes – as is common in FPSO projects, the company added.
In addition, MES said the standardized fore/aft modules and the parallel-body module with adjustable length can be separately constructed at different shipyards, which expands options for construction location, as well as scheduling based on dock availability. The hull form of the noah-FPSO Hull consists of flat or 2D bending plates, which can reduce construction costs while improving operability and availability against green water or slamming loading.
ABS has granted Hyundai Heavy Industries (HHI) AIPs for the newbuilding conversion FLNG and FPSO hull designs. The FPSO design basis is storing 2 Mbbl of crude oil in the barge-shaped hull, applying mainly shipbuilding standards, and combining offshore production facility features such as a 25-year lifetime without drydocking, and structural reinforcement for topsides structure installation.
HHI said that both hulls can be constructed for about half the cost of traditional hulls.
ABS and HHI collaborated to develop technically feasible and class compliant FLNG and FPSO hull designs, using the latest industry trends while maintaining high safety standards. The ABS AIPs demonstrate the designs substantially comply with Class and Regulatory requirements and minimizes risk to project schedules and safe operations. This gives regulatory agencies and other key stakeholders confidence in the designs.
In addition, ABS has granted Dalian Shipbuilding Industry Co. Ltd. AIP for the DSTLP500. This deepwater TLP unit is designed with four pontoons, four columns, and eight tendons. It is suitable for operation in water depths up to 500 m (1,640 ft), primarily in the South China Sea.
Floating water and power solutions
Many designers have expanded their portfolios to include floating solutions that provide clean water and/or electrical power more economically, efficiently, and faster than conventional land-based options.
Wison Offshore & Marine has developed designs for floating power supply. With the design philosophy of "plug-in power," the W-FSRP (Wison-floating storage, regasification, and power generation) series feature integrated functions of LNG loading and storage facilities, regasification, and power generation. The smallest unit starts at 10-MW capacity, while the largest accommodates an 800-MW power plant.
W-FSRP designs integrate storage, regasification and power generation in a single unit. The heart of the facility is the power plant. The company works with power plant providers to supply the power generation and transmission packages. In consideration of operational efficiency, maintenance and plant availability, different configurations are available to suit specific power demand profiles.
Compared with land-based solutions, the floating power supply is advantageous in fasttrack implementation and attractive pricing with flexibility, as the construction work completed in fabrication yards normally results in efficiency and cost reduction. It is also an investment-friendly solution because it minimizes the land acquisition process and requires less civil works. Therefore, the floating LNG power generation solutions are now being considered in many places around the world.
CEO Ying Cui said: "We can see increasing demand from the regions in Southeast Asia, West Africa, Caribbean areas, west coast of India etc., where electricity demand is growing and onshore solutions may not be commercially feasible or preferable."
MODEC has developed the next-generation FSRU, the floating, storage, regasification, water-desalination and power generation (FSRWP) vessel and its associated systems for power only (FSR-Power) and water only (FSR-Water).
According to MODEC, the power and water solutions make use of LNG as a fuel source to bring clean power and water either on an independent power producer; EPCI; build, own and operate; or build, own, operate, and transfer basis within 18-24 months of contract award to any shore. The company offers a range of pre-engineered designs: small, medium, and large, with power generation capacities of 80 to 1,000 MW.