Jeremy Beckman
Editor, Europe
Of the 17 spar platforms in service today, 12 incorporate hulls built at Technip's specialized construction yard in Pori, western Finland. Another hull is about to be delivered to Anadarko, the leading advocate of deepwater spars, for the Lucius project in the Gulf of Mexico.
Anadarko currently operates five spars on fields in the GoM, all assembled in Pori. Work has started at the Pori facility on Anadarko's eighth spar, which will be for the Heidelberg field. And over the next few years capacity could be tight, with BP contracting more spars under a framework agreement for its next wave of deepwater GoM projects.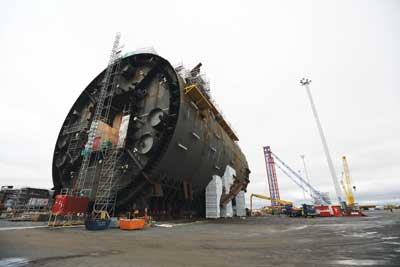 Outdoor assembly of Lucius spar.
The yard, now known as Technip Offshore Finland, was established in 1972 as Rauma-Repola, initially to assemble nuclear power plant modules. During the following decade it branched out into construction and conversion of drilling jackups, starting with theSahalinskaja, delivered in 1985. "Many of the original team from that era are still in place," said General Manager Roland Bianciotto.
Rauma-Repola's offshore division had a reputation for innovation, and in the early 1990s management decided to reposition the yard for the new types of structures required for deepwater production. It won the contract to build the hull for the world's first spar for the Neptune field in the Gulf of Mexico, operated at the time by Oryx Energy, and has dominated the market since. Technip has also collaborated on two other spars, one built on the US Gulf Coast and the other in Malaysia for Murphy's Kikeh project.
The Pori yard became part of the Technip group with the acquisition of Coflexip in 2001. Technip has since upgraded the site and assembly areas to handle simultaneous construction of two or even three spars. Facilities now include a 51,050-sq m (549,497-sq ft) covered shop on a 110-ha (272-acre) yard; three main fabrication workshops; a spar section workshop; two assembly and launch lines; an outfitting quay with gantry crane; a quay with water depth of 8 m (26 ft) under an assembly crane, and 11.5 m (38 ft) at assembly/load-out rails; and two heavy load assembly/load-out rails for heavy offshore structures.
Equipment includes machines that can roll steel plates of up to 180-mm (7-in.) thickness - in Lucius' case the thickest plates are 100 mm (3.9-in.). In addition, there is an ongoing investment to improve the quality of automated welding by developing new techniques, in association with subcontractor Holmings, various Finnish universities, and welding expertise providers such as Kemppi.
Aside from spars, the yard has been used in recent years to convert Technip's deepwater construction vesselApache II. It has also produced subsea structures for projects in the GoM and offshore West Africa, ranging from buoyancy cans for free-standing hybrid risers to suction piles for manifolds. Latterly it has manufactured components for the GoM Marine Well Containment System.
According to Bianciotto, the location on the Gulf of Bothnia favors fasttrack assembly of spar hulls for various reasons. "Sea conditions are good. There is no tide in the area, so heavy lifts and load-outs can be done with no concern about stability. And in this part of northern Europe, steel can be procured within three weeks of starting a project, provided by Finnish, German, Dutch, and UK suppliers. This helps the construction schedule."
Tom Ayers, VP Offshore Projects, North America, added: "At Pori we have never been late in delivery of spar contracts. Even with change orders arising during construction we have always been within one month of our target."
At peak periods the yard typically employs 1,500 personnel, as was the case for the Lucius spar, although it can accommodate over 2,000, including subcontractors. "We can attract a tremendous labor force because of the yard's reputation for safe practice," Ayers said. "Welders working in a hot, tight situation know that Technip will take care of them." Because so many of the yard's contracts are for the GoM, Technip Offshore Finland reports directly to the business unit management team in Houston at Technip North America. However, the 120-strong engineering group in Pori also liaises with Technip staff in Paris and Kuala Lumpur on projects in other regions, such as Statoil's Aasta Hansteen spar in the Norwegian Sea, which will be built in South Korea under a consortium agreement venture with Hyundai Heavy Industries.
Spar advantages
Although the US GoM is now open to FPSOs, spars, and semisubmersible platforms remain the favored choice for most new deepwater projects in the region. According to Philippe Barril, Technip's Executive VP and COO Onshore/Offshore, "the selection of spar platform depends on the operator's field development requirements. TLPs are restricted beyond certain water depths by the increasing weight of their tendons; semisubmersibles can have large topsides, and are not restricted by water depths, but in general cannot accommodate dry trees. Spars have no limitations in terms of water depth, and they can support wet or dry trees and provide product storage, although there are some restrictions in topsides weight." For repeat customers such as Anadarko, added Bianciotto, there can be the benefit of favorable steel prices.
Ayers listed various other advantages in terms of safety and operability. "Spars are designed to withstand hydrostatic pressure, and to support topsides and risers with buoyancy. The construction incorporates heave plates that minimize both heave and vertical movement. Truss spars incorporate strakes and hard tanks that reduce vortex-induced vibration…the low motion levels make spars better suited for steel catenary risers in deepwater than other systems."
Ayers continued: "This is the simplest type of platform you can operate not on the seabed, taking less than 12 weeks to install, including six days to upend the hull using the variable-ballast system that pumps water in and out of the tanks at the bottom of the structure. Once installed, spars are unconditionally safe: their center of gravity is below the center of buoyancy, so they are always stable, even if a mooring line breaks free. That applies even in typhoons or hurricanes."
Ayers also noted that spars can support high-pressure risers, which are pulled inside the tanks. "During production, if there are problems with high levels of carbon dioxide (CO2) or corrosion affecting the risers, with fatigue likely, spars are the system of choice, due to reduced motions both at the floater connection and the seabed touchdown point."
Welding indoors at Pori, Finland.
Assembly process
Construction of spar hulls starts with assembly of stiffened flat panels, a typical method used in shipbuilding for lightweight structures. The first step involves building up sections by laying plates in bending jigs followed by in-situ welding of ring girders. The plates are then transferred to a welding jig where all remaining welds are completed.
Steps 2 and 3 involve assembly of the sections into lower half and upper half ring sections separately, which are then transferred outdoors for assembly on rails. "RMS towers on either side hydraulically lift the upper sections in the air, and the lower sections onto rollers, which are then skidded underneath the upper sections for welding together," Ayers explained. "This process is repeated seven to eight times. Then we assemble the truss, heave plates and soft tank: the key is to get the base of the hard tank into position for this to happen. After that, we install the pull tubes for the risers and umbilicals."
When the transportation vessel arrives in Pori for the transatlantic tow (Dockwise'sMighty Servant will deliver the Lucius spar), the vessel is ballasted down to be levelled on the quayside with the completed spar structure. Skidding onto the vessel is a 24-hour operation that involves hydraulic jacking over rollers. Dry-tow of the Lucius spar to the Kiewit yard on the GoM coast should take 22 days. "On arrival, the spar will be taken to the quayside, the ship will be deballasted, with seafastenings removed and cut from the spar's outer shell, followed by grinding and smoothing," Ayers said. "We can measure if the spar has undergone any twisting during transport." The spar will then be floated off and towed to its offshore location.
"On arrival, the bottom of the spar is flooded to start the upending process,' Ayers added. "Water is poured into the ballast tanks until the hull becomes upright. Once vertical, the mooring chains are installed, at which point the structure is storm-safe. Then a fluidized mixture of iron ore is pumped into the spar's soft tank, deposited in the place that gives it correct center of gravity."
Heerema'sThialf heavy-lift vessel will install the topsides and the nine-point chain/polyester/chain mooring system. Normally spar topsides can be set down in a single lift, Ayers said, unless the payload is unusually large, as was the case with BP's Holstein spar. A catamaran barge configuration was used to install Murphy's Kikeh spar topsides offshore Malaysia.
Sixth in line
Anadarko's existing GoM spars are on the Boomvang, Constitution, Gunnison, Nansen, and Neptune fields. "Every spar is tailored to its environment and payload," Ayers pointed out. The Lucius field, in Keathley Canyon blocks 874, 875, 918, and 919, will produce oil and gas through a conventional truss spar - the most common choice to date - 650 ft (198 m) long and 110 ft (33.5 m) in diameter, and installed in 7,100 ft (2,164 m) of water. The hull, weighing around 20,000 tons, will support 16,500-ton topsides, under construction by Kiewit in the US. "This spar has been optimized for performance of wet-tree risers, with 10 risers connected to the topsides." Technip was awarded the contract in December 2011, and the hull is due to sail out of Pori in mid-April.
Production capacity will be 80,000 b/d of oil and 450 MMcf/d of associated gas from six subsea wells, with start-up slated for 2014. Oil will be exported via a 145-km (90-mi), 18-in. pipeline to the South Marsh Island area block 205 platform, in water depths ranging from 7,025 ft (2,141 m) at the outset to 445 ft (135 m) at the reception area. In 2011, Anadarko and its partners Plains E&P, ExxonMobil, Apache Deepwater, Petrobras, and Eni signed an agreement for the Lucius spar to additionally process gas at some point from the Hadrian South development, which could involve some modifications to the topsides.
The Heidelberg facility will also be a truss spar with a similar weight, but for a shallower water depth of 1,620 m (5,310 ft). Here Technip has a letter of intent to start fabrication and purchase long-lead items for the hull in advance of project sanction, expected mid-year. Pori is performing detailed design of the hull and fabrication, with Technip's operating center in Houston responsible for overall project management and engineering. The Heidelberg spar will have capacity to produce over 80,000 b/d of oil and 2.3 MMcm/d of gas.
In January Statoil submitted a plan for development and operation of the Aasta Hansteen gas/condensate field in the Norwegian Sea. Assuming regulatory approvals, the project should move forward this year. This will be the biggest spar built to date, weighing 40,000 tons, and with a length of 645 ft (196 m) and a diameter of 164 ft (50 m). It will also be the first to incorporate tanks for condensate storage (in this case 30,000 tons), with electrically operated elevators for accessing and inspecting different levels.
Construction should take 16-18 months. On arrival at the designated Norwegian fjord, the spar will be upended, the topsides floated on top, and the completed structure towed to the field location. Hyundai will build this structure: "There is only so much capacity available at Pori," Ayers said, "and we are content to focus this location on delivering spars to BP over the next 10 years," Sayers said. The first project covered by this Master service agreement - currently in the detailed design phase - is Big Dog.