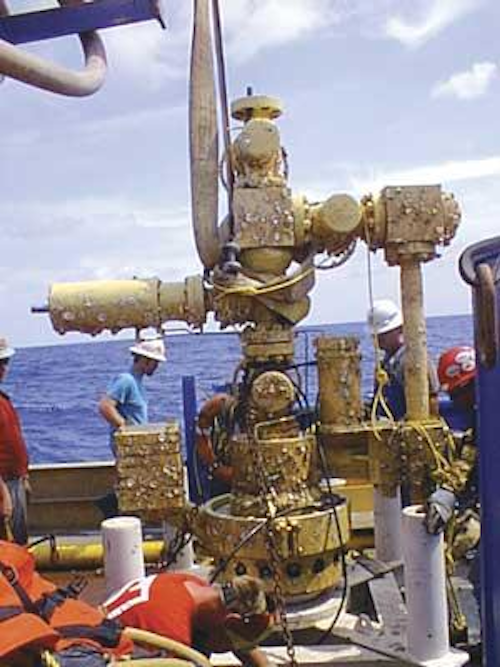 William Furlow
Editor-in-Chief
PART I: This story is the first in a two-part series on creative decommissioning strategies.
While service companies and opera-tors alike tout the advantages of life-of-field management, there is surprisingly little thought given at the outset of a development as to how that project will be decommissioned. With the recent move by operators from their hold-ings in conventional water depths to deepwater prospects, many older properties have changed hands. In the Gulf of Mexico, an increasing number of shallow-water jackets are reaching the end of their useful lives and must be removed under US Minerals Management Services regulations.
Growing market
As decommissioning hits its first big boom with the platforms of the 1970s and 1980s reaching the end of their productive lives, a number of companies are offering turn-key decommissioning services, and some are even buying these properties from the operators.
With somewhere between 4,000 and 5,000 platforms averaging over 19 years old, the Gulf of Mexico is a very attractive decommissioning market, according to Gary Hanna, senior vice-president of Tetra Technologies Inc.
The design life of most platforms is 20 years. This can be extended through maintenance and upgrades, but Hanna said the primary driver is the reservoir. While many old platforms are retired, over 90% of the jobs Tetra encounters involve wells that are no longer able to produce. The MMS sets time limits so that platforms with non-producing wells will be removed in a timely fashion.
Decommissioning
Most operators do not look forward to the decommissioning process. It is costly and comes just at the time when a project is least able to support it. On top of this, there is a variety of paperwork, permitting, and surveying involved that can draw out the process. Bottom line, according to Hanna, most operators are not set up to deal with decommissioning and would just as soon contract the work out. Tetra can provide complete engineering, project management, plugging and abandonment, and decommissioning services with in-house personnel and equipment. In a number of cases, the company will take over an asset nearing depletion, operate it through the end of its productive life, and then decommission it. The operator gets to walk away from the field and focus attention and resources on new, more profitable projects.
Hanna said, aside from the risk Tetra takes in such a deal, it also can be difficult to convince a major that an outside company will properly decommission a field. This is a real concern because if the field is not properly shut down, it could come back to haunt the former owner. When acquiring an asset, Hanna said, the MMS requires a decommissioning company such as his to be bonded, in case there is a problem with a project. It comes down to the size, experience, and safety record of the company and its ability to fund and manage the project.
Tetra has been successful in these projects because it has the equipment and resources needed to enhance production on late-in-life fields, he said. Even a small increase in produc-tion can pay off in these situations because the service and equipment cost for Tetra to perform these workovers are reduced. Tetra will often take steps the operator would not since the operator's attention is focused on larger, newer, or more profitable prospects, rather than on sunset properties.
"These are the bottom end of their portfolio," Hanna said.
The formula
There is a formula for how much a field must produce to be a viable interest. Once produc-tion falls below this threshold, the field is targeted for decommissioning. A great advantage to this approach, Hanna said, is that it allows Tetra to space its work out. Tetra can schedule decommissioning on these properties when it fits into the work schedule of the company's people and equipment. This ensures the company's assets are working through lulls in the business cycle. Such jobs take advantage of the company's own engineering and project management expertise and its abandonment and workover rigs, rigless packages, heavy lift, and electric wireline services, allowing Tetra to generate some internal returns.
Although this model is applied often, it is far from standard practice. Hanna said his company has to carefully evaluate each prospect before assuming ownership. Most projects are done on a simple turn-key basis. Still, the ownership model points out the need for flexibility in this business. Hanna said there are so many variables in a decommissioning project that no two are alike. To be both competitive and profitable, a company has to take a creative approach. This creativity is easier for an integrated company like Tetra but is still a hallmark of this business.
Health, safety, and environmental issues are also central to the decommissioning process. Any major disaster during decommissioning can come back to haunt the operator, in addition to hurting the company performing the work. Because of this, operators look closely at the safety records of decommissioning firms. This is not only true for the unusually structured deals, but also for projects the company accepts on a day-work or turn-key basis, which, Hanna said, makes up the bulk of Tetra's decommissioning work.
The process
Richard Dodson, managing director of Tetra Applied Technologies, said decommissioning begins with engineering and planning, which provides a critical link to the actual plugging and abandonment of the wells. To do any of this work, permits must first be secured. After well abandonment, the platform must be prepared for removal. This involves cleaning out all the hydrocarbons and other contaminants from lines, tanks, and equipment.
Likewise, pipelines must be cleaned and flush-ed before they are abandoned. Unlike the platform, which will be removed, the pipelines are capped on the ends and buried under the seabed. The platform is removed using a heavy lift vessel. Then, the site cleanup begins. This stage involves the removal of everything from the seabed surrounding the platform. Once this is complete, the site is trawled to ensure nothing was left behind.
One of the variables in this type work is objects left on the seabed. While there is a certain amount of subsea equipment involved in any project, often, over the several decades a platform was in place, other debris was dropped over the side or abandoned on the seabed. Whatever is found below the platform, and in a specific radius around the platform, must be cleared away before site clearance is verified.
Variables
Depending on the number of wells that must be P&A'd and the size of the platform, decommissioning projects can last up to two months. Dodson said the biggest variable in such projects, besides the number of wells involved, is the complexity of the individual wells, condition of the well bores, and existing casing pressures. On the surface, everything is pretty straightforward, Dodson explained. One can climb on a platform and inspect the equipment. It is not until the job begins that many subsea and subsurface contingencies manifest themselves. Downhole conditions define the complexity of the P&A process.
"Downhole wellbore conditions and debris on the seabed, these are two things you can't see," he said.
Platform disposal
Typically, the equipment and platform being removed are sold for scrap to whichever vendor is readily available. Hanna said there are two reasons most of these platforms are not reused. First, they are very old and often in bad shape. Second, technology has advanced so rapidly over the last 20 to 25 years that much of the equipment on these platforms is considered ancient by current project standards. Occasionally a well will play out early, forcing the operator to decommission a relatively new platform. In these cases, recycling is sometimes an option, but this is rare because the cost is often high. Such platforms frequently are converted into host facilities for nearby prospects.
The option to convert a defunct platform into an offshore reef for fishing is often considered. While this would seem to be a win-win proposition, it is actually quite expensive. The platforms must be moved to an appropriate location, and there are other regulatory considerations.
"It's an economic as well as environmental decision," said Matt McCarroll, senior vice president of Maritech Resources Inc., the exploration and production arm of Tetra.
Regulatory benefits
Often regulation is considered a hindrance to efficient business. In the case of decommissioning operations, it is a real advantage. McCarroll explained that the stringent regulations that govern platform decommissioning in the Gulf of Mexico not only make this the hottest offshore decommissioning market right now, but also greatly benefit future production operations.
In other, less closely monitored theaters, fields often go out of service with the platforms left in place. The inspection of such equipment may also be lax. This benefits the operator in the short term by allowing him to put off the costly decommissioning process, but in the long haul, it is a disservice to the industry as a whole.
Much of the infrastructure in these areas is not well maintained. When activity increases and new fields are brought on line, not only do new pipelines and platforms have to be fabricated and installed, but those already in place must be removed. This is handled, in some cases, on an "as needed" basis, which can delay new projects and increase their capex exposure. In the Gulf of Mexico, operators are asked to take out platforms and pipelines that are no longer active. This is expensive, but it ensures that the infrastructure in this region is current and reliable, McCarroll said. It also guarantees plenty of work for decommissioning and salvage companies.