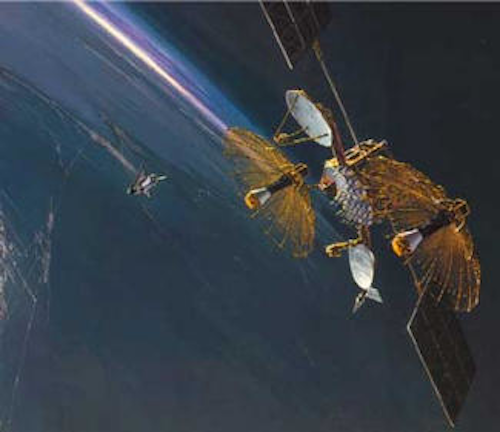 SpaceData International (SDI) and WesternGeco launched the first high-speed satellite seismic data transmission (SDT) at 311 megabits/sec (2 GB/min) from a vessel off Brazil to WesternGeco's Houston processing center. The transmission used SDI's SeismicStar system.
What began as an experiment to test the feasibility of SDT has now gone into operational mode, according to Haynie Stringer, WesternGeco's Manager of Applied Technology - Software. The main goals of the feasibility experiment were to:
Install the SeismicStar equipment on one of WesternGego's seismic vessels operating offshore Brazil
Transmit daily seismic production to WesternGeco's Houston processing center
Observe the benefits from processing data as it is acquired.
The WesternGeco Patriot seismic vessel acquired the 3D data offshore Brazil and in the Gulf of Mexico during the study. With the vessel configured as a dual source, seven-streamer operation with 240 channels per streamer and an IBM SPII supercomputer for onboard seismic processing, it generated between 17 GB/d and 192 GB/d. The average of 93 GB/d of 2 millisecond (ms) sample rate navigation-merged raw seismic data per day can be delivered to White Sands in about 52 minutes at the 311 Mbps transmission rate. Data is transmitted in 2 GB blocks and are cached at SDI's Las Cruces operations center for FTP (file transfer protocol) initiated at the convenience of WesternGeco's Houston office.
Installation of the SeismicStar motion-stabilized antenna platform, 2.4-meter antenna and radome, Raid storage, and cabinets was completed in two days, while the ship took on supplies in Belem, Brazil. During the five-day transit to the survey area, SDI and WesternGeco staff made necessary electrical connections, and the system was exercised prior to establishing up-link test connectivity with the TDRS Atlantic coverage satellite.
Initial challenges
Some problems were expected, and some were encountered and quickly resolved. Besides licensing, customs, and minor initial installation problems, issues such as an antenna pointing problem and an interference problem with the ship's radar were resolved.
On October 12, 2000, the first transmission of a full day's, uncompressed, seismic data production was sent from a seismic vessel to a satellite to White Sands Center, and then by 45 Mbps OC3 fiber to the WesternGeco Houston processing center. Routine daily transmission of data began immediately and is continuing today in the Gulf of Mexico, where the vessel has since been redeployed.
When the data is received at the Houston processing center, the 2 GB blocks are reassembled, specific line numbers are indexed, and then read directly into the processing hard disks without writing to tape. Data processing up to and including stacking velocity analysis begins immediately after each daily data receipt.
According to Terry Johnson, supervisor of the Houston Marine Processing group, there was a straightforward transition to daily input and processing of the data. Early availability of the data makes scheduling and testing easier and much more orderly.
A key benefit observed was the steady stream of data processing, compared with conventional methods that cause huge backlogs of data on the system. This allows for much easier allocation and scheduling of computer resources. Another savings in time and in equipment wear and tear comes from the direct transfer of data to the processing center disk, rather than reading data from tape. Daily receipt of raw seismic data is now accepted as a normal part of operations.
QC, problem resolution
Processing expertise is much deeper at the Houston center than onboard the vessel. In one case, testing of the transmitted data was undertaken at the onshore processing center. There were questions in the onboard processing center about continuing FK noise suppression due to sea-state-induced cable stretch. The Houston experts determined that this step could be dropped.
Even in the best scenario, it is unlikely that all processing capabilities can be removed from the vessel. The relatively less expensive QC (quality control) processing hardware and the staff needed for this work will likely remain onboard the vessel. QC testing and display and decisions like fold coverage management, acquisition-related noise suppression, navigation merge, and QC are generally decided in a few hours and will need to be onboard. However, large and expensive onboard supercomputer operations may be replaced.
Questions have been raised over why there should be redundant onboard processing when this transmission capability exists. Ultimately, the answer to the question lies in the relative costs, benefits, and value delivered by the onboard processing, versus SDT-onshore processing options.
Onboard processing systems, highly redundant with onshore processing centers, are very expensive to install and maintain and are difficult to staff with qualified personnel. In contrast, the established, easily maintained and operated, well staffed, land-based processing center lends itself to economies of scale and optimization.
In addition, the overall computer power at a land-based processing center may be reduced. Processing centers can be redesigned for more consistent data volumes instead of being configured to handle peak data volumes caused by pulses of hand-carried tapes.
Early delivery value
SDT reduces the time needed to deliver a final 3D pre-stack depth migration by about 34 days. Early delivery of proprietary seismic data can add substantial value to the user, the seismic contractor, and the host government. Value to the producer is derived from early delivery of the final displays, which can cause earlier generation of drillable prospects, and earlier cash flows from hydrocarbon production.
These cash flows can be reinvested earlier and, due to the time value of money, can add $2.5-5.4 million to an oil producer's value for each 3D survey. Early delivery of multi-client surveys adds value by giving staff an extra month to improve the quality of the processing or interpretation prior to a bid round, thus reducing dry hole risk.
The host government can realize value from early delivery by moving up bid round dates and by realizing earlier delivery of oil production and revenue streams at a rate of about 3.6 times that of the oil company. This translates to added value of $9.0-19.4 million for the 34 days earlier delivery of the data.
Value to the seismic contractor is derived from earlier invoicing, reducing onboard processing operations costs, allowing potential clients to view data samples during acquisition (enabling them to sign up for the multi-client survey), and sizing onshore processing facilities with lower peak capacity. These amount to at least $359,000/3D survey. Pricing of the service is subject to contract specifics, but is generally less than 3% of seismic acquisition costs.
Most of the value of early delivery of seismic data is gained by oil companies and host governments (not the contractor) due to the earlier revenue streams from earlier hydrocarbon production. Though the value added by SDT is much greater than its costs, it is still more costly than hand-carrying data and onboard data processing, which do not deliver this long-term value. As with all E&P technical development, the end-users must appreciate the value to be added by SDT and be willing to pay the premium for the service.
Other benefits
Not all the potential capability of the system or potential benefits of using the system have been realized. Many sources of improvement include:
Cycle time: Re-engineering the data processing stream can lead to shortened processing cycle time. Multiple supercomputers, processing teams, and optimized testing procedures could be concentrated on a single survey, reducing turnaround time by 50% or more.
New methods: Point receiver deployments such as WesternGeco's Q System may benefit greatly. This newly emerging method will generate massive amounts of data that are much more difficult and expensive to handle with onboard supercomputer processing systems.
Proprietary surveys: The system will have far greater impact on proprietary surveys where there is very high client interest. Land-based oil company experts may become involved in acquisition and processing optimization.
Small surveys: Early delivery of data on a small survey would have much greater benefit than is evident on large multi-client surveys. The data could be turned around and completed quickly relative to the acquisition time.
Data flows: Transmission rates will soon increase from the current 311 Mbits/sec to 466 Mbits/sec, and later to 622 Mbits/s, producing a reduction in transmission costs.
Conclusions
For the first time, uncompressed, daily, marine 3D seismic production has been routinely delivered to a major contractor's headquarters processing facility. The seismic industry has long anticipated the practical ability to beam data from an acquisition vessel to a central or local processing center.
Today, there is a clear path to major benefits for oil companies through earlier delivery of seismic data. There is also a clear path to seismic contractors through reductions in logistics, processing costs, redundancy in processing operations, and by engaging geophysicists at the main processing facility in critical time-sensitive acquisition decisions and processing results.
The technology has been demonstrated. Satellite transmission of seismic data is now operational.
Author
William K. Aylor is Chief Geophysicist for SpaceData International LLC (Tel: 281-578-6616, or Email: wkaylor@spacedata-int.com).
References
Aylor, W., "The Business Impact and Value of 3-D Seismic," OTC 7960, Offshore Technology Conference, May 6-9, 1996.
Aylor, W., "Role of 3-D seismic in a world-class turnaround," Geophysics, The Leading Edge, December 1998.
Aylor, W., "Measuring the Value of 3-D Seismic on Business Performance," JPT, June 1999.
---
Components of satellite data transmission
SeismicStar is a turnkey service, consisting of all equipment, maintenance, licenses, fiber connectivity, training, and 24-hour help line necessary for the delivery of daily seismic production from anywhere in the world (except the polar regions) to White Sands within 24 hours of data creation. From there it is possible to transmit the data via fiber optic cable anywhere there is such connectivity. SDI has a 10-year license from the FCC to transmit seismic data using the TDRS system.
Overall system capacity is more than large enough for the entire seismic market. Because of the design and the very large bandwidth of the NASA TDRS satellites, SeismicStar transmission is the fastest commercial satellite capability in the world. The point-to-point SeismicStar service is claimed by the developers to be 3,000 times faster than Immarsat, the only other satellite constellation with ocean coverage. Components of the system consist of the following:
Shipboard equipment: Motion-stabilized 2.4 meter antenna with radome, two 155 Mbit/sec modems, file and communication servers, GPS, satellite phone, 1 Terabyte of Raid storage, associated electronics and administrative software. The service is autonomous with little or no involvement by the shipboard crew.
Satellites: Fleet of seven NASA tracking and data relay satellites (TDRS) in geosynchronous orbit, with worldwide up-link coverage to within 5° of the Earth's poles.
NASA component: Two redundant systems with satellite dish antennas, operational support, down-link and up-link RF systems at White Sands, New Mexico.
Las Cruces Control Center: Operated by General Dynamics, file and communications servers, Raid storage, an automated monitor and control system, customer support, operations control and administration, and fiber connectivity to Houston.
Connections: A fiber loop around Houston provides connectivity to WesternGeco's main processing center, and transmitted data is available via FTP from Las Cruces by WesternGeco's technical staff.