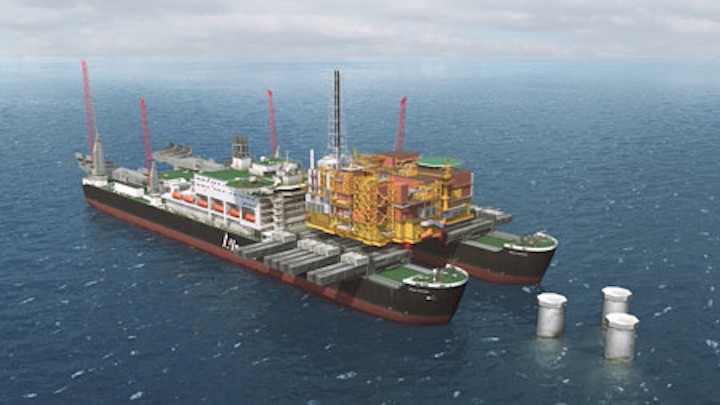 Nick Terdre
Contributing Editor
Computer image showing how the Brent Delta topsides will be transported on Allseas'Pioneering Spirit. (Picture courtesy Allseas)
Decommissioning activity is accelerating on the UK continental shelf. According to industry association Oil & Gas UK, the number of fields expected to cease production during 2014-19 is now close to 80, up 6% on last year's estimate, as rising operating costs and lower oil prices shorten fields' economic lifespans. The total estimateddecommissioning bill to 2040 has also increased by around 11% to £46 billion ($71.4 billion).
Bill Cattanach, head of supply chain at Britain's new Oil and Gas Authority, reports that 23 decommissioning applications have been received so far this year – and transformational change is needed to bring costs down, he said at a recent conference. But that may not come soon enough to help the dozen or so projects currently under way.
Fairfield Energy's Dunlin field in the UK northern North Sea is the latest to move into decommissioning – production was due to cease in June. Abandonment planning has been under way for several years: the licensees, supported by a technical study from Xodus, have decided the best option is to leave in situ Dunlin A platform's concrete gravity base (CGB). The four-legged concrete substructure, installed in 1977, weighs around 320,000 metric tons (352,739 tons) and supports a 20,000-metric ton (22,046-ton) topsides. The base was not designed to be refloated.
There are also subsea facilities to be decommissioned on the Osprey and Merlin fields both tied back to the Dunlin complex. Dunlin A, which exported oil to the Sullom Voe terminal on Shetland via TAQA's Cormorant A platform, will remain in operation for a while as a pumping station for oil from the EnQuest-operated Thistle field. It used to perform the same function for Canadian Natural's Murchison field until the latter too ceased production last year. Fairfield estimates the overall decommissioning cost for Dunlin at roughly $600 million.
Canadian Natural received approval for its Murchison decommissioning program last year. Aker Solutions is providing various services, including engineering-down of the 24,584-metric ton (27,100-ton) topsides. Shell recently received approval to remove the 24,200-metric ton (26,676-ton) Brent Delta topsides, again in the UK northern North Sea. The operation is due to be performed next year by Allseas' single-lift vesselPioneering Spirit, which will at some point also remove the Brent Alpha and Bravo topsides and the Alpha jacket. Brent Alpha and Bravo ceased production last November, leaving Brent Charlie as the field's only producing platform. Archer has started well abandonment on Bravo. Shell intends to seek derogation from the full removal requirement for the Bravo, Charlie, and Delta CGBs in the further decommissioning program it is preparing.
BP received approval for its decommissioning program for the Miller platform in the UK central North Sea in 2013. The footings of the 18,584-metric ton (20,485-ton) jacket are to be left in place. The company is currently "engaging the market to identify a competitive removal project" for the 28,732-metric ton (31,671-ton) topsides, for which it plans to let a contract next year.
Maersk is awaiting approval for its plan to decommission the subsea facilities on the Leadon field in the UK central North Sea. Harkand has been contracted to provide project management and engineering services for the abandonment of the 18 wells, as well as removing spoolpieces, jumpers, and concrete mattresses. This is the first decommissioning project on the UKCS involving pipeline bundles, and could set a precedent for other fields with this equipment. Maersk proposes leaving the bundle sections in place after retrieving the towheads and manifolds.
Centrica has embarked on the coordinated decommissioning of Stamford and Rose, two single well subsea developments in the UK southern gas basin. Last month the jackupParagon B391 was P&A'ing the Stamford well and was then due to transfer to Rose. The export pipelines will be left in place after the exposed ends have been cut off, and concrete mattresses and grout bags will be retrieved. Subsea 7 will perform removal operations under its frame agreement with Centrica. WS Atkins has also provided pre-FEED studies under a five-year agreement.
Recently, the contractor Norsea was working on the onshore disposal of subsea manifolds and associated pipework from Enterprise's Renee and Rubie fields. In mid- year Bibby Offshore started a second stint of subsea removal operations on the fields with its diving support vesselBibby Sapphire and subsea construction vessel Olympic Ares.
The semisubmersibleWilHunter is working on well abandonment at present on Hess' Fife fields in the central UK sector, and is also due to plug the Ivanhoe/Rob Roy wells, although its contract expires in November.
Perenco and Tullow Oil have also filed decommissioning programs for their Thames area fields in the southern sector which ceased production last year. Talisman is preparing to decommission the Beatrice field in the Moray Firth after reassuming operatorship from Ithaca Energy, while Ithaca has responsibility for decommissioning the Jacky satellite, which it developed with a wellhead platform tied back to Beatrice. •