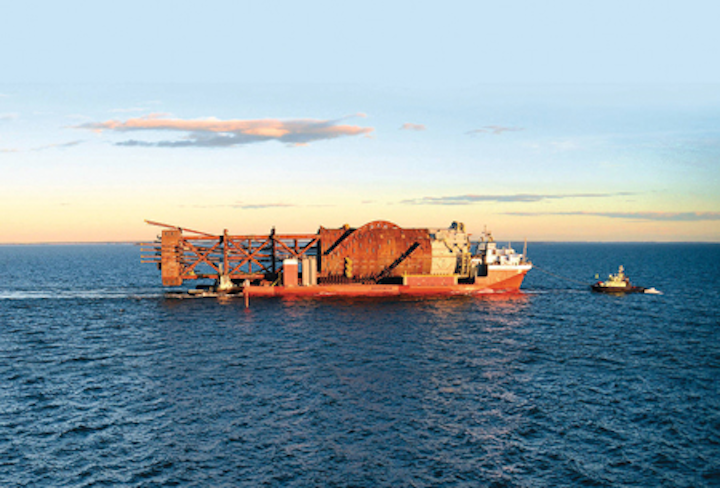 Company looks to provide services throughout energy value chain
Jeremy Beckman
Editor, Europe
Over the past few years, Technip has broadened its range of field development solutions, addressing the industry's pressing need to contain costs at the present time in order to move more projects forward.
Technip's oil and gas activities are organized in two main segments. One is Subsea, including the flexible/rigid pipeline and installation business initially developed by the former Coflexip group, and the recently announced subsea field design venture with FMC Technologies, Forsys Subsea. The Offshore/Onshore segment includes, for the offshore part, engineering and construction of deepwater semisubmersibles, spar platforms and TLPs; engineering, construction, and procurement (EPC) services for multi-platform greenfield and brownfield projects; and floatover installations of large integrated decks using the company's proprietary Unideck technique.
According to Jean-Marc Letournel, group senior vice president for Business & Technology Offshore, "When you look at our strengths, we are present across the whole value chain, from feasibility studies through EPC, to post-EPC activities." One of the main providers of conceptual services is London-based Genesis Oil and Gas, which joined the group in 2001, and which now employs around 1,500 engineers at various locations where Technip has operating centers. Around one-third are based in Houston, with a similar percentage working in London and Aberdeen, and the remainder spread between Brazil, Kazakhstan, the Middle East, and Paris.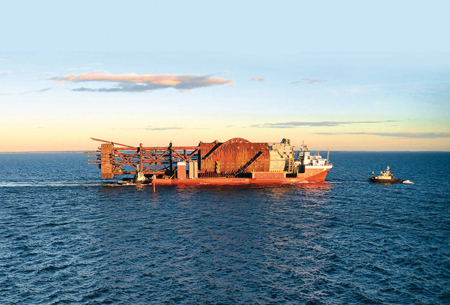 Lucius, the first spar to be installed in the Gulf of Mexico in the past five years, was delivered by Technip to Anadarko in 2013. (Photos courtesy Technip)
"In the past, Genesis' main core business was flow assurance," Letournel says, "but they have since developed into a key upstream component of our own conceptual and feasibility studies. Their ADEPT software tool, for instance, compiles large volumes of data from fields all over the world, financial as well as technical, which they use to propose solutions to our customers for different field architecture. Genesis also works with a lot of small to mid-size independents."
In Norway, Technip acquired a stake in Kanfa, a topsides process system design specialist, following a transaction last year with main shareholder Sevan Marine. Kanfa's expertise includes conceptual studies for FPSOs. Technip also took a majority stake in Oslo-based naval architect Inocean which has worked on more than 20 FPSO conversions, some for projects in the North Sea and offshore Brazil.
Platform workscope
Technip is working on a wide range of construction projects in various countries around the world. These include new types of deepwater production facilities and expansion of conventional shallow-water developments.
"In the North Sea," Letournel says, "we are constructing the fixed platform for DONG Energy's high-pressure/high-temperature Hejre project. This will be the first facility of its type in the Danish sector. In cooperation with Hyundai Heavy Industries we are also building Norway's first spar platform for Statoil's Aasta Hansteen project in the Norwegian Sea in a water depth of 1,300 m [4,265 ft]." Earlier this year the company's Pori yard in Finland completed the 23,000-metric ton [25,353-ton] hull for the drilling and production truss spar for Anadarko's Heidelberg field in the Gulf of Mexico. The completed hull and topsides will be installed in a water depth of 1,620 m (5,310 ft).
During 2013-14, ADMA-OPCO awarded Technip contracts for three programs offshore Abu Dhabi. Technip Project Management Consultancy Services is managing EPC works for the Nasr Phase II full field development packages 1, 2, and 3, which are designed to lift oil production from the field to 65,000 b/d via additional wellhead, offshore process and other facilities, currently under construction in the UAE, Singapore, and South Korea.
Another EPC project, managed from Technip's center in Abu Dhabi, involves replacing 90 km (56 mi) of offshore oil pipelines and modifications to wellhead towers serving the Zakum field. For the Umm Lulu full field development project package 2, Technip is in a consortium with National Petroleum Construction Co. that is responsible for construction and commissioning of a new complex of six bridge-linked platforms totaling more than 66,000 metric tons (72,752 tons) in weight. Technip's role includes installing the platforms via its floatover method, allowing much of the hook-up and pre-commissioning phase to be completed onshore prior to load-out.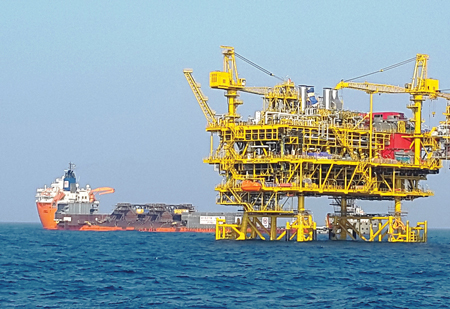 Earlier this year, Technip completed the floatover installation of the Heera field platform deck for ONGC offshore India.
In the Far East, the company is in an EPC venture with Malaysia Marine and Heavy Engineering (MMHE) to supply a 26,000-metric ton (28,660-ton) TLP for Sabah Shell's Malikai field in 500 m (1,640 ft) of water. Technip is managing engineering and procurement from its base in Kuala Lumpur. All work on the TLP, built by MMHE at the Pasir Gudang yard in Johor, is expected to be completed by mid-year.
Recently, in partnership with Afcons and TH Heavy Engineering Berhad, the company completed installation of the integrated deck for the process platform for ONGC's Heera field development in the Arabian Sea, 70 km (43.5 mi) southwest of Mumbai. "This was the first floatover project using our Unideck technology in Indian waters," Letournel points out.
A new business area for Technip is floating LNG vessels. The Technip Samsung consortium is building the first of these vessels, which will be the world's largest floating offshore production facility to date, for Shell's Prelude gas/condensate field 200 km (124 mi) offshore northwest Australia in the Browse basin. It is also building a smaller vessel, the 1.2 MM ton/yr capacity PFLNG which will serve Petronas' Kanowit field, 180 km (112 mi) offshore Sarawak. In addition, the consortium has an agreement to collaborate with Shell on further FLNG vessels for future projects elsewhere.
Costs conundrum
One of the main preoccupations of the group's clients in the current price environment is restraining project capex. "We see early engagement with our customers as a priority to ensure that the solutions they develop are not only cost-effective, but also safe, efficient and reliable," Letournel says.
Some operators have been critical of what they see as a trend toward over-engineering on the part of the major contractors, but the scope for major cost cuts may be limited, he suggests. "We are developing engineering based on our clients' specifications and the industry's own standards. The level of specifications has increased. The industry may be looking at developing fit-for-purpose solutions based on its own codes and standards."
Advances in modeling also come at a price, he points out. "Twenty-five years ago, the industry was still relying on calculations by hand for risers and flowlines. Only then did the first computers arrive to take on this process. Ten years ago, the available software was being used to model 10-20 solutions for risers for the same project - now it could be several thousands, and that has an impact on the development costs."
Some of the majors and NOCs have stepped up calls for increased standardization and repeatability of production systems and equipment as a way of improving project economics. There is still room for improvement in this thought process, Letournel suggests.
"To me, more important is the need for repeatability, which is something that Technip has achieved in the spar platforms it has designed and delivered. In recent years, working for Anadarko, we have used our experiences to incorporate a level of repeatability in the deepwater Lucius and Heidelberg spars, our two latest deliveries. These contracts were awarded on the basis of 1) Design, 2) Build Many, and this is an arrangement which has generated significant benefits for the client and for us. We have a similar agreement with Shell on floating LNG systems, with the emphasis on repeatability."
One other way forward for the industry, Letournel suggests, might be to foster closer relationships between clients and contractors. "If we look at the Norwegian model, Norsok standards open communication between all sides. We are now seeing the industry applying Norsok more and more outside Norway because of Statoil expanding its operations overseas. Kanfa is a company that has worked in the Norwegian sector for 20 years, which has helped develop the government's Norsok requirements for offshore equipment and processes. Actually, Kanfa told us that by using Norsok, you can actually save money. They explained that this is not a prescriptive code, although it does set targets - however, the methods for achieving those targets are open to discussion."
One region that has fallen victim to oil price pressures is the Arctic, at least in terms of exploration. Technip continues to invest in ice build-up studies in preparation for future development projects. "I believe this is a market that will come back," Letournel says, "and when you look at the technology requirements for the Arctic, many of our existing designs developed for elsewhere will need to be adapted. Proving this to the industry will not require major basic revolutionary developments but will have to take into account the environmental conditions associated with operations in the far north. In terms of qualifying the technology, it should be smart adaptation rather than revolution in most instances."•