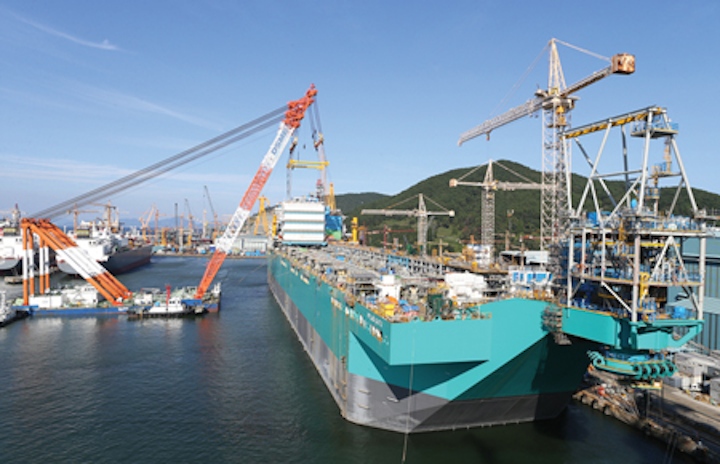 Sarah Parker Musarra
Editor
This year will see an industry first operating off the coast of Malaysia. Petronas places the targeted completion date for its floating liquefied natural gas project, PFLNG 1 (also known as PFLNG SATU) for 4Q 2015, making it the first FLNG unit in operation.
The facility will be moored in the Kanowit gas field, 180 km (112 mi) offshore Sarawak, PFLNG 1 is expected to produce 1.2 MM metric tons (1.3 MM tons) per year of LNG. In April 2014, PFLNG SATU's 365-m long (1,197-ft long) hull was floated out and launched to anchor at quayside of the Daewoo Shipbuilding & Marine Engineering (DSME) shipyard in Okpo, South Korea.
Additionally, Petronas took its final investment decision in a second FLNG vessel, PFLNG 2, in September 2014. PFLNG 2 will be moored offshore Sabah, Malaysia's Rotan gas field on deepwater block H. Petronas estimates production at 1.5 MM metric tons (1.65 MM tons) of LNG per year, and aims for an early 2018 start-up.
As its name would suggest, Shell'sPrelude FLNG could be seen as the start of it all. The operator became the first to commit to an FLNG with its FID in 2011, more or less one year before Petronas' 2012 sanction for PFLNG 1.
This means the industry is likely to see three FLNG vessels operating within the gas-rich fields offshore Asia in just a few years. There are other vessels yet under development, including Woodside's Browse FLNG joint venture. Shell itself called Prelude the first of many.
When completed, Shell's vessel will have the capacity to produce at least 3.6 MM metric tons (3.96 MM tons) of LNG per year. At 488-m (1,600-ft) long, Shell says it will be the largest floating facility in the world.Prelude will head to work in its namesake field and possibly other surrounding fields in the Browse basin off Western Australia.
Australia is projected to usurp Qatar as the largest LNG supplier globally, according to a September 2014 report by the Oxford Institute for Energy Studies entitled "The Future of Australian LNG Exports: Will domestic challenges limit the development of future LNG export capacity?"
The report's authors say that Australian waters house a large gas resource base, a relatively low level of domestic consumption, and a limited growth potential of the domestic market, which makes the case that much of the gas must be exported if it is to generate economic value. Given the distance to potential overseas markets, the authors contend it must be transported as LNG.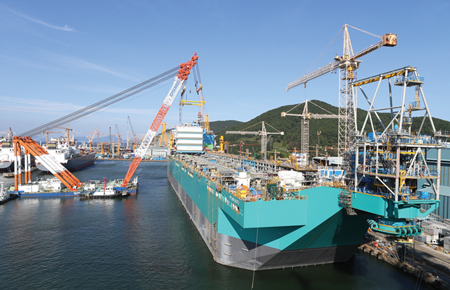 The first ofPFLNG 1's 21 topside modules is shown hoisted above the hull at DSME's heavy zone G quay in September 2014. (Photo courtesy DSME)
According to Douglas-Westwood UK Researcher Matt Cook, Australia's offshore production is projected to more than double its current levels between now and 2021. This projected increase to 2.1 MMboe from 1 MMboe is due to offshore gas projects, gas that is bookmarked as feed gas for the large-scale LNG projects. These massive projects include Wheatstone, Gorgon, and Ichthys; and drilling at Ichthys commenced in February. The Oxford report said that, including Prelude, these projects and more have been subject to budget overruns, personnel shortages, and project delays. However, such mega-projects, all of which are claiming various world records, are vulnerable to the drastic decline in oil price over the last year.
Additionally, like most of the world, Asian projects are venturing farther offshore. Malaysia, which along with Indonesia has long been celebrated as two of the region's largest producers, saw its first deepwater project, Shell's Gumusut-Kakap, kick into production in October 2014.
Elsewhere in the region, China National Offshore Oil Corp. Ltd. booked its first large offshore gas discovery with the Lingshui 17-2 well in the northern part of the South China Sea in September 2014. CNOOC said that the Lingshui 17-2 gas well was tested to produce 56.5 MMcf/d (1.6 MMcm/d). In an average water depth of 1,450 m (4,757 ft), the discovery well encountered the gas pay zone with a total thickness of 55 m (180 ft).
In January, the company hit again with what it said was the first discovery in Ledong Sag of the South China Sea. Located in an average water depth of 980 m (3,215 ft), the discovery well Lingshui 25-1-1 encountered the oil and gas pay zone with a total thickness of 73 m (239 ft). The well was proven at a rate of 35.6 MMcf/d (1 MMcm/d) of natural gas and 395 boe/d.
According to the national firm's 1Q 2015 full year results, it hit 20 new discoveries, which translated to a success rate of independent exploration wells (offshore China) of 50-70%. It also celebrated operational success, bringing most of the 13 new projects it brought onstream in 2014 ahead of schedule and below budget.•