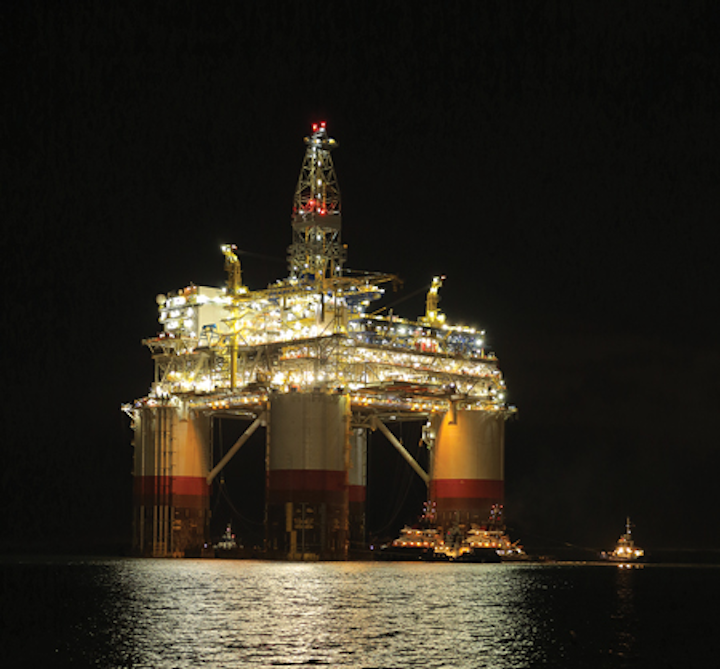 Bruce Beaubouef
Managing Editor
E&P activity in the deepwater Gulf of Mexico is proving to be resilient in the face of a sharp decline in oil prices. Six new projects are expected to come online this year, which will bring an additional 177,000 boe/d in new production, according to a recent report by Wood Mackenzie.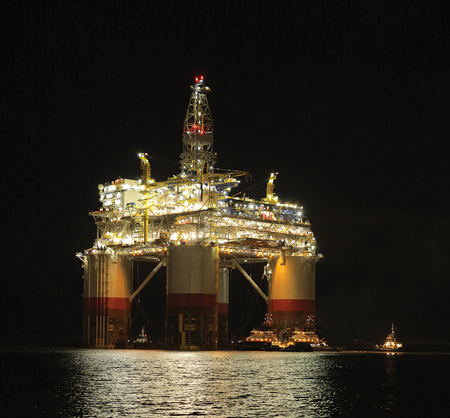 TheBig Footplatform left Corpus Christi on March 14, 2015, en route to the Walker Ridge area of the deepwater Gulf. (Photo courtesy Chevron)
The number of rigs contracted is also close to record levels. According to Wood Mac, development capex is projected to increase for the fifth year in a row and reach a record $14.9 billion. This will lead to a sharp increase in production, which the consulting firm expects to grow 23% this year, reaching 1.6 MMboe/d.
There has been a massive influx of newbuild rigs in the Gulf, and mobile offshore drilling units are operating at almost record levels with rigs contracted for development drilling leading the activity.
The US GoM deepwater fleet - rigs rated for > 3,000 ft of water - is at its highest contracted levels in years, says says Cinnamon Odell, senior rig analyst with IHS Petrodata. "That's because so many deepwater rigs have moved here over the past several years, so the supply is larger than ever and most of them are contracted," Odell added. "Additionally, several more rigs are scheduled to begin mobilizing to the US Gulf before the end of this year, so [we] expect the total supply for the region to continue to grow, because the number scheduled to enter is larger than those scheduled to depart for other regions."
For comparison, looking back to January 2000, the entire deepwater floating rig supply in the US GoM was 22, 18 of which were contracted. "Now with March 2015 not quite over," she noted, "we've averaged about 57 deepwater floaters, of which 48 are contracted. We're currently showing December 2014 as the highest month so far for contracted deepwater floaters in the US GoM, averaging 52.2." The current environment presents a counter cyclical opportunity for players with strong balance sheets that can capitalize on lower rig and service costs. However, should oil prices remain lower for a prolonged period of time, operators might choose to let rig contracts expire and pull back on ultra-deepwater frontier drilling activity.
In the short term, the GoM is expected to defy the overall trend and sentiment in the lower oil price environment, but if oil prices remain depressed for an extended period, the long-term outlook of the region changes drastically. Projects like Kaskida, North Platte, Shenandoah, and Tiber have point forward breakevens in the ~$70-$80 range as currently modeled, says Wood Mac. All of these projects possess high development costs, but there is value to be found in the large reserve size.
All four of the aforementioned fields are in the Lower Tertiary play, which is in the very early stages of development. Consequently, development costs are high and well performance is uncertain, making the play most vulnerable should oil prices remain low. The reserves potential in the play is high, but if the projects are uneconomic, it is possible that operators would not develop these existing projects, much less continue exploration in the play.
The robust level of GoM activity is expected to remain buoyant over the short term due to lower breakeven costs for sanctioned projects. The mix of sunk E&A wells and facility costs creates attractive projects on a point-forward basis, says Wood Mac. Lucius, Jack/St. Malo, and Tubular Bells all started up in the past six months and had breakevens of $10-$50/bbl at first production. The advantage in point-forward breakevens for sanctioned projects is significant compared to some pre-FID projects with breakevens as high as $60-$80/bbl. Additionally, GoM developments are less impacted by short-term oil price uncertainty due to the long life profiles (30-40 years) for typical stand-alone projects.
With operators continuing to invest in the development of deep and ultra-deepwater reserves, the subsea sector is expected to account for the largest share of capex in the US GoM, with Infield Systems projecting this market to account for 49% of the region's offshore spend over the next five years. Noteworthy projects which are expected to require significant subsea investment over the next five years include Shell's ultra-deepwater Stones and Appomattox fields, and Anadarko's ultra-deepwater Heidelberg field.
The pipeline market is also anticipated to continue to require large levels of investment over the forecast, with 98% of projected pipeline capex associated with SURF lines, which corresponds to the large demand for subsea infrastructure.
Meanwhile, oil production in the GoM is expected to keep growing over the next two years, according to a recent report issued by the US Energy Information Administration (EIA). This production growth will be driven in large part by continued deepwater E&P activity in the Gulf.
Because of the long timelines associated with GoM projects, the recent downturn in oil prices is expected to have minimal direct impact on its crude oil production through 2016, the report states.
EIA projects GoM production to reach 1.52 MMb/d in 2015 and 1.61 MMb/d in 2016, or about 16% and 17% of total US crude oil production in those two years, respectively. •