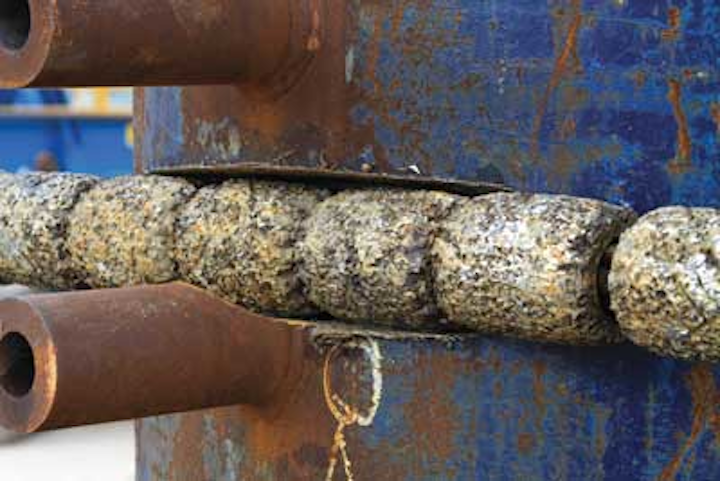 Cutting system aims to increase safety, efficiency
Peter Devine
Versabar
As mandated by the federal government, so-called idle iron – wells, platforms, and pipelines that are no longer producing or serving exploration or support functions related to the company's lease – are being removed from theGulf of Mexico.
Since October 2010 when the Bureau of Safety and Environmental Enforcement's (BSEE) Notice to Lessees mandate was issued, the removal of non-producing or damaged platforms (estimated to be as many as 650 at that time) has become an urgent matter for offshore operators. According to BSEE, not only do these damaged platforms pose a threat to the environment due to potential collapse under hurricane conditions, but they are also considered hindrances to navigation and to the safety of workers who are tasked with the repair or the removal of these structures.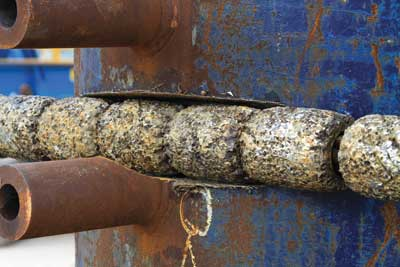 Operated by hydraulic winches, the wire sawed through a pipe 24 in. in diameter with a 2-in. steel wall in less than one hour. (All photos courtesy Versabar)
Topside removal can be accomplished by welder's torches and derrick barges. However, the jackets or caissons upon which they stand present a more complex set of issues. These structures require the use of pile jetting along with mechanical or abrasive cutting devices or explosive charges, as they must be severed a minimum of 15 ft (4.6 m) below the mudline. In some cases, when internal cutting is not an option, operators must excavate below the mudline and send down divers with external cutting devices to perform the task. All of these processes present technical and operational challenges and involve considerable offshore exposure of personnel and marine assets. Versabar and Chevron teamed up with the intent of producing a safer, more efficient, and environmentally-friendly method of severing subsea structures. Their goal was to find a way to cleanly sever jackets and conductors 15 ft (5 m) below the mudline with a minimum of direct personnel exposure and at the same time remove the accompanying structures following completion of the cutting operation. An additional consideration was to accomplish these objectives without the damage to the marine environment caused by explosives.
While Versabar committed to engineer a working prototype, Chevron provided a 250-ton caisson-mounted topsides 3 mi (5 km) offshore near the Texas-Louisiana border to test the prototype.
Versabar President Jon Khachaturian said the challenge of the project was twofold. First, the company had to develop a cutting wire powerful enough to cut through piles and conductors with internally grouted casing strings. Second, it had to design a delivery system for the cutting wire.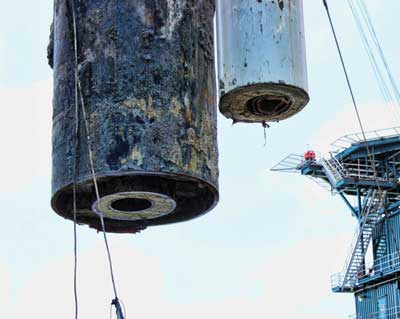 The cutting wire sawed through the mud and cleanly severed the 60-in. caisson along with both internal and external conductors.
Over a two-year period including months of testing at the company's Belle Chasse and Houston facilities, Khachaturian and his engineering team determined that the optimum cutting solution was a standard 2½ wire rope threaded with custom-engineered tungsten-carbide beads 6 in. long and 4½ in. in diameter.
Displaying 1/2 Page 1,2Next>
View Article as Single page