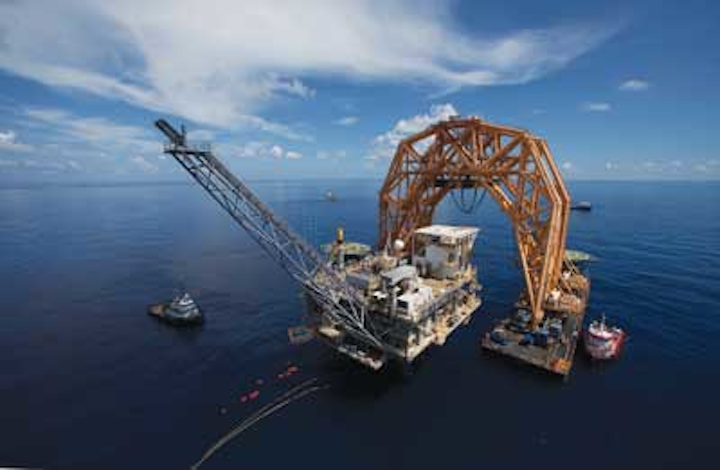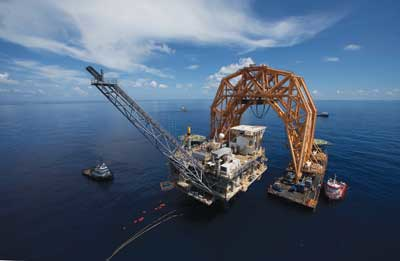 TheVB 10,000 is shown during topsides float over. (Photo courtesy Anadarko)
Sarah Parker Musarra
Editor
The Red Hawk spar made history throughout its design life, commissioned and decommissioned as the first of its kind. Heralded as the first cell spar ever built, it remains the lone cell spar ever fabricated just slightly 10 years after its inception. Decommissioned in September 2014, it then earned distinction of being the deepest floating production unit to be retired in the Gulf of Mexico.
The Technip-built cell spar was originally designated for use in the Red Hawk gas field, located in 5,300 ft (1,615 m) of water in the GoM's Garden Banks block 876. It was a third-generation spar pioneered by an Anadarko predecessor, Oklahoma City-based Kerr-McGee, and was brought into production just 24 months after sanctioning, when the first of two of the Red Hawk gas field's subsea wells began producing in July 2004. Red Hawk field was estimated by the operator to have a resource base of 250 bcf of natural gas. Located less than 200 mi (322 km) away from several other developments in which the company held interests, including the Boomvang, Nansen, and Gunnison fields, it was designed to be a hub for future projects, lowering the economic margin for development.
Part of that economic feasibility was due to its design of the spar itself, explained Ryan Kavanagh, facilities engineer for Anadarko. The Red Hawk spar, which measured 64 ft (19 m) in diameter and was 560-ft (170-m) long, comprised of six tubes, all connected by structural steel, and all surrounding the final, seventh tube. The tubes were 20 ft (6 m) in diameter.
Such a design allowed the fabrication to be carried out domestically, rather than in Europe, as had most other spars. The Red Hawk spar components were manufactured in several different yards in Texas, which significantly saved cost. Kavanagh said that the technology used was "closely-aligned to industry-proven jacket fabrication techniques," so local fabrication was a strong option.
What made it possible was the ability to take plate and roll it into tubular, cylindrical sections, Kavanagh explained, which was used for pile and jacket fabrication in all different diameters. "It's the rolling of a steel plate into a can ... whereas you don't roll a spar hull that's just a classic spar or a truss spar," he noted.
Additionally, its design, already notable for its size, made the spar notable for something else. Up until the Red Hawk spar, one primary use for deployment was their ability to use dry trees.
"This was the first wet tree-only spar, which proves that the spar technology could be economic even when you didn't need it for the dry tree benefits that it offered," Kavanagh explained. FMC Technologies performed the subsea work, including the creation of the spar's enhanced horizontal 10,000-psi trees.
Having successfully produced the targeted resources, Red Hawk's wells, along with its spar, went offline in 2008, with the wells being P&A'd in 2011.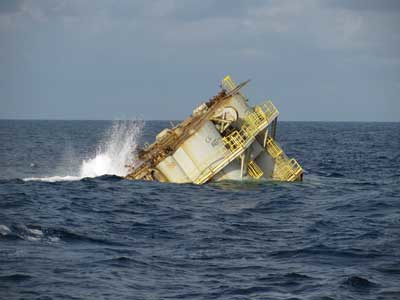 The Red Hawk spar was the first to be decommissioned in the Gulf of Mexico. (Photo courtesy InterMoor)
Decommissioning and reefing
Kavanagh said that Anadarko explored a variety of options before deciding to decommission Red Hawk prior to Anadarko's lease expiry on the block in 2012. Reusing the facility on another field was not deemed feasible. The unit had also been made prior to the string of Category 5 hurricanes that ripped through the Gulf of Mexico, so should it be re-purposed, modifications would have been necessary. Nobody wanted to scrap a years-old facility.
Therefore, the Red Hawk spar, the GoM's deepest facility to ever be decommissioned, continues to produce even in retirement: It was decided that the structure would be reefed in Eugene Island block 384, off Louisiana. It now functions as a marine life habitat.
Early planning for the decommissioning began in 2011. Kavanagh said that Anadarko worked with several regulatory agencies involved with the Bureau of Safety and Environmental Enforcement's Rigs to Reefs program. Laid on its side, the spar would be an ideal candidate, and would even improve the natural environment of the GoM in some regards.
Displaying 1/2 Page 1,2Next>
View Article as Single page