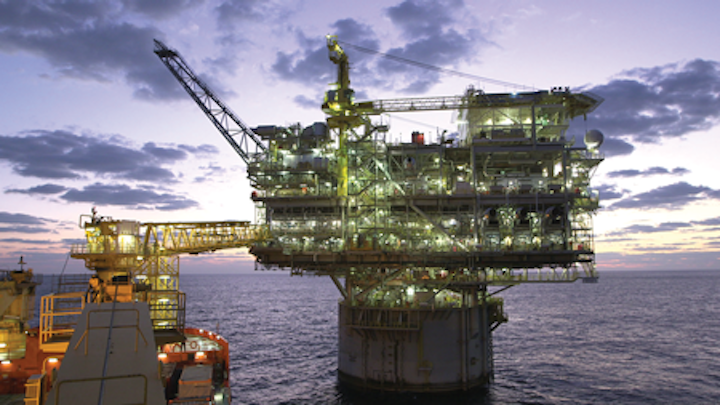 New designs reduce costs, project timetables
Robin Dupre
Sr. Technology Editor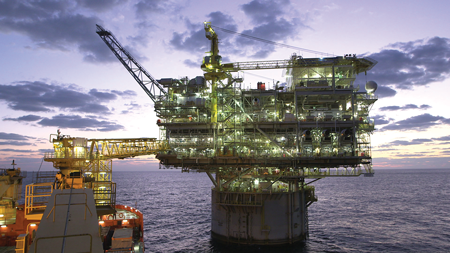 The Lucius oil field is located in the Keathley Canyon block in the Gulf of Mexico. (Courtesy Wood Group Mustang)
As spiraling project development costs continue to strain investor returns, the goal to standardize the design of offshore platforms is gaining momentum as a means of reducing costs and accelerating project delivery times.
Of course, standardization in the offshore market is not new. Over the past three decades, offshore drilling rig equipment has become increasingly standardized. In the 1970s and 1980s, each rig was customized by the contractor or operator behind the order, and equipment providers were fragmented. Today, there are just a few equipment providers, and contractors are likely to order multiple copies of the same design to improve supply chain and downtime metrics.
But when it comes to offshore production systems, only a handful of companies have taken the route of platform standardization. Wood Group Mustang has been a leader in the engineering and design of standardized facilities. "The key thing is identifying properties that you can live with, and only modify the things that absolutely have to be changed," said Kent McAllister, executive vice president of Offshore at Wood Group Mustang toOffshore.
Wood Group Mustang, which designed the topsides for the last three Gulf of Mexico startups – Tubular Bells (first oil November 2014); Jack/St. Malo (first oil December 2014); and Lucius (first oil January 2015) – created a one-for-two design approach. It involved building two multi-billion-dollar deepwater production facilities for separate GoM development projects, Heidelberg and Lucius, using a single basic topsides design.
Anadarko had previsouly used its "Design One, Build Two" approach on its Boomvang and Nansen twin spars. The success of that effort led the company to employ a similiar approach on the design and construction of the large spar floating production platforms Lucius and Heidelberg.
During the development of Lucius in the Keathley Canyon area offshore Louisiana, Anadarko realized that the nearby Heidelberg field in the Green Canyon region held sufficient reserves to warrant another standalone facility.
The main objective in the "Design One, Build Two" approach is the opportunity to reduce costs in engineering and construction of facilities replicated from a proven design.
"The savings to the operator is when you get into the detailed design, where you're already working with a known design, and then modifying that," said McAllister. "And the other savings component is at the construction site, when you already know what the steel requirements are, for the most part. So, early forged steel can be made much easier and can reduce the overall construction time, which reduces the construction cost as well."
When Anadarko started to look at Heidelberg, the company noticed a lot of similarities between that field and Lucius, and then brought Wood Group Mustang in. "We realized that we could utilize a lot of what we had, and only modify the things that needed to be done," McAllister added. "So that was a fairly early decision that allowed Anadarko to accelerate the schedule of Heidelberg, as well as reduce their overall costs, not only on engineering, but on construction equipment, too."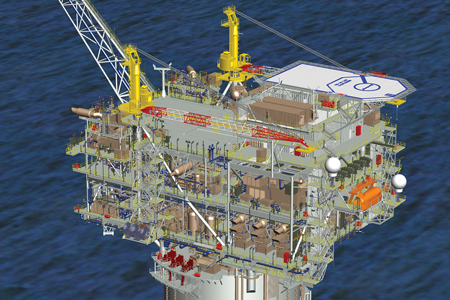 The Heidelberg field is located in the US Gulf of Mexico, at a water depth of 5,310 ft (1,620 m). (Courtesy Wood Group Mustang)
Anadarko chose companies that it had worked with in the past for the design, engineering, construction, and follow-on of its previous deepwater facilities. By using this approach, the learning curve and applied knowledge of the project participants from previous projects reduced risks, and provided a compatibility and communication that helped to ensure reliability and predictability for the delivery.
Technip Offshore was chosen for the hull, which designed and constructed Anadarko's previous spars at its fabrication yard in Pori, Finland. Technip was also tasked with transporting the Lucius hull across the Atlantic to the GoM. Kiewit Corp. was contracted to fabricate the multi-level deck structure at its Ingleside, Texas, construction facility.
Anadarko chose Wood Group Mustang to design and engineer the topsides production facilities. The two companies have had a long-standing relationship, dating back to previously provided FEED and detailed design services for four of the operator's existing spar facilities – Boomvang, Nansen, Gunnison, and Constitution. Wood Group Mustang also provided expansion and brownfield modifications for the Neptune and Constitution spars.
These projects and the ensuing relationship between the two companies helped Anadarko with cost savings and schedule reductions in reaching first production.
McAllister observed that the relationship between Anadarko and Wood Group Mustang "goes back to our 15 years of working together, of building on that partnership, and developing the trust between the two organizations. It is a partnership and not just an owner and a contractor relationship. It truly is a team working for the benefit of the overall goal. By keeping the owner's team and the engineering team together, who just completed the work, who knows how each other work, gives one the efficiency and consistency in the design approach. This helps with saving time from the learning curve."
With the goal in mind of optimizing project economies through cost and schedule efficiencies for Lucius and Heidelberg, Wood Group Mustang's approach was to provide a flexible solution to allow future developments to tieback to the two. Several key design elements were standardized based on prior successes and lessons learned, with the only changes made to the technicalities required to operate the facility. While the Lucius design progressed, revisions were incorporated into early documents for Heidelberg, accelerating the FEED for that project.
Wood Group Mustang's design package was deemed an essential part of achieving the financial decision (FID) for the two developments. The "copy" method for Heidelberg enabled a reduction in the pre-engineering, procurement, and construction phases. It also allowed for swift production of a complete set of engineering deliverables including process and instrument diagrams for Heidelberg.
While Lucius commenced production at the beginning of this year, the Heidelberg facility is on schedule to achieve first production in mid-2016. Its pre-FEED and FEED phases have already reduced man hours by more than 60% with benefits extending throughout the detailed design and fabrication.
Another company that has helped shape the offshore standardization process is Williams Partners, which designed and constructed the Gulfstar FPS – a three-deck, wet-tree spar design – for the Tubular Bells development in the Gulf of Mexico. The Gulfstar One project is the first spar-based floating production system with major components built entirely in the US. This created about 1,000 domestic jobs, allowed quick parts replacement, and reduced platform downtime. Williams owns the topsides/spar facility, while Hess operates it.
It is expected that the Gulfstar design will be used on other projects with design requirements similar to Tubular Bells, including 3,000-8,500 ft (914-2,591 m) water depths, in compliance with new maximum storm specifications. Gulfstar will also serve as a tieback facility for nearby developments, including the Gunflint field.
Stafford Menard, manager, Gulfstar Development, spoke toOffshore recently about the advantages of the design. "Gulfstar provides a complete 'floating production system to market clearing point' solution for producers in the Gulf for their oil, gas and liquids production, designed specifically to maximize their net present value and minimize risk," Menard said. "The 'design one, build many' construction concept allows for standardized design options and enhanced safety and reliability of each unit. The repeatable concept also increases speed to market."
Menard commented that the Gulfstar vision is to develop core design with "plug and play" options that enhance safety and reliability with each follow-on unit, and provide significant reduction in delivery schedule. That vision is also designed to reduce the risk of engineering and construction cost overruns, and provide meaningful producer-operator infrastructure alignment. He notes that Gulfstar's standard design approach allows customers to reduce their cycle time from discovery to first oil. From sanctioning a project to completion, Gulfstar can be delivered in 30 months, Menard says.
"We look at standardization mainly from the benefits of having a better defined scope of work from the start, which obviously can reduce your overall project schedule by having accepted the standard rather than going through a concept selection stage," Menard said. "The other benefit of standardization is the repeatability with a standard which allows for the focus to be placed on safety, reliability, and uptime."
"The downside," he noted, " is the reduction in creativity and spontaneity of the engineers to come up with something new and better, but there's still a lot of improvements by using the standard." There is still a lot to be gained by going to the standard and recognizing that one size may not fit all projects, Menard noted. "You may have two or possibly even three standards, some driven by water depth, some driven by the reservoir, whether you need a rig or you don't, depending on how much well intervention one needs for a specific reservoir." There may be a standard for a wet tree solution, a standard for a drilling rig solution, and varying water depths may require different hull types. "But it's still a standard," Menard added, "and it's a better start than having just a blank sheet of paper." •