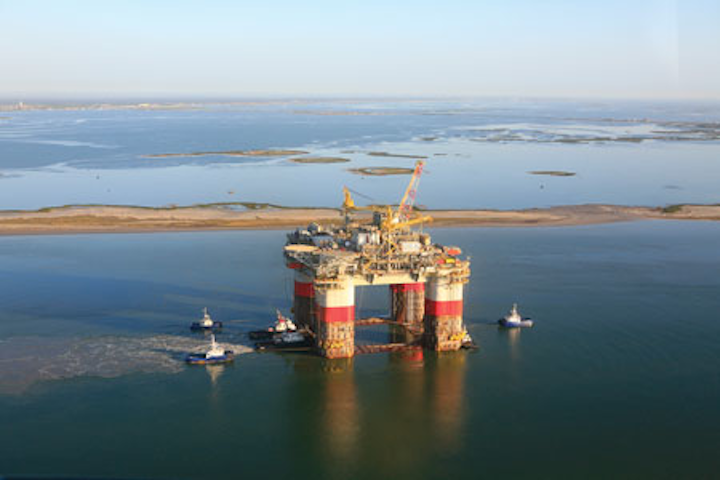 Bruce Beaubouef
Managing Editor
With first oil produced late last year, Chevron has advanced the boundaries of offshore exploration and production with its Jack/St. Malo project in the deepwater Gulf of Mexico.
The Jack and St. Malo fields are among the largest in the Gulf of Mexico, and are part of the Gulf of Mexico's Lower Tertiary trend, the play that has proved both tempting and vexing for many developers.
The fields were co-developed with subsea completions flowing back to a single host, semi-submersible floating production unit (FPU) located between the fields. The FPU is the largest of its kind in the GoM and has a production capacity of 170,000 b/d of oil and 42 MMcf/d of gas, with the potential for future expansion.
With a planned production life of more than 30 years, current technologies are anticipated to recover in excess of 500 MMboe.
The successful completion of the project was the result of the collaboration of hundreds of suppliers and contractors and thousands of workers across nine countries over a ten-year period. With the project now onstream, Chevron says that Jack/St. Malo is a key part of its upstream projects program, and was delivered on time and on budget.
Successive development phases, which could employ enhanced recovery technologies, may substantially increase recovery at the fields.
Project infrastructure
The Jack and St. Malo fields are about 25 mi (40 km) apart, and are around 280 mi (450 km) south of New Orleans in about 7,000 ft (2,100 m) of water, at its greatest depth. The project infrastructure covers an area nearly as wide as the state of Rhode Island.
The Jack field lies in Walker Ridge blocks 758 and 759 at a water depth of 7,000 ft (2,134 m). Chevron owns a 50% interest in the field while Maersk and Statoil hold 25% each.
The St. Malo field lies in Walker Ridge block 678 at a water depth of 2,100 ft (640 m). Chevron is the operator with a 51% interest. Other partners include Petrobras (25%), Statoil (21.50%), ExxonMobil (1.25%), and Eni (1.25%).
The St. Malo field was discovered in October 2003 by a discovery well drilled by Transocean'sDiscoverer Spirit drillship. The well struck a net oil pay of 1,400 ft. The Jack field was discovered in July 2004 with the exploration well Jack-1. The well was drilled by Transocean's Discoverer Deep Seasdrillship to a depth of 29,000 ft. It struck 350 ft of net oil pay.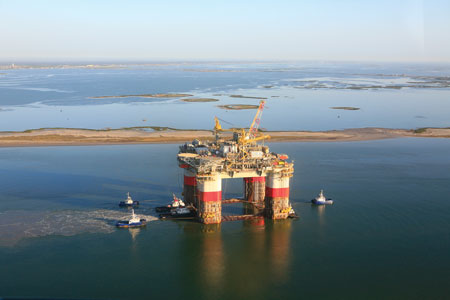 The Jack/St. Malo semisubmersible floating production unit began its journey from the fabrication yard in Ingleside, Texas, to its mooring location in the Walker Ridge area in November 2013 (Images courtesy Chevron Corp.)
The project was approved by the partners in October 2010. An investment of $7.5 billion was made in the initial development phase, which called for three subsea centers tied back to a production hub. Production is expected to be ramped up to 94,000 b/d of oil and 21 MMcf/d of gas in coming years.
The hull of the deep draft semisubmersible production platform was constructed at the Samsung Heavy Industries yard in Geoje, South Korea, and was transported by theDockwise Vanguard from Korea to Corpus Christi, Texas, from February to April 2013. The topsides facilities were fabricated at the Kiewit yard in Ingleside, Texas, and mated to the hull in May.
The assembled FPU was then towed out to site by the Crowley ocean-class tugsOcean Windand Ocean Sun, and the contracted tugboat Harvey War Horse II. These vessels moored the FPU and made it storm safe.
The Jack/St. Malo FPU is now accessing reservoirs beginning at 19,500 ft (5,944 m) beneath the seafloor-representing a total depth of 26,500 ft (8,077 m), or roughly the same height as the last base camp a climber reaches before summiting Mount Everest.
Technology advances
To locate and produce resources from these depths, Chevron took on some extreme conditions with technological breakthroughs that it says are game-changers for the industry. The project has delivered a number of new technology applications, including the industry's largest seafloor boosting system and Chevron's first application of deepwater ocean bottom node seismic technology in the Gulf of Mexico, providing images of subsurface layers nearly 30,000 ft below the ocean floor.
Chevron deployed the ocean bottom nodes as part of its seismic survey program. Remotely operated vehicles positioned 100-pound receivers, or nodes, in a grid directly on the seafloor, which enabled survey crews to collect high-quality seismic data without the distortion of the water column.
At each of the Jack/St. Malo fields, 1,100 nodes were placed on the seafloor. The back-to-back surveys lasted 10 months, involving 100 people and two ships. The surveys also broke several records: number of nodes, the longest acquisition schedule, the deepest water and the largest source area.
At low-permeability reservoirs like Jack and St. Malo, engineers often pump proppant into the reservoir to allow oil to flow more easily into the well. This process, called frac-packing, can be time- and cost-intensive because of the size of the producing rock formations. At Jack and St. Malo, some of these rocks are more than 1,000 ft thick (305 m), requiring large volumes of proppant to be pumped at high pressure.
Typically, it can take five days to frac-pack each zone, but Chevron helped develop a new single-trip, multi-zone technology, which allowed it to stimulate multiple zones of the reservoir in a single run of the equipment downhole, cutting the time to 18 to 20 hours per zone. With a cost of about $1.2 million/day of rig time, improving completion time resulted in major cost savings.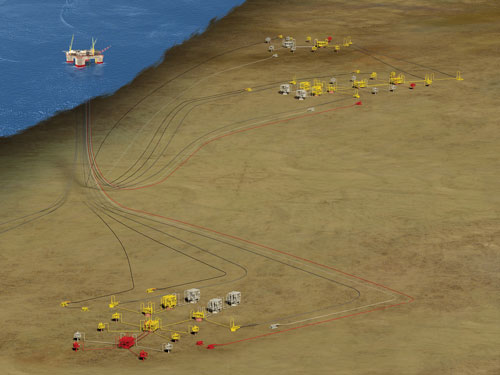 The Jack/St. Malo fields are about 25 mi (40 km) apart in about 7,000 ft (2,100 m) of water, and were co-developed with subsea completions flowing back to a single host, semisubmersible floating production unit located between the fields.
At one well in the Jack field, Chevron stimulated a record-breaking six zones and pumped more than 2 million pounds of proppant in just a few days instead of the normal 30. Chevron also successfully tested the technology in an open-hole well (a well that had not been cased and sealed) for the first time in the industry.
Although the Jack and St. Malo reservoirs are currently high pressure, the pressure is expected to decrease over time due to production. A powerful pumping system was installed on the ocean floor to help boost the oil to the FPU.
Jack/St. Malo's three subsea pumps are built to withstand 13,000 lbs/psi, are installed in 7,000 ft (2,134 m) of water; and consume three megawatts of power - a new industry record, representing a significant improvement over previous models. Prior to this project, industry maximums were at 5,000 psi pressure, 5,500 ft (1,524 m) water depth, and required 2.7 megawatts of power for pumps of similar configuration.
With regard to the FPU, the Jack/St. Malo platform is one the largest semisubmersible production platforms in the world, and is the first semisubmersible floating production unit designed and built as a low-motion unit for the Gulf of Mexico.
Crude oil from the FPU will be moved through the Jack/St. Malo oil export pipeline, which runs approximately 137 mi from the production hub in Walker Ridge block 718 to the Shell Boxer A fixed platform at Green Canyon block 19. The pipeline is the first large-diameter, ultra-deepwater pipeline in the Walker Ridge area of the Lower Tertiary trend. The combination of extreme water depths, large diameter, high-pressure design, and pipeline structures have set new milestones for the Gulf of Mexico.
Other key vendors
Some of the other key vendors, suppliers, and contractors on the Jack/St. Malo project are detailed below.
Wood Group Mustang performed front-end engineering design (FEED) and then detailed engineering design for the topsides facilities. KBR performed the detailed design engineering for the FPU's hull, deck box, accommodations, appurtenances, equipment foundations, mooring system and anchor suction piles.
Wood Group also provided the planning, managing and field execution of the commissioning of the Jack/St. Malo FPU. Work was performed by DSI, Wood Group PSN's commissioning services business. OneSubsea, through one of its predecessor companies, was awarded a subsea production systems contract in 2010. The scope included the delivery of 12 15,000-psi subsea wellhead trees, production controls, four manifolds and associated connection systems, engineering and project management. In 2011, through another of its predecessor companies, OneSubsea was awarded the subsea processing systems contract for three pump stations, three subsea pump control modules, and associated control and instrumentation equipment.
Technip received a contract for the engineering, fabrication, and subsea installation of more than 53 mi of 1.75-in. outer diameter flowlines, steel catenary risers, pipeline end terminations, manifolds, pump stations and tie-in skids.
McDermott International Inc. received a contract to transport and install jumpers, subsea pump stations, and 30 mi (48.3 km) of umbilicals and associated flying leads. McDermott also performed the subsea landing of some of the industry's largest and most complex umbilical end terminations.
InterMoor designed and fabricated 11 suction piles for the Jack/St. Malo development. The 11 suction piles are 18 ft (5 m) in diameter, ranging from 55 to 75 ft (17 to 23 m) in length and weighing up to 115 tons. Bardex supplied the linear chain jacks for the 16-line mooring system that secures the Jack/St. Malo FPU on location.
BMT Scientific Marine Services provided an environmental and facilities monitoring system that was installed on the FPU. The system is designed to monitor, log, and display in real time local environmental and facility motions.
MyCelx designed and delivered a produced water treatment system that removes oil and water soluble organics to below 10 ppm.
Saipem installed the 137-mi, 24-in. Jack/St. Malo crude oil export pipeline using its pipelay vesselCastorone; it was the first installation project for this newbuild vessel.
JP Kenny performed the detail design work for the pipeline, which addressed routing of the pipeline to minimize spans; design for pre- and post-installation vortex-induced vibration and stress spans; collapse testing of the pipe; and installation of in-line valves and sleds.
Future plans
Jack/St. Malo will act as a hub for 43 subsea wells, including pumps and other equipment on the seafloor. Future developments for the Jack/St. Malo fields will likely include an option for water injection; production expansion; increased power generation; and multi-phase seafloor pumps.