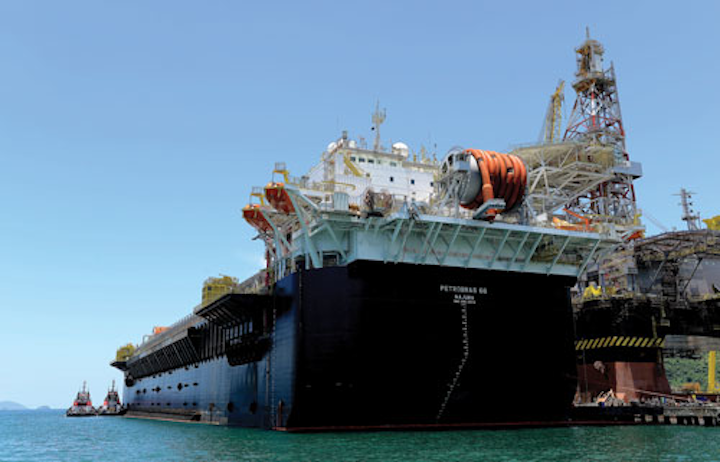 Tom Ortiz
Halliburton
Locating and proving oil reserves usually involves a mix of luck, hard science, and good economic insight. In today's increasingly uncertain business climate, decisions to invest in long-term field development projects are more difficult to make than ever before. Operators seeking new offshore opportunities are faced with choosing between complex, high-risk deepwater plays - where payoffs can still be substantial in terms of discovered volumes - and lower-risk plays with lower volume, thus lower margin expansions of mature fields. In many industries, a company has the luxury of adapting its product mix to a chosen revenue model - high price-low volume or low price-high volume. This is not true in the oil business.
Comparing the Santos basin offshore Brazil with the UK North Sea exemplifies such tradeoffs within an industry that is continually forced to respond to abrupt changes in the prices of its globally traded commodities. Before 2007, Brazil's total P1 and P2 (proven and probable) reserves were 20 Bbbl. Deepwater presalt discoveries throughout the past eight years have added 50 Bbbl of additional recoverable oil to that total. To put that number in perspective, approximately 42 Bbbl have been recovered from the UK North Sea since 1964, with 24 Bbbl estimated to remain. Furthermore, a new field is likely to be significantly smaller in the mature North Sea than in Brazil's comparatively unexplored frontier region. Brazil's recent discoveries (Lula at 5-8 Bbbl and Libra at 7.9-15 Bbbl) dwarf North Sea finds, where Johan Sverdrup (at 3.3 Bbbl) was the largest discovery since 1980 in one of the world's most heavily prospected regions.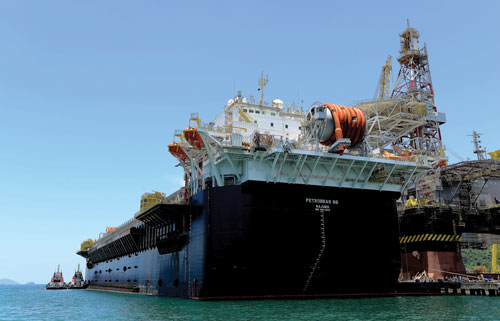 P-66 FPSO, which will produce from the Lula South sector of the Lula field in the Santos basin presalt. (Photo courtesy Petrobras)">
Petrobras'P-66 FPSO, which will produce from the Lula South sector of the Lula field in the Santos basin presalt. (Photo courtesy Petrobras)
While the North Sea might hold fewer and smaller new discoveries, it has the advantage of substantial, although aging, infrastructure with which to bring oil and gas to market. Brazilian operators, in contrast, are faced with either having to deploy large arrays of expensive, remote, topsides production facilities - while probably still leaving valuable gas stranded - or incurring the expense of long-range, high-strength, deepwater export pipelines with which to reach shore-based terminals.
The intersection of these two incongruities - volumes and infrastructure - with forward price expectations will dictate the approaches conceptual designers use to make earlier, better decisions regarding maximizing field values for operators.
The goal here is to explore two projects exhibiting similar conceptual designs, Lula in Brazil's Santos basin and Quad 204 in the UK North Sea, to contrast ways in which field development strategies can evolve under different economic conditions. These two projects also represent different states of technological advancement. Quad 204 is an ongoing £3-billion ($4.5-billion) redevelopment of the Schiehallion and Loyal fields. Schiehallion began producing in 1998, while Lula came online in 2010. A common cost database, indexed to 2014 US dollars is used to provide an inflation- and technology-adjusted basis for obtaining financial estimates for all models. Furthermore, all calculations appearing hereafter are stated on a pre-tax basis.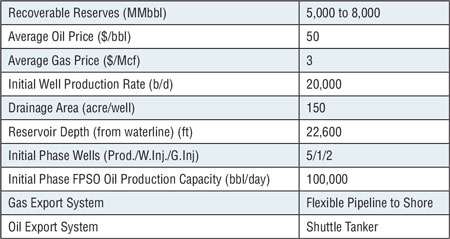 Key base case parameters for a Lula-like field can be obtained from public sources. [All charts courtesy Halliburton]
It is worth noting that field development planning software applications, such as those used in this study, can dramatically increase the span of options considered by planners and reduce the time necessary to make early stage gate decisions. However, even when supplied with the best available input data, such applications cannot replace experienced engineers and analysts; they can only provide decision support. As such, all results presented below should be treated as purely qualitative in nature. Furthermore, the best of plans serve nothing if executed poorly; so, planning figures are no guarantee of future performance. Determining early on the key parameters to help ensure success is, however, dramatically important.
Maximizing net present value
Brazil's energy windfall is being seized by that nation as a pathway to economic development. However, it must overcome significant development risk to realize its goal of becoming a major oil exporter. Six of the most important variables with respect to maximizing the net present value (NPV) of a field development project include the following:
Recoverable reserves
Oil and gas price forecasts
Initial well production rate
Drainage area per well
Reservoir depth
Export options.
To understand the effects these variables could have on the design of a field similar to Lula, consider the following base case scenario. To more easily compare a Lula-like field concept and a single-FPSO Quad 204-like concept, recoverable reserves for Lula were initially scaled down in this analysis by the number of FPSOs (currently eight) ordered by the operators. Final financial model results were then scaled up to represent field-level values.
NPV is sensitive to average oil price in this project. Recoverable reserves were assumed to be at the lower end (5 MMbbl) range of estimates - divided by eight in the model to represent production from a single FPSO - and all other base case parameters held fixed. A discount rate of 10% was applied.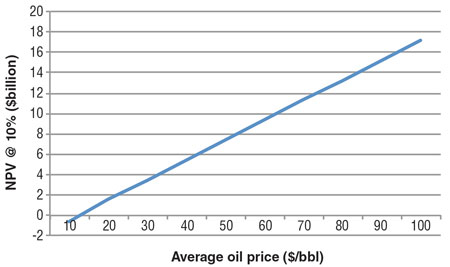 A Lula-type single FPSO concept could remain profitable even at low oil prices.
The model predicts that this development would become marginally profitable-on a pre-tax basis-at an average price of approximately $13/bbl. Reported lifting cost estimates of approximately $14/bbl ($5/bbl development cost plus $9/bbl operating expense) were made for the Lula field in 2014.
The total development of Lula is expected to cost between $50 and $100 billion and encompass 300 wells. The first Lula well cost $240 million, with subsequent wells costing approximately $60 million each. To extrapolate these results and estimate total field development costs, one can calculate the fraction of expected future Lula production capacity that is represented by the one FPSO and eight wells used in this model, and upscale the model to predict total field cost.
These results show that the breakeven oil price (i.e., 0 NPV at a 10% discount rate) is expected to rise 54% from $13/bbl to $20/bbl as additional wells are brought online. The estimated per-well expense of $99 million is within the range of $60 to $240 million reported for the initial phase wells at Lula. The total calculated field development cost of $46 billion is within 8% of the low end of Lula's estimated range.
With this baseline established, one can perform additional sensitivity analyses around the key field development parameters identified.
Smaller well spacing results in a suggested conceptual design containing fewer drill centers and/or more compact gathering systems, which steadily reduces cost, the former more abruptly than the latter.
Processing facilities and pipeline size expansions are changed by the field modeling engine in discrete increments, which results in a stepwise increase to cost. Revenue increases are essentially linear, which leads to the NPV curve being smoother in shape.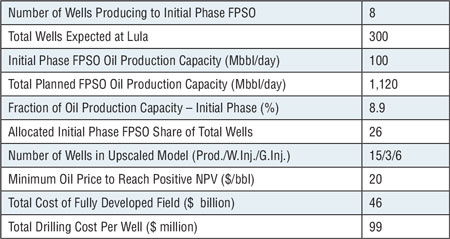 Upscaling the model by the total number of future wells allows total field cost to be estimated.
Cost and profitability are almost directly proportional to the depth of wells drilled. This is a function of the fact that drilling is a particularly dominant expense in these very deep, subsalt fields. The total project cost increases along with the reservoir depth.
A larger reservoir represents additional revenue and, all other things being equal, does not increase the cost of the project. In reality, geological complications that are not being modeled in the present study could significantly alter the project cost structure. The NPV declines as a result.
In a large field of this kind with high rate wells, the most important driver of costs will be reservoir (and, therefore, well) depth. Nevertheless, because the reserve base is so large, and because each well is so productive, there is a strong financial incentive to drill a large number of wells; marginal production is expected to outpace marginal drilling cost over a wide well number range. This expectation is reflected in the ambitious (300 well) scope of Lula's current development plan. It will still, however, be particularly important to control costs and to reduce the uncertainty of reaching a deep, subsalt target.
Attention is now turned toward the UK, a nation justifiably concerned about the future of its oil industry. The UK has recently created a new regulatory agency charged with maximizing revenue from its remaining reserves. Quad 204 is a redevelopment of the Schiehallion and Loyal fields.
A number of assumptions had to be incorporated when developing the base case model for a Quad 204-like field. These included production and injection cash flows from all pre-existing and projected infill Schiehallion and Loyal wells, but excluded the associated drilling expense for the pre-existing wells. Therefore, the model fairly represents the incremental cash flows from an infill drilling project, such as Quad 204.
The total project cost for Quad 204 is estimated to be approximately £3 billion ($4.5 billion). The base case model predicts as total project cost of $6.8 billion, which, at the time of this writing, converts to £4.4 billion, an overestimate of 47%. However, 2014 was a volatile year for the pound/dollar exchange rate. The cost data used in this study includes values collected at various times during 2014.
The model projects infield drilling well costs to be $80 million each. Conventional North Sea wells are estimated to cost between $30 and $75 million, while deeper water wells west of Shetlands (the area where Quad 204 is located) are estimated to cost as much as $100 million each.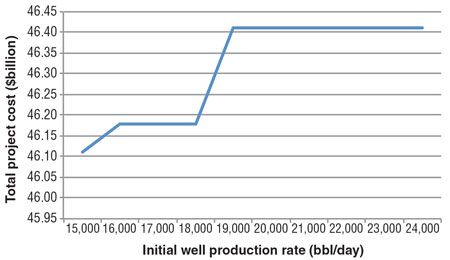 Variation of total project cost with respect to initial well production rate for an offshore Brazil field.
The effect of well spacing here is essentially being modeled as an increase in gathering pipeline length, which has a nearly linear effect on both project cost and NPV.
Over the typical range of well production rates for a field of this type, there is little effect on project cost - all other things being equal. There is a plateau in NPV, shown in the chart displaying initial well production rates, and it is clear that, above an initial rate equal to the per-well oil processing capacity of the FPSO, the project becomes facility constrained (as one would expect). Nevertheless, it is equally important to maintain sufficient production to make use of all available capacity and maximize the return on investment.
In the relatively shallow waters of the UK North Sea, reservoir depth has a much smaller effect on project cost and profitability than seen above in the ultra-deepwater offshore Brazil example. Uncertainty in terms of the size of the recoverable reserve base will have a dramatic impact on the predicted profitability of a UK North Sea project.
Starting with a low reserve base in a mature province, an increase in recoverable reserves can be a critical factor when deciding to sanction a UK North Sea development project. Taking risks on new methods to bring more oil into the economically recoverable window can, therefore, be a justifiable and valuable consideration. Reducing uncertainty in terms of well production rates suggests investments in advanced drilling and completion technologies that might not otherwise be considered cost-effective. Likewise, aggressive optimization of workover and artificial lifting programs will also be important.
Future challenges
The challenges of every project are unique. Moreover, the results discussed do not account for differences in tax regimes or other less tangible regulatory differences between Brazil and the UK - factors that can also change project economics irrespective of technical considerations. It is, however, possible to make a few general comments regarding planning for developments in these two regions with markedly different characteristics.
UK North Sea production is rate-constrained. Smaller, less productive reservoirs must be managed more carefully, and well completions and lifting systems must be designed to maximize deliverability. Existing product export infrastructure can be leveraged, but that is not expected to significantly change the economics of new UK North Sea projects. Identifying new ways to book additional reserves - through the application of advanced technology - is an important pathway to higher return on investment.
The margin for error in a large UK North Sea project is small, with the discovery of new reserves becoming increasingly difficult and infrequent. Unforeseen project delays and price volatility are common risk factors that should be expected by operators. Therefore, it stands to reason that factors which can be controlled, chief among them being operational efficiency and proactive maintenance, must be continuously monitored and improved.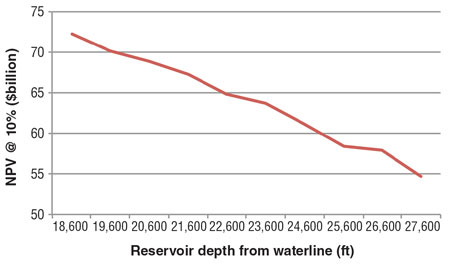 Variation of project NPV with respect to recoverable reserve volume for an offshore Brazil field.
In contrast, developments of Brazil's presalt reservoirs are likely to be facility-constrained. The cost, rather than the deliverability - at least at the outset - of wells, including investments in advanced presalt drilling technology and the availability of suitable rigs, will be a key measure of success. Furthermore, given the remoteness of these discoveries, procurement of sufficient production, storage, and export capacity should be priorities for field planners there.
Investment in permanent export infrastructure is a long-term, capital intensive endeavor. The reserves of the Santos basin appear to be plentiful; and, with very high initial well rates being observed in fields such as Lula, operators should take the opportunity to make calculated, forward-looking investments that will provide flexible capacity for decades to come. Hindsight allows the luxury of knowing that, in the future, fields must produce much longer and more economically than ever anticipated in the days when older basins, such as the UK North Sea, were being developed.