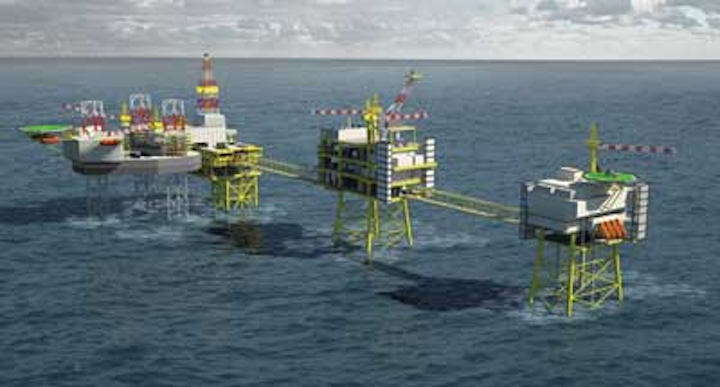 Jeremy Beckman
Editor, Europe
Some of the UK's largest remaining untapped resources are thehigh-pressure/high-temperature (HP/HT) gas-condensate fields in the central North Sea. These extend from the Conoco Phillips-operated J-block in Quadrant 30 northwest to the Britannia satellites in Quadrant 15.
New development projects in the HP/HT category are under way on Chevron's Alder and Ithaca Energy'sGreater Stella Area. However, the producing fields with the most extreme reservoir conditions remain Shell's Shearwater and Total's nearby Elgin/Franklin, all of which were developed concurrently in the early 2000s. Total's latest add-on, due onstream later this year, is the 85MM-boe Franklin West, which will be connected by two 6-km (3.7-mi) pipelines to the Elgin complex. Here the reservoir pressure of 1,100 bar (15,954 psi) and temperature of 190°C (374°F) are thought to be the UK's most extreme combination to date.
However, there are other discoveries in the corridor with even harsher conditions which are proving difficult to drill, let alone develop. Technologies are emerging that can take these projects forward, but at a cost. Additionally, evidence from HP/HT fields in production for some time suggests that the shelf life of some wells may be shorter than anticipated due to migration of gas in the reservoir over time and the impact of the gas' chemical content on production facilities. This may necessitate costly re-drills.
UK offshore production is in irreversible decline and the government has introduced a series oftax allowances to encourage development of problematic or marginal fields. In March's annual Budget speech, Chancellor George Osborne announced proposals for a new allowance for ultra high-pressure/high-temperature (uHP/HT) field clusters – the latter were among the key recommendations in Sir Ian Wood's review of the UK's long-term needs as a hydrocarbons-producing province, published earlier this year. Sir Ian called for different sets of offshore license holders to collaborate to establish new area-wide production hubs to ensure development of clusters of otherwise stranded fields.
The government published its uHP/HT allowance consultation last month, to be followed by a period of engagement between interested parties and relevant UK government officials that ends on September 30, with the final level to be announced along with the final policy design later in the fall.
As things stand, the proposed cluster area allowance would operate similarly to existing UK field allowances by exempting a portion of a company's profits from the supplementary charge, reducing the effective ax rate on that portion from 62% to 30%. The amount of profits exempt from the supplementary charge would be based on a proportion of the capital expenditure a company incurs in relation to a cluster. This would include exploration and appraisal costs, but would exclude decommissioning costs.
The government proposes that a cluster area:
contains an undeveloped ultra HP/HT discovery
could extend into unlicensed acreage
would be defined as a 3D volume (i.e. with a top and/or bottom). Non-ultra HP/HT fields above a new cluster area would likely be excluded from this 3D volume
may contain undeveloped potential not expected to be ultra HP/HT
may contain more than one discrete field
a cluster area is not a hub taking in several geographically separate discoveries.
Companies would start to generate and hold the allowance as soon as they incurred qualifying capital expenditure in relation to a cluster. They could also opt to transfer generated allowance between their projects in the same cluster. This would mean that allowance generated by spending on unsuccessful exploration or appraisal, for example, could be activated by production income from a successful project within the cluster (but only after a period of three years from when the expenditure was incurred).
To help reach agreement on a viable plan, each cluster area should have the following:
commercial alignment among licensees in a cluster area – any differences in equity interests should not adversely affect exploration, appraisal and development work
unified mapping and no equity drilling (e.g. sole-risking)
full data sharing between all licensees in a cluster area
one agreed operator per cluster area where possible
shared, agreed exploration and production concepts, plans and timings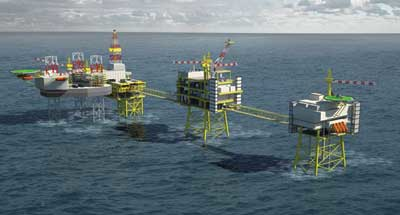 The three-platform complex for the Culzean development. (Photo courtesy Maersk Oil UK)
Culzean complex
Two of the centralNorth Sea operators with most to gain from the new proposals are Maersk Oil UK and BG Group. Both have large (by UK standards) discoveries with hostile reservoir conditions that they have been trying for some time to commercialize. In May, Maersk announced that in partnership with JX Nippon Exploration and Production (UK) and Britoil (BP) it had selected a new standalone platform complex to develop its Culzean field which the company discovered in 2009 in 88 m (289 ft) of water in block 22/25. The well was complex and took a long time to drill: the reservoir is around 4,300 m (14,107 ft) below sea level. Plans call for a 12-slot wellhead platform (WHP) bridge-linked to a central processing facility and utilities/living quarters.
Maersk said the total investment would likely exceed $4.7 billion, adding that the project was set to benefit from the new uHP/HT allowance (a final investment decision is due next year). First gas could flow in 2019, and within two years the field could be supplying around 5% of the UK's annual gas consumption, the company added, peaking at 500 MMcf/d. Among the main contracts awarded so far, KBR is working on front end engineering design of the facilities, Ramboll Group is performing detailed design of the WHP jacket, and Hercules Offshore's newbuild heavy duty jackup will start development rilling in 2016.
At Oil & Gas UK's uHP/HT conference in Aberdeen in June, Martin Rune Pedersen, managing director, Maersk Oil UK, said the new allowance "has the potential to reduce dead weight on projects as it is targeted and scalable for individual projects…It also takes into account pre- and post-field development plan expenditure, so theoretically, it can be extended to exploration and appraisal.
Displaying 1/2 Page 1,2, Next>
View Article as Single page