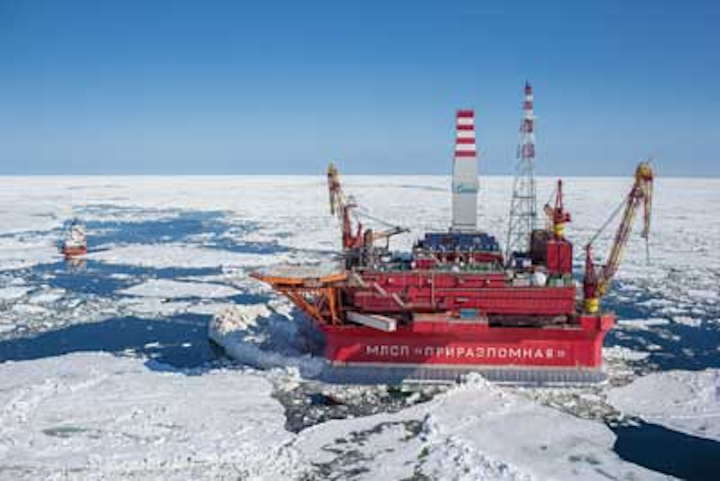 Jessica Tippee
Assistant Editor
ThePrirazlomnaya platform is designed to withstand temperatures that can drop to -50ºC (-58ºF) during winter. (Photo courtesy Gazprom)
The potential of theoffshore Arctic market is vast and well documented. US Geological Survey data suggest the Arctic is estimated to contain more than 400 Bboe, or about one-quarter of the world's undiscovered, yet recoverable, oil and gas resources. Energy analyst Infield Systems reports the region holds 136.6 Bboe in discovered offshore reserves. Despite the technological and environmental challenges, operators continue to advance exploration, development, and production operations across this frontier region.
Gazprom has started oil production from the Prirazlomnoye field in the Pechora Sea offshore northern Russia. Prirazlomnoye is the first oil production project on the Russian arctic shelf. ThePrirazlomnaya offshore ice-resistant stationary platform secures every process operation in the field – drilling for oil, its production and storage, end product processing and offloading. This is the first time hydrocarbons in the Arctic shelf are produced by a stationary platform.
Gazprom also started production from the country's first subsea development. The Kirinskoye field is part of the Sakhalin III concession in the Sea of Okhotsk, 28 km (17.4 mi) offshore eastern Russia. Its subsea facilities, installed in 90 m (295 ft) water depth, consist of several high-pressure flowlines fixed to a single base.
The company says the subsea facilities are designed to produce hydrocarbons in severe climatic conditions, even under ice, with no platforms or other above-water facilities. At peak, the field is expected to produce 194 bcf/yr (5.5 bcm/yr).
Norway
OMV (Norge) has notched its first oil discovery in the Barents Sea offshore Norway. The semisubmersibleLeiv Eiriksson drilled well 7324/8-1 on the Wisting Central prospect in license PL537, in 373 m (1,224 ft) water depth. It is Norway's northernmost oil find to date.
Good-quality oil was proven through wireline logging, wireline testing, and coring. The well was drilled to a vertical depth of 905 m (2,969 ft). It will be permanently P&A'd. Recoverable reserves are estimated at 60-160 MMbbl, with 10-40 bcf (283 MM-1 bcm) of recoverable gas.
Elsewhere offshore Norway, Statoil has discovered gas with an exploration well on the Kramsnø prospect in PL532. The semisubmersibleWest Hercules drilled the well that encountered a 130-m (426-ft) gas column in the Stø and Nordmela formations, with poorer than expected reservoir quality. In the Snadd formation, the well intersected a 45-m (148-ft) gross gas column. Water depth was 403 m (1,322 ft). The Norwegian Petroleum Directorate estimates 2-4 bcm (70-141 bcf) recoverable.
Lundin Norway estimates recoverable reserves from its Gohta discovery in the 105-235 MMboe range. This is based on results of production testing of the 71201/3 well in license PL492, drilled by the semisubmersibleTransocean Arctic in 342 m (1,122 ft) of water, 35 km (21.7 mi) north of the Snøhvit field. This was the first successful test of Permian carbonates reservoirs anywhere on the Norwegian shelf, according to the company.
At the request of the Norwegian Ministry of Petroleum and Energy, the Norwegian Oil and Gas Association launched an initiative for a joint project to acquire 3D seismic data in the southeastern Barents Sea. The recently opened southeastern Barents Sea is part of the 23rd licensing round on the Norwegian continental shelf that is scheduled for this year. This is the country's first new offshore area to be opened since 1994.
Statoil is leading the project that includes: BP, Chevron, ConocoPhillips, Det Norske Oljeselskap, ENI, GDF Suez, Idemitsu, Lukoil, Lundin, Shell, PGNiG, Repsol, Spike, Suncor, VNG, Wintershall, Bayerngas, BG, DONG, Edison, E.ON, Explora Petroleum, ExxonMobil, Faroe Petroleum, INPEX, KUFPEC, Moeco, OMV, RN Nordic Oil, RWE Dea, Total, and Tullow Oil.
ExxonMobil Canada Properties has awarded Subsea 7 a $75-million, three-year subsea construction services contract for the Hebron heavy-oil field development in the Jeanne d'Arc basin, 350 km (218 mi) southeast of St. John's, Newfoundland & Labrador. The contract scope includes project management, engineering, and installation of two offshore loading systems in a water depth of 92 m (302 ft).
Detailed engineering and construction continues on the gravity-based structure and topsides for the Hebron platform, according to partner Suncor Energy. First oil is scheduled for late 2017, with the aim to extract more than 700 MMbbl during the field's 40-year lifespan.
Husky Energy has received regulatory approval on an amended South White Rose field development plan, the third satellite extension at the White Rose field in the Atlantic. South White Rose, 350 km (217 mi) offshore Newfoundland and Labrador, will be developed via subsea tieback to theSeaRose FPSO. First oil is expected in 2014.
Statoil and co-venturer Husky Energy are building a major oil reserves base offshore Newfoundland & Labrador. Bay du Nord, their third discovery in the Flemish Pass basin, could hold 300-600 MMbbl recoverable.


Click to Enlarge