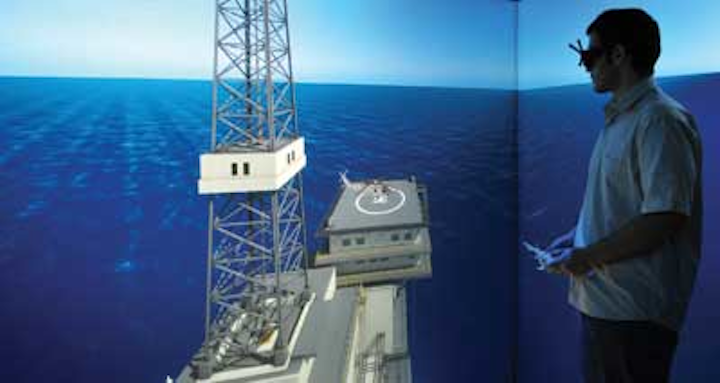 Doug Gray
Contributing Editor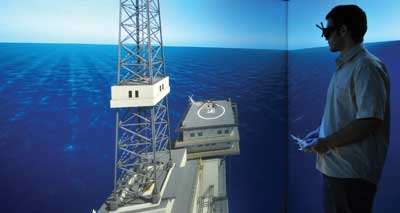 Petrobras' new training center in Rio de Janeiro will feature 3D and 4D simulation of multiple offshore scenarios.
The spotlight is firmly on Brazil's state oil giantPetrobras in the first half of 2014, as it has maneuvered through a corruption minefield that coincided with an investment rating downgrade from Standard and Poor's. Production levels have continued to build, however, with new platforms coming online to ramp up exports and improve cash flow.
With new auctions of fresh acreage unlikely for 2014, however, the seventh round of Petrobras' renovation of its support vessel fleet should have a major impact on the region's offshore industry in the latter half of this year. The second half will also see Petrobras' training center open north of Rio de Janeiro.
With ANP Director-General Magda Chateubriand's assertion that the agency will take a "conservative approach" to oil rights auctions this year, the likelihood of a new bid round in 2015 was boosted by comments from Marco Antonio Almeida in the Brazilian energy ministry. Despite suggesting a bid round would come in the first half of the year, there was no indication as to whether or not a new auction would include presalt acreage or, therefore, whether it would be under the concession or production-sharing system. There was a suggestion that, following last year's auction of theLibra presalt field, annual rounds would once again become the norm, but the lukewarm response to Libra from some of the world's biggest players may be behind a rethink.
The knock-on effect for Petrobras' production efforts may not be felt immediately, but with borrowing still far outstripping profits and a costly update to the company's fleet of support ships on the horizon, Standard and Poor's rating downgrade is a further blow to its investment efforts. Director of Exploration and Production José Formigli updated the progress on acquisition of the 146 boats on Petrobras' shopping list for the period 2008 to 2014.
"Up to now," Formigli explained, "of the 146 vessels, we have managed to contract 87," with most of the remainder still under construction. "We are working hard with the companies so that, in case of delays, they will be recovered and definitive solutions will be presented."
Petrobras is also facing an ongoing delay for the delivery of the 300-metric ton (330-ton) pipelaying support vesselSapura Esmeralda, originally due for completion at the OSX shipyard at the end of the year. Following the fallout from Eike Batista's company filing for bankruptcy, the construction had to be shifted to the IHC Merwede yard in the Netherlands, along with six other vessels in a joint venture with SapuraKencana and Seadrill.
Petrobras' President Maria Graça Foster hit at the delays, suggesting that the need to comply with the government's local content rules would continue to pose a risk to the company's all-important upward production curve. Foster's remarks came as Rolls-Royce announced the opening of its training center in Niteroí to support customers using its systems offshoreBrazil.
Petrobras' advanced training center is scheduled to open in the second half of 2014. Located in the Benfica suburb of Rio, where the Federation of Rio State Industry (FIRJAN) already has its Laboratory of Soldering Excellence, the center features a multi-purpose maritime simulator (MPMS) that recreates the challenges of various types of platform, from semisubmersible to FPSO, to train ballast operators, offshore installation managers, and emergency response teams.
The new department will comprise 20 different simulation environments, from subsea to topside, in virtual reality, 4D and 3D augmented reality cabins. The center will be the biggest facility of its kind in Latin America.
In deepwater Campos basin, meanwhile, theP-58 platform went into operation in the Parque das Baleias field in March. Installed in waters reaching 1,400 m (4,592 ft) deep, the FPSO-style unit will link to 15 production wells, eight in the presalt and seven in the postsalt layers, via 250 km (155 mi) of flexible risers.
Farther north, Petrobras confirmed its December discovery of intermediate oil at the provisionally named Pitu well in the deepwaters of Potiguar basin. Interest was stirred in the region after the bid round last May, and similarities with discoveries in West Africa have piqued renewed interest in one of Brazil's oldest production regions. The wildcat well is located at a water depth of 1,731 m (5,678 ft), 55 km (34 mi) off the Rio Grande do Norte coast. The well reached TD of 5,353 m (17,558 ft) and detected a hydrocarbon column of 188 m (617 ft).

Click to Enlarge