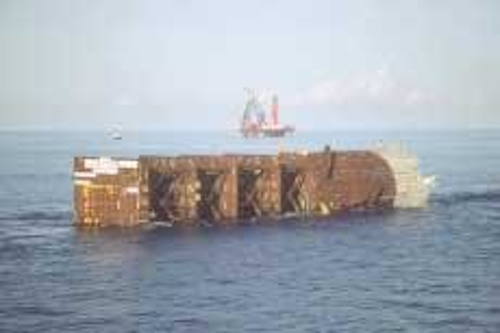 William Furlow • Houston
Technip, Mustang tapped for truss spar on Constitution
The truss spar being built for Kerr-McGee's Constitution field in Green Canyon blocks 679 and 680 in the Gulf of Mexico will be a copy of the hull and topsides built for the company's Gunnison project last year. Don Vardeman, director of Facilities Engineering for Kerr-McGee, said the company benefits from using the same solution more than once. Each time Kerr-McGee builds a truss spar, the process is refined and both time and cost savings are realized.
null
This will be Kerr-McGee's fourth truss spar facility in the GoM. Vardeman said the Consti-tution spar will have a capacity of 40,000 b/d of oil and 200 MMcf/d of gas production, similar to Nansen, Boomvang, and Gunnison. Because of the similarities, Kerr-McGee has once again tapped Mustang Engineering to design the topsides. "They know what our operations people want," Vardeman said.
The hull will be built by Technip at its yard in Pori, Finland. Vardeman said the Constitution facility will be moored in 5,000-ft water depth by a conventional chain and wire rope system. It will support five dry trees and one subsea tieback. Vardeman said the water depth and associated mooring system require a greater variable-load capacity. That means the spar, which will have a diameter of 98 ft, same as Gunnison, will be about 555 ft in length.
While the new facility was designed for Constitution, Vardeman said its location makes it an attractive host site for future subsea tiebacks. Constitution is owned 100% by Kerr-McGee and first production is anticipated for mid-2006.
New jacking system extends reach
Offshore Source has developed a new jacking system that will extend the load capability of jackup rigs, allowing them to operate in deeper water and carry heavier loads. Douglas A. Hines, president of Offshore Source, said drilling contractors want jackups to have greater capabilities to accommodate both exploration and development drilling. Deeper on-shelf wells require larger mud volumes, more drill pipe, and larger equipment to handle high-pressure formations.
All of this adds up to greater topside loads. Himes said the traditional rack and pinion jacking system is approaching its technical limit. The only way to extend its capabilities is to add more pins. Large jackups now in operation can use as many as 36 to 72 pinions to raise and lower their hulls. Each additional pinion in the system affects the cost. In addition, the pins create rolling friction on the rack-mating surface of the rack-chord area, which means these expensive components of 100-ksi material must periodically be replaced. The systems also require a locking component or lock-off system. The locking system alone can cost over $4 million.
The Offshore Source design combines the cylinder and rack-chord idea. Using less expensive 60-ksi materials, and one-half rack face width, this system does not require a locking mechanism or create the rolling friction problem. Hines noted that the system is retrofitable to existing designs.
By using a series of cylinders and computer controls, Offshore Source's patented system can use hydraulic power to raise and lower a larger platform with less expensive equipment. The design does not require a locking mechanism, Hines said, and could save as much as $10 million on a new-build jackup. Hines said he is seeking ABS approval before offering the design to shipyards and drilling contractors.
Red Hawk makes do with one windlass
Spars that support dry trees operate on active mooring systems so that they can be moved off station and allow for a MODU to drill and complete development wells. These dry-tree designs have a narrow watch circle because of their DVA wells. The Red Hawk cell spar is an exception because it supports two subsea tiebacks.
To take advantage of this situation, Kerr-McGee designed the spar with one windlass to service all six mooring lines. The windlass winds-in or pays-out anchor chain to adjust the position of the moored spar. During initial hook-up, the windlass will get quite a workout hooking up the six mooring lines. Once the facility is installed, a crew of only six will man it, working in two shifts. Jenifer Tule, project engineer for Worldwide Deepwater Facilities at Kerr-McGee, said the permanent, taut, catenary-mooring system on Red Hawk is made up of six equally spaced legs. Each includes two test lengths of polyester rope. The MMS requires that a length of this test insert be pulled every two and one-half years for inspection. To do this, the anchor chain is deployed and the line recovered to surface, where the test section is removed. Other than occasional minor adjustments in the mooring system, this will be the only occasion when the windlass is used.
While the cost savings of using a single windlass is substantial, Tule said it took some creative design work. The key is an additional 800 ft of anchor chain stored on the lower deck of the spar. Using two hydraulic tuggers, sheaves, and snatch blocks, the crew can route this chain between the windlass and any of the mooring lines. The chain runs through an elaborate system of tracks built into the spar deck of the topsides. While 800 ft of chain is both heavy and expensive, Tule said the single windlass design also eliminates a full 500 ft of chain from each line, so there is a net savings overall.
McDermott hands over Devils Tower
J. Ray McDermott has completed and handed over theDevils Tower spar platform. McDermott subsidiary SparTEC provided overall project management for the design, engineering, procurement, fabrication, installation, and commissioning of the offshore production facility.
TheDevils Tower hull was constructed at J. Ray's Batam Island, Indonesia, facility. It is 586 ft in length, 94 ft in diameter and weighed over 11,000 tons at the time of installation. The topside, which weighs over 9,300 tons (maximum payload, including drilling rig), was prefabricated in subassemblies at J. Ray's Veracruz, Mexico, facility, then assembled and outfitted at its Harbor Island facility near Corpus Christi, Texas. The platform mooring piles and prod-uction riser buoyancy can systems were also fabricated at J. Ray's facility in Mexico.
J. Ray completed the offshore lift and set of the topsides on Nov. 30, 2003, using itsDerrick Barge 50 and shearleg crane with a combined lift capacity of over 7,000 tons. J. Ray also conducted the hook-up and commissioning of the platform.
Devil's Tower is the world's deepest spar, located in 5,610 ft of water in the Gulf of Mexico. The field, operated by Dominion Exploration & Production Inc., is a deepwater development located in Mississippi Canyon block 773 approximately 150 mi south of Mobile, Ala-bama, and is capable of producing 60,000 b/d and 60 MMcf/d. Dominion expects start of production in 2Q. Dominion E&P owns 75% of the Devils Tower field, with partner Pioneer Natural Resources holding the remaining 25% interest.