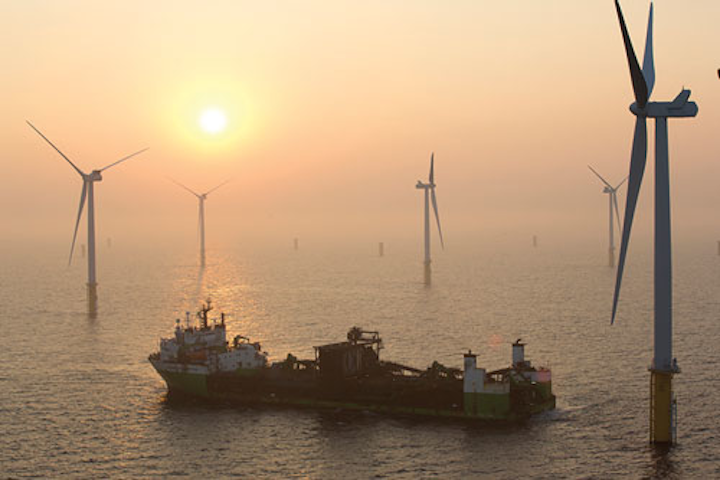 Supply chain still faces challenges
Bryan Livingston
Capital Alliance Corp.
Stefan Goethals
KBC Securities
While the onshore oil and gas industry is shaking off the downturn and going back to work this year, many industry analysts do not expect offshore exploration activities to follow suit until sometime in 2018 at the earliest. This has placed a burden on offshore oil and gas service and supply companies to remain solvent.
According to a recent study by industry research firm Douglas-Westwood,the number of fixed assets to be installed in 2017 will be 45% less than 2014 levels, when oil prices were their recent highest. Now, the new normal of low oil prices in the near term is forcing many contractors to find opportunities outside of oil and gas.
Offshore wind energy is one market where service companies are finding some success.
Europe leads the way
The most immediate opportunities lie in the waters of Northern Europe. The continent's offshore wind power industry currently contributes nearly 90% of the world's newly installed offshore wind capacity. At least 11 projects are currently under construction in the waters off the UK, Belgium, Germany, and Holland. And, several European governments have recently backed an industry pledge to install 60 gigawatts (GW) of new offshore wind power by 2030, five times the current capacity.
As part of its commitment to furthering offshore wind, the UK has a total of 26 GW of wind capacity projects in construction, in planning or under development - a significant boost to the country's current 5 GW of offshore wind capacity. In 2018, Denmark's DONG Energy will begin installing its 1.2-GW Hornsea Project One off the Yorkshire Coast. This project, and the planned 1.8-GW Hornsea Project Two, will far surpass the generating capacity of the world's current record holder, a 630-megawatt (MW) wind farm array located off the coast of Kent.
This increased project activity has forced wind operators to look for novel ways to cut their installation costs, and many are turning to the oil and gas industry for inspiration and ideas. For example, DONG says that it has reduced its installation costs by 50% in just four years by replacing its conventional means of fixing turbines in place - hammering a large steel tube into the seabed - with a three-legged support structure that sits on suction buckets that anchor the foundation to the seafloor. Such a method has been used in shallow-water oil-and-gas production platforms for decades.
Europe's uptick in wind energy is also increasing the demand for offshore logistics and construction support services. Heavy-lift vessels that were traditionally used to transport and install topsides and other large equipment for production platforms are increasingly being used to support the installation of foundations and substations.
Offshore services contractors are quickly filling their backlogs with wind-related projects, a significant change from decades past, but a trend that is expected to continue in the coming years. Van Oord, for example, has increasingly put its rock-dumping and dredging vessels to work in laying cables and protecting turbine foundations at the seafloor. And, the company was the EPC contractor for the recently completed Gemini Offshore Wind Park, one of the largest wind farms in the world, which provides a total of 600 MW of energy production to the Netherlands.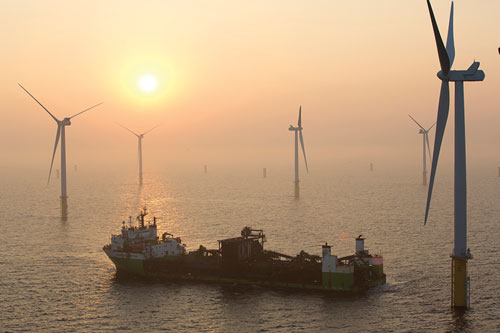 For the Northwind Offshore Wind Farm in the Belgian North Sea, DEME's GeoSea company was responsible for designing, procuring, fabricating, and installing 73 monopiles and foundations in water depths ranging from 16 m to 29 m (52 ft to 95 ft). The 216-MW wind farm aims to supply power to 250,000 households in Belgium. (Photo courtesy DEME)
Fugro was contracted by Van Oord to execute cable burial works for the project, by mobilizing a Q1400 trenching spread onto a support vessel. The installation, which called for Fugro to bury a combined length of 140 km (87 mi) of export cables and connector cable to a target depth of 1.5 m (4.9 ft) below sea level, helped solidify the trencher's capability on long-distance jetting projects in harder sections of seabed.
Europe's newest wind farms will incorporate floating structures in deeper waters farther from shore, where winds are stronger and more consistent. To build these large floaters as economically as possible, developers are turning to mooring solutions perfected for oil and gas semisubmersibles and other floating structures. Late last year, SBM Offshore was selected to build a pilot floating wind farm for EDF Energies Nouvelles' Provence Grand Large project, offshore France. The company will leverage its experience in developing and installing mooring solutions and floating units for oil and gas to develop a minimal footprint, lightweight structure floater that lowers both capital and operating expenses.
Belgian offshore service provider DEME has also been busy offshore Europe. Its marine engineering subsidiary GeoSea currently has multiple offshore wind farm projects in various stages of development in the waters off the UK, Germany, Denmark, the Netherlands, and Belgium. The work, which spans from one year to 17 years, includes foundation transport and installation, maintenance activities, EPCI for plant and substation installation, and ongoing crew transfers and supply logistics.
Developers are increasingly betting on the long-term viability of offshore wind as a fully competitive alternative to conventional power. DONG Energy and German utility EnBW, for example, both won bids in Germany's inaugural offshore wind auction in April with bids of zero. This means that the companies plan to enter into contracts with third parties at market rates, without the benefit of subsidies. This emerging trend, coupled with the continued cost decline for capital projects, suggests that Europe's offshore wind market will help keep heavy-lift contractors and other service providers afloat for the foreseeable future.
Making headwinds in US waters
US offshore wind farm developments are starting to take off, as coastal states seek to add new forms of power production and emulate offshore Europe's wind power successes. These developments began with the five-turbine, 30-MW Block Island wind farm off the coast of Rhode Island, which started delivering power to the New England grid in early May of this year.
Several US Gulf Coast-based engineering and construction firms contributed to the project, including Louisiana's Keystone Engineering, which adapted an oil-platform design for the turbine structures. Gulf Island Fabrication Inc. made the foundation jackets for Block Island, while Montco Offshore and Weeks Marine mobilized installation equipment. Much of this equipment was transported from Louisiana to Rhode Island by barge.
This initial success is just the start of a new wave of wind projects in US waters. The Department of Energy estimates that 86 GW of US offshore wind power will be added by 2050, generating more than 150,000 jobs in the process. This is thanks in part to an easing of offshore permitting rules, dropping construction costs, and tax incentives at the federal and state levels.
Challenges persist
However, wind farm developers still face sizable challenges that they must overcome to keep pace with these plans. For example, higher labor costs up and down the Atlantic coast, compared to those of some European countries, have to be considered.
And, the push to bolster the nearly 100-year old Jones Act, the maritime law enacted to protect US shipbuilding and transport between US ports, could slow development by preventing non-US vessels and crews from working on wind projects in American waters. In the long term, however, tighter restrictions may provide a competitive advantage to US-owned, -built, and -crewed vessels.
The supply chain also needs to continue advancing. Turbines and ancillary equipment cannot continue to be sourced largely from the US Gulf states. If service companies are to be competitive in this growing market, they must set up fabrication and distribution facilities on the Atlantic coast, where much of the initial wind farm development is taking place.

Editor's note:Capital Alliance Corp. and KBC Securities are part of Oaklins, a global investment banking group that facilitates mergers and acquisitions in the European and US renewable energy sectors.