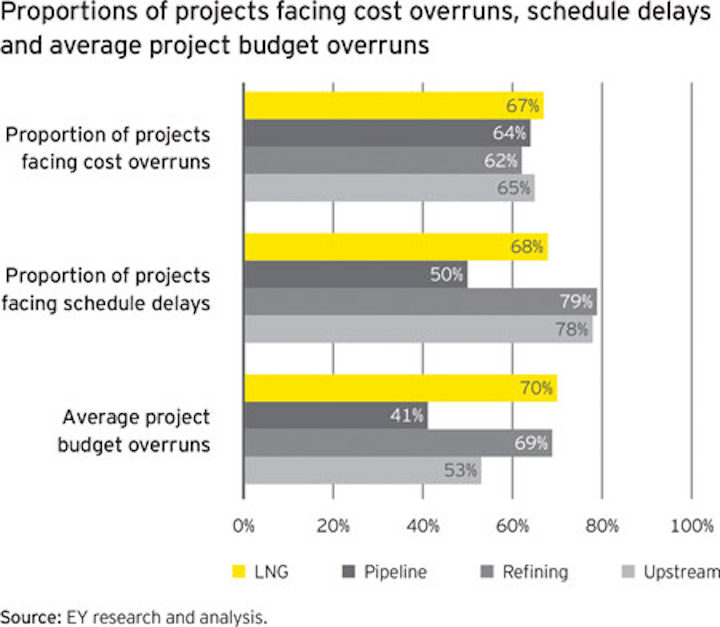 Axel Preiss • Chris Pateman-Jones
EY
Capital project delivery performance remains a sore spot for the oil and gas industry. Oil price volatility has led to increased sensitivity around escalating development costs and their impact on overall project viability.
The increased complexity and associated cost of most greenfield projects has resulted in many projects being deferred or canceled in the current low oil price environment. Recalibrating project hurdle rates has been a crucial exercise in the industry. Projects must be designed to be less costly and be delivered with greater certainty.
Indeed, the industry's ability to enhance capital project delivery and execution performance in an uncertain commodity price future will be determined largely by the ability of leadership teams to deliver across the following three areas.
Oversight
Project governance that provides effective oversight has never been more important across its life cycle and, in particular, in the early phases of the project - prior to the final investment decision (FID).
Over the last two years, companies have aggressively reduced capex and the hurdle rates for approvals, meaning that while project teams remain under pressure to advance the project pipeline, they must do so at fundamentally different productivity levels than before. Under this pressure, there is a serious risk that teams fall into the trap of underestimating the risks in project development, while also overestimating their ability to deliver - which in many cases has been diminished through headcount reductions. This optimism bias means that without rigorous independent governance, there is a risk of projects missing FID targets even more frequently.
As a result, there has been a redoubling of focus on governance, risk management, and robust economic planning to enhance project and whole life asset performance. Leadership teams have turned a critical eye to in-house project management capability and sought to establish improved portfolio management and governance models. The intention is to create models capable of managing increasingly complex and changing portfolios with integrated teams driven by common goals and a clear delineation of roles and responsibilities.
This focus has also unearthed opportunities for leveraging digital tools to streamline or simplify reporting requirements while increasing oversight, control, and integration. To this end, examples exist of visualization and gaming technology being used to create interactive 3-D engineering environments, allowing users to virtually navigate their sites and even operate assets - just like in a video game - prior to beginning construction or the procurement of major equipment.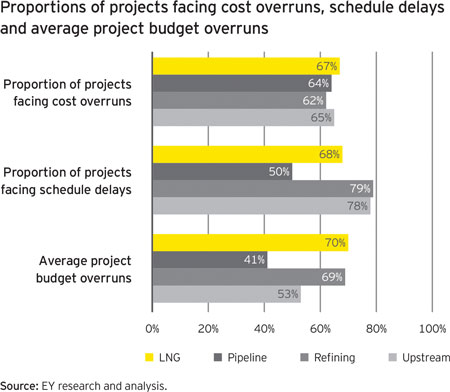 Capability
As projects have grown in size and complexity, capability has become a major issue for the industry, both to appropriately resource projects and to fully understand them in a digital age. Challenging market conditions have caused headcount reductions while companies have also complained of a decrease in workforce productivity linked to lower investment in training and an increasingly mobile workforce.
There is a clear business case for these reductions, but there is a delicate balance to be struck. Organizations are increasingly considering outsourcing functions, including components of project management (PM). In many instances, the required PM expertise could be delivered more cost effectively through the supply chain and exists in greater abundance within supply rather than operator organizations.Separately, despite the fact that oil and gas companies have access to large amounts of data, the industry lags behind others in the use of advanced analytics to improve decision-making, optimize workforce activities, and identify emerging improvement opportunities. This is particularly true when it comes to large capital projects where analysis is almost entirely reactive rather than predictive.
Efficiency
There is a huge opportunity for efficiency improvement across a variety of topics within oil and gas project development, including the adoption of new technologies. To date, however, the greatest areas of focus are in standardization and process efficiency.
Significant benefit can be derived from creating repeatable lean processes through a portfolio of project templates addressing common scenarios and enforcing rigor in decision-making. However, to eradicate inefficiency and improve productivity across the whole project organization, it is critical for operators to engage and collaborate with key stakeholders across the project ecosystem. Future project cost reduction initiatives must be collaborative in nature to move discussions away from protectionist thinking and empower EPCs, who hold the key to the greatest cost reduction opportunity, to propose improvement initiatives.
Standardization of equipment, technology, project management practices, engineering, and design approaches will also improve efficiency. Until recently, companies tended to treat each project as unique rather than taking learnings from previous projects. The result, of course, is unnecessary complexity and duplication. Minimizing this can reduce costs significantly, but it will require a holistic and collaborative, cross-industry approach to deliver meaningful results.
Together, changes in capital project oversight, capability, and efficiency could revolutionize development and execution performance.