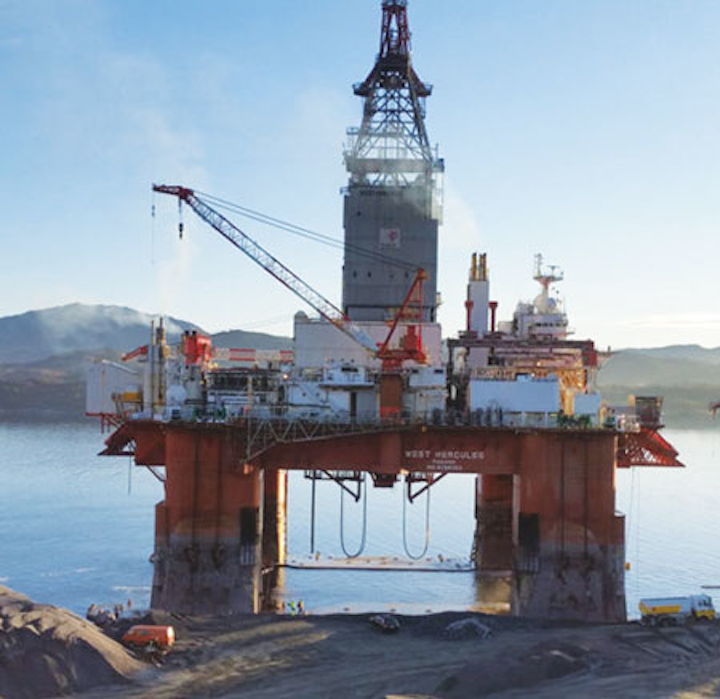 In Norway's far north, the main port servicing offshore activity in the Barents Sea has always been Hammerfest, particularly since 2007 when gas production started from Statoil's Snøhvit project. Six years later, Eni opened a new operations center in town to support the Goliat oil and gas project which came onstream last year. Other international operators will likely follow suit if the record number of exploratory wells in the Norwegian Barents this summer leads to commercial discoveries. Continued exploration and the next wave of development projects will require further expansion of shore-based support services.
The main hub for offshore E&P is in Rypefjord, 5 km (3.1 mi) south of Hammerfest. This is the location for Polarbase, the northernmost of a chain of supply bases around the Norwegian coast owned and operated by NorSea Group, which has supported exploration and production drilling in the region since 1980. Facilities here include a 520,000-sq m (5.56-million sq ft) outside area; a 550-m (1,804-ft) long quay structure, with water depths alongside varying from 10-22 m (33-72 ft); and three 40-m (131-ft) long floating quays. One of the newest tenants is Greencarrier Freight services, which recently opened an office at the site to manage its freight forwarding/port logistics contract from Eni for Goliat. Nearby in Fuglenes, ASCO has operated a logistics base since January 2016, providing warehousing services, transport and third-party services such as outdoor and indoor storage.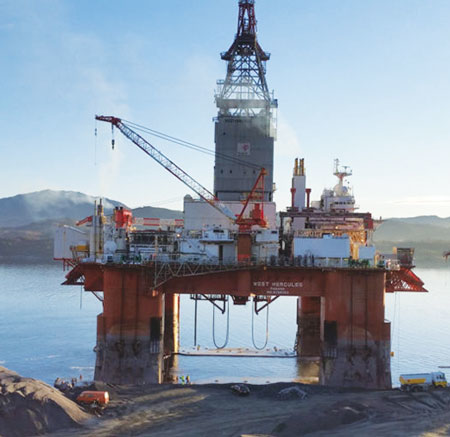 West Hercules at Skipavika Port. (Photo courtesy Skipavika Terminal)">
TheWest Hercules at Skipavika Port. (Photo courtesy Skipavika Terminal)
Around the coast to the east on the Laksefjorden inlet is Veidnes in Nordkapp municipality. Statoil's initial concept for the Johan Castberg offshore development, 240 km (149 mi) northwest of Hammerfest, was based on a floating production unit, with the produced oil routed through a 280-km (174-mi) subsea pipeline to a planned reception/storage terminal at Veidnes. Here the oil, stored in tanks, would be transferred to export tankers. Although the scheme was subsequently dropped on cost grounds in favor of a conventional FPSO/offshore offloading solution, the various partners in the Castberg, Alta/Gohta, and Wisting discoveries are keeping their options open. Their Barents Sea Oil Infrastructure project is considering assigning a dedicated fleet of winterized shuttle tankers to transport oil from the four fields to Veidnes for storage and onward transportation.
Sagetec, working with Statoil, has developed a simulation model for the entire associated supply chain to identify bottlenecks, verify the proposed tank size designs and volumes, and to modify parameters such as the number of required jetties, tug boats and shuttle tankers.
Danish offshore maintenance specialist Semco Maritime has entered into a strategic agreement with the Skipavika Terminal near Bergen on the mid-Norwegian west coast to establish a rig preparedness service at the port. The location, which covers a 440-sq km (170-sq mi) area with a 1.5-km (0.9-mi) shore line, recently had six rigs docked in cold and warm stacking mode. Recent visitors have included the semisubmersiblesSonga Delta, West Hercules, West Alpha, and Songa Enabler.