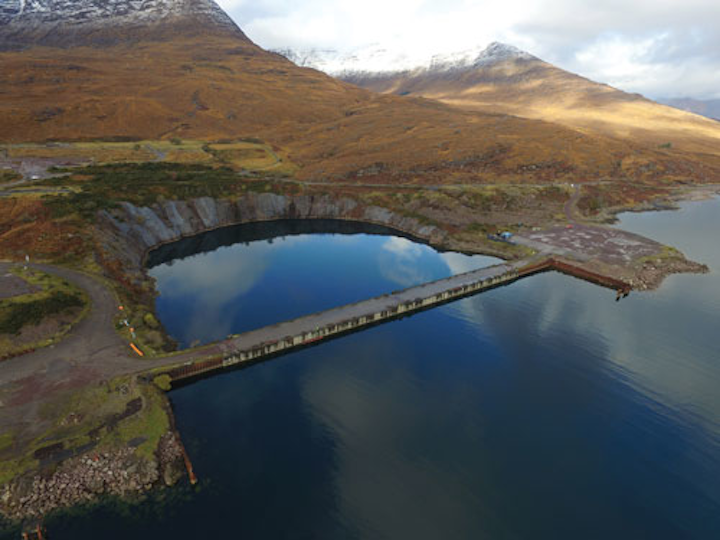 Jeremy Beckman
Editor, Europe
Independents continue to galvanize the UK North Sea. Alpha Petroleum and Hurricane Energy are among those driving forward new greenfield and redevelopment projects. EnQuest and Chrysaor are taking on management of various mature field centers, while Azinor Catalyst and Jersey Oil & Gas are leading the way in exploration of new or neglected plays.
Scotland's ports will benefit from the associated uptick in stopovers by drilling rigs and support vessels, but they are also preparing for the potentially more lucrative market of offshore decommissioning, with some analysts estimating the costs for the North Sea alone at £75 billion (£97 billion) over the next two decades. Unlike their counterparts in Norway, Scottish ports lack licensed full-scale facilities for platform dismantling and recycling, but some are addressing this issue.
The Port of Dundee, south of Aberdeen on the north side of the sheltered River Tay, is looking to establish the surrounding area as a decommissioning hub. Owner Forth Ports has commissioned Southbay Civil Engineering to design and create an extended quayside at the port's eastern end as part of a £10-million ($12.9-million) upgrade program, connected to the existing Prince Charles Wharf. On completion at the end of this year, the quayside will be 200 m (656 ft) longer and will be one of the strongest in Scotland, Forth Ports claims, with a landing pad for a permanently installed 1,500-metric ton (1,653-ton) crane to support decommissioning projects.
The project also includes development of a 25-acre yard, designed to attract more specialists in, for instance, IRM services for vessels, jackups and semisubmersible rigs. One of the port's newest tenants, Motive Offshore Group, recently took on an existing site with a 12,000-sq ft (1,115-sq m) workshop and deepwater quayside access, initially to manufacture and mobilize a 5,000-metric ton (5,511-ton) carousel loading tower with tensioner and other deck items, for client Swan Hunter UK. The completed equipment was due to be loaded out by mid-year for onward transportation to a project offshore Ghana.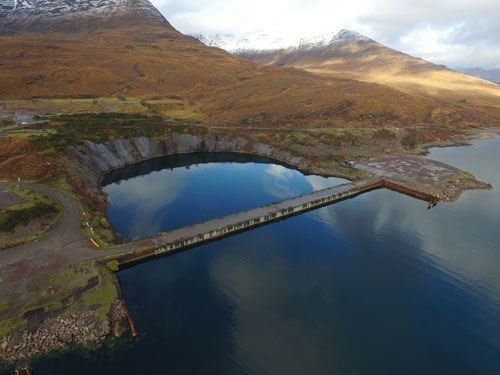 Kishorn Port's dry-dock gates were recently moved for the first time in 23 years. (Photo courtesy Kishorn Port)
Earlier this year, Forth Ports and Augean North Sea Services opened a new 25,000-sq ft (2,322-sq m) waste management facility at the port to handle materials from North Sea oil and gas exploration, production and decommissioning activities. This will make use of the heavy-lift decommissioning quayside once it is opened at the end of the year.
Lerwick Harbour on the main Shetland island is closest to the giant elderly platforms in the UK northern North Sea and is expanding its decommissioning capability. Last year the length of the quay at Dales Voe South was more than doubled to 127 m (416 ft), with a depth of up to 12.5 m (41 ft) and a load-bearing capacity of 60 metric tons (66 tons), reportedly unique for Scotland. The deepwater provision and improved berthing and heavy load capacity allows the facility to take an offshore structure in a single lift and the large laydown area alongside is said to be suited to decommissioning projects. However, another proposed 24-m (78.7-ft) deep quay at Dales Voe is on hold pending decisions on future large-scale decommissioning projects in the northern North Sea. One development that is going ahead at the port is a five-year, multi-field subsea structure disposal contract for Hess.
Highlands and Islands Enterprise has co-funded a program to upgrade the dry-dock at Kishorn Port on the northwest Scottish coast, west of Inverness. In the late 1970s the port was an oil and gas fabrication yard, used for casting of the 600,000-metric ton (661,387-ton) Ninian Central platform that is currently operated by Canadian Natural Resources. The dry-dock was last used in 1994 for work on a bridge connecting the mainland with the Isle of Skye; recently, the two 13,000-metric ton (14,330-ton) dock gates were moved once more to allow pumping operations in order to reactivate the site ahead of its first new contract in 23 years. This involves fabrication of the semi-spar substructure for eight 6-MW wind turbines for what is claimed will be the world's largest floating wind farm, located off the coast of Aberdeen. Work at Kishorn will start in August, with the first turbine of the 50-MW array due to be in the water next spring.
Kishorn Port's owners will also target decommissioning opportunities, according to director Alasdair Ferguson: "Dry docks are ideal for decommissioning floating structures in a contained environment, particularly if they can be accessed by super heavy lift vessels that need sheltered deep water up to 38 m [124 ft] in depth where 70 m [229 ft] is available to tranship their loads." The Port has applied to license the yard for handling decommissioning with the relevant UK authorities, and is seeking partners with experience in this sector to help develop the shore side facilities and infrastructure.
Work has recently started on a £350-million ($453-million) southward expansion of Aberdeen Harbour's facilities into Nigg Bay. Dragados UK is managing the three-year program, which should allow Aberdeen to accommodate larger vessels and larger-scale decommissioning activity. The program includes 1,400 m (4,503 ft) of new quay, with a water depth of up to 10.5 m (34.5 ft), and an additional 125,000-sq m (1.34-million sq ft) lay-down area.