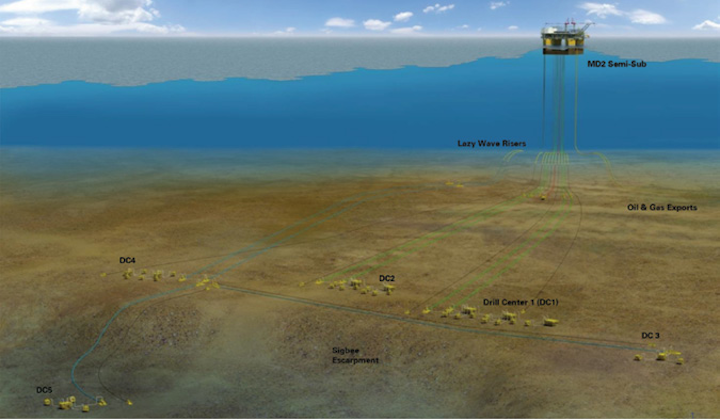 Standardized platform design reduces cost by about 60%
Jessica Tippee
Assistant Editor
The Mad Dog Phase 2 development plan includes a new semisubmersible floating production platform with the capacity to produce up to 140,000 b/d of crude oil from 14 production wells.
(All images courtesy BP)
After the cost estimate of an initial design reached more than $20 billion, BP, BHP Billiton, and Chevron embarked on a recycle of the Mad Dog Phase 2 project in 2013. Three years later, the co-owners and contractors produced a simplified and standardized platform design that reduced the overall project cost by about 60%. In December 2016, operator BP sanctioned the leaner $9-billion project in the deepwater Gulf of Mexico. At that time Bob Dudley, BP Group CEO, said: "This announcement shows that big deepwater projects can still be economic in a low-price environment in the US if they are designed in a smart and cost-effective way."
BHP and Chevron reached a final investment decision two months later. BHP approved the expenditure of $2.2 billion for its share of the project. BP holds 60.5% working interest along with co-owners BHP Billiton (23.9%) and Union Oil Company of California, an affiliate of Chevron U.S.A. Inc. (15.6%).
Richard Morrison, president of BP's Gulf of Mexico business, said: "Mad Dog Phase 2 has been one of the most anticipated projects in the US deepwater and underscores our continued commitment to the Gulf of Mexico.
"The project team showed tremendous discipline and arrived at a far better and more resilient concept that we expect to generate strong returns for years to come, even in a low oil price environment."
The Mad Dog Phase 2 development plan includes a new semisubmersible floating production platform with the capacity to produce up to 140,000 b/d of crude oil from 14 production wells and inject up to 140,000 b/d of water using a LoSal system to enhance oil recovery. Production is expected to begin in late 2021 and be profitable at or below current oil prices.
The second Mad Dog platform will be moored in the Green Canyon area about 6 mi (10 km) southwest of the existing Mad Dog platform, which is in 4,500 ft (1,372 m) of water about 190 mi (306 km) south of New Orleans. Discovered in 1998, Mad Dog began production in 2005 from a floating truss spar facility that is designed to produce up to 80,000 b/d of oil and 60 MMcf/d of natural gas. Continued appraisal drilling in the field during 2009 and 2011 doubled the resource estimate of the field to more than 4 Bboe, spurring the need for another platform at the field.
Speaking at a multi-disciplinary panel at this year's Offshore Technology Conference in Houston, Doris Reiter, vice president, Performance Management, BP, said technology advances in seismic data acquisition and processing have increased the estimates of oil in place at the Mad Dog field to 5 Bbbl.
Bill Steel, project general manager, Mad Dog Phase 2, BP, said that the initial second phase called "Big Dog" was an all-in strategy that aimed to develop all the resources. He said the reevaluation delivered a competitive solution by incorporating value over volume, industry learned solutions, and collaboration. He said the new strategy called "transformer" aims to develop key resources not all. Phase 2 is based on the Atlantis concept. According to Steel, two-thirds of the cost savings came from re-engineering the floating production system to a simplified and optimized semisubmersible production platform and using all subsea wells; and one-third came from industry collaboration and standardization. According to Bob Squires, non-operated joint venture project manager, Chevron, collaboration requires willingness, objective alignment, and transparency. He also said that successful recycles reduce both costs and risk. Stephan Drouaud, senior project manager, BHP Billiton, added that collaboration also requires trust.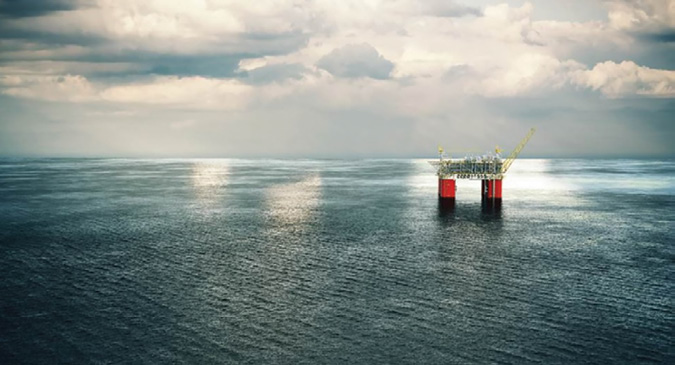 Above: The new semisubmersible production platform will be moored about 6 mi (10 km) southwest of the original Mad Dog floating truss spar. Below: A simplified and standardized platform design has reduced the overall project cost by about 60%.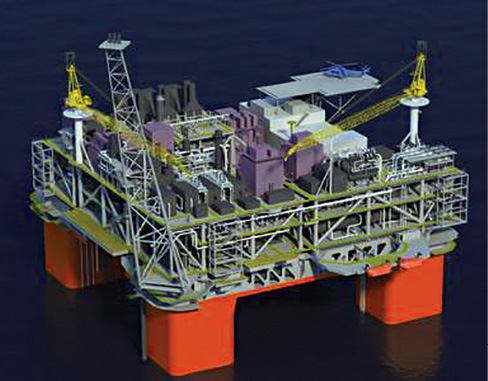 At the beginning of the year, Samsung Heavy Industries (SHI) won a $1.27-billion contract to build the floating production unit. SHI awarded Wood plc (then Wood Group) an $80-million contract to provide detailed engineering and procurement services for the topsides. This followed the completion of interim agreement period early work in December 2016, which was valued at $4.5 million. As part of its global services agreement with BP, Wood Group's Specialist Technical Solutions business received a $4.89-million contract for subsea engineering and project management services. This includes gas lift system interface design, geospatial information system support, subsea controls engineering and geotechnical engineering support.
OneSubsea, a Schlumberger company won an engineering, procurement, and construction contract to supply the subsea production system. The scope includes subsea manifolds, trees, control system, single and multi-phase meters, water analysis sensors, intervention tooling, and test equipment for producer and water injection wells associated with the project.
Subsea 7, which collaborates with OneSubsea through the Subsea Integration Alliance, received an engineering, procurement, construction, and installation contract for subsea controls, flexible risers, pipeline systems, umbilicals, and associated subsea architecture. The contract value is between $300 and $500 million. Offshore installation activities are scheduled for 2019 and 2020. Project management, including engineering, fabrication, installation support and life of field activities will be managed by US-based resources and operations in both Houston and Louisiana. Teams from both companies will be co-located to better support project objectives. According to Subsea 7, this is the first substantial project in the US to use its Swagelining polymer lining technology. In addition, Subsea 7 has contracted InterMoor to provide mooring and wet tow services for the semisub production platform.
The Dresser-Rand business, part of Siemens Power and Gas Division, will provide two DATUM compressor trains for export gas service. Equipment delivery is scheduled for 2018. The company will supply two low-pressure D6A4S and two high-pressure D6R9B compressors. The modular design of the DATUM compressor is said to minimize maintenance and reduce downtime. Each compressor train will be driven by a Siemens electric motor and includes a variable speed gearbox.