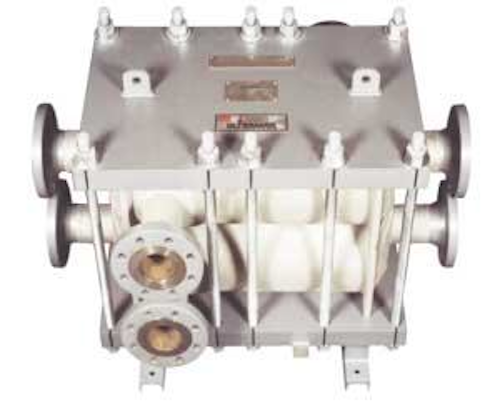 Tranter PHE's Ultramax is a welded plate heat exchanger (PHE) that can handle higher temperatures and pressures than previously possible.
Ultramax incorporates benefits of a conventional PHE in a gasket-free all-welded heat exchanger. Welding, rather than using the traditional elastomer gaskets, allows the Ultramax to outperform its predecessor, said Mårten Söderback, project manager, contractor department.
"Every product we manufacture is unique to the customer," he said. "Since this is not serial production U we can make what the customer requires."
The Ultramax units can be used with liquids, gases, or two-phase mixtures. Cores are combined into a frame to form the unit.
The Ultramax units can be used with liquids, gases, or two-phase mixtures at extreme temperatures of -200° C to 350° C and pressures up to 70 bar. Elastomer-gasketed PHEs can typically handle an upper temperature of about 180° C.
A PHE works with corrugated metal plates in a frame, with hot and cold media flowing on either side of the plate to transfer heat in an efficient heat exchange. The corrugated pattern facilitates higher turbulence, yielding more efficiency and allowing closer temperature approaches, even down to only 1° C difference between the hot and cold fluids, Söderback said.
The new pieces function the same way as conventional plate and frame heat exchangers, featuring a true counter-current flow. The Ultramax units are partly spot-welded on the cassettes to allow thermal expansion and prevent thermal fatigue.
Söderback sees the Ultramax, which was in development for about two years, gaining use in the offshore market for treating crude oil in addition to the other activities going on at a platform that support the main objective.
Tranter PHE, which is a member of the Tranter Group, a subsidiary of Dover Corp., designed the Ultramax for performance beyond the capabilities of gasketed PHEs. Typical applications include high-temperature thermal oil processing, heaters of organic chemicals and solvents, vegetable oil processing, desuperheaters in heat recovery, high-temperature interchangers, and evaporators and condensers for refrigeration duties.
Ultramax units are partly spot-welded to allow thermal expansion.
The frame of the Ultramax can be fashioned from carbon steel, stainless steel, or titanium. The unit consists of pressed plates welded together to form cassettes that are welded together to form a core, fitted in a frame.
The units feature an I-channel and a Z-channel with different volumes to be able to handle unequal flows through the unit. Several modules can be manifolded in series or parallel to accommodate higher flow rates and heating surfaces. Welded PHEs will accommodate more chemically aggressive media than gasketed PHEs, Söderback said.
Tranter estimates a PHE could have a typical heat transfer coefficient rate four to five times higher than a shell-and-tube design. It further claims that welded PHEs provide better thermal efficiency and a smaller footprint than shell-and-tube versions.
Tranter has a larger Ultramax with longer thermal length on the drawing board. The company is also developing systems to accommodate larger particles – it will soon release the Widemax, which will feature larger channel depth to handle bigger particles, Söderback said. Ultramax can handle particles up to 1 mm.
For more information, contact Mårten Söderback, Tranter PHE. Tel: +46 8 442 49 70, fax: +46 8 442 49 80, email: marten.soderback@tranterphe.com, website: www.tranterphe.com.