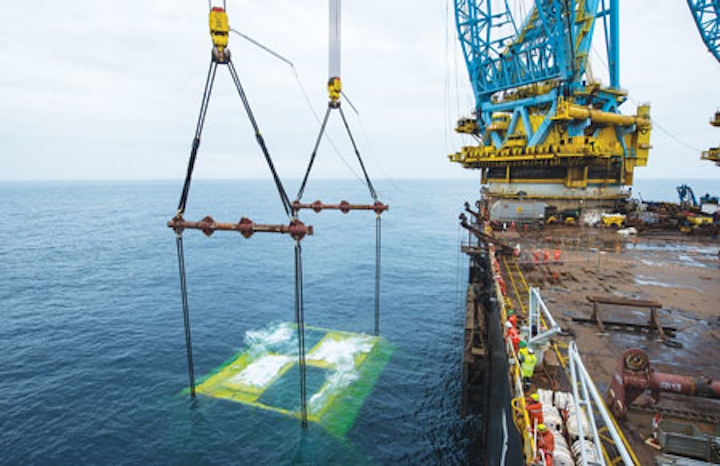 Simon Davies
Rune Mode Ramberg
Statoil ASA
Since the late 1980s, several operators, suppliers, and research institutions have been involved in a significant effort to develop, qualify, and commercialize subsea compression technology. Subsea compression can increase recovery, accelerate production, and manage flow-related challenges in a cost-effective manner. Last year, two different subsea compression concepts in the North Sea, Gullfaks and Åsgard, have been brought onstream by Statoil and its partners, marking the first time that compression technology has been deployed subsea.
Subsea compression is also energy efficient, as it avoids having to "suck" the gas rather than "push" it from a location close to the wells. Because of this, and the fact that it requires relatively little supporting steel and operating personnel, it has a low environmental footprint compared to an alternative compression platform.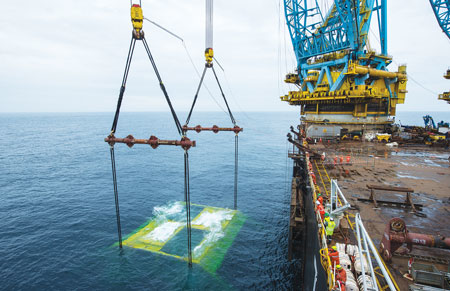 Saipem 7000. (Image courtesy Statoil)">
The Åsgard subsea compressor manifold station was installed during the summer of 2013 from theSaipem 7000. (Image courtesy Statoil)
For smaller fields, where simplicity and relatively low boost pressure are drivers, multiphase compression can be used, as is the case with Gullfaks. For fields that are larger, or that have a greater step-out distance (and thus require greater pressure boost), more sophisticated systems employing gas scrubbing upstream of centrifugal dry gas compressors are employed, as with Åsgard.
While the Gullfaks and Åsgard subsea compression projects are separate, standalone projects, each with their own business case, they have been executed with a common project management team and a common expert resource pool. This approach helps ensure transfer of lessons learned and best practice when implementing this new technology
Gullfaks
As part of the Gullfaks 2030 field life extension project, Statoil has worked with OneSubsea and other key suppliers to qualify a helico-axial multiphase compressor technology. Technology qualification activities have been on-going since 2008. In 2011, following successful onshore compressor testing, Statoil and its partners selected subsea compression as the preferred compression concept. The final investment decision was taken on May 4, 2012. The main components comprise inlet coolers, a multiphase mixer unit, and two multiphase compressors.
The business case for subsea compression provides the greatest field development flexibility, with three additional flowline hubs available to tie-in other satellites in the area that need boosting in future. This solution also frees up space on the platform that can be used for other process modifications.
Åsgard
At Åsgard, gas needs to be boosted from the Mikkel and Midgard satellite fields to the Åsgard B platform in order to maintain stable production rates and avoid accumulation of mono-ethylene glycol (MEG) in the flowline. The lack of available space on the topsides means that a new compression platform would have been required if subsea compression was not utilized. The development concept was selected in 2010, with the final investment decision following in July 2011.
The subsea concept has two trains, each comprising a scrubber, condensate pump, and a compressor with inlet and outlet cooler. Focus has been on developing a compact compressor design, with motor and compressor housed in the same casing, with motor cooling using the process gas. The compressor is from MAN Diesel & Turbo, integrated into a compression system by Aker Solutions.
Technology qualification
In order to ensure the reliable operation of compression equipment subsea, significant project-specific technology qualification activities have taken place since around 2008, building on decades of technology development and demonstration activities. The work has included both performance and endurance testing to ensure that robust systems are delivered.
Qualification activities for the subsea compression projects have focused on the following:
Compressor design - contra-rotating multiphase compressor and centrifugal compressor with upstream scrubber
Robustness of seals, bearings, and electrical insulation in contact with gas
Liquid tolerance and flow smoothing
Control systems (all-electric subsea control system on Åsgard)
Condition monitoring
Power systems and components (including connection systems)
Endurance testing
Cooling.
In addition, remote hot-tap technology has been qualified and successfully used for retrofitting tees (T-pieces) into the Åsgard flowlines.
Much of the Åsgard critical testing and qualification work that requires access to natural gas and condensate at realistic flowrates, temperatures, and pressures, has been conducted in Statoil's K-lab facilities, located next to the Kårstø gas plant, near Stavanger in Norway.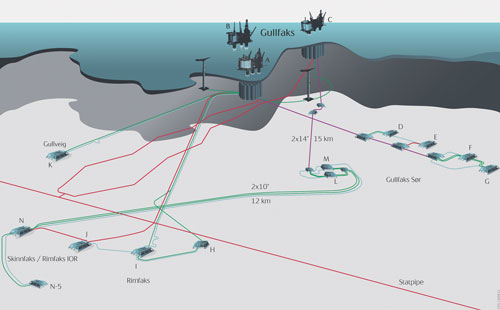 Gullfaks field lay-out (Image courtesy Statoil)
In May 2009, Statoil commenced Gullfaks' technology qualification program for an up-rated helico-axial multiphase compressor and subsea inlet/recycle cooler. The helico-axial design is a larger version of a unit which was demonstrated at K-lab in 2003.
It is specifically designed for the operating conditions at Gullfaks. At a purpose-built loop at OneSubsea's Bergen facility, both high-pressure hydrocarbons with Exxol mineral oil and endurance in a nitrogen environment were tested. Component qualification included the motor penetrators, electrical monitoring system, vibration monitoring systems, and the control pod electronics system.
Åsgard's component qualification program began in 2005. This involved the testing and qualification of nearly 50 components and systems, divided into the following main building blocks:
Process modules (coolers, scrubber, pump, and compressor)
Power system (long step-out with topsides variable speed drive (VSD), transformers, high-voltage swivel, connection system, umbilical/power cables)
Control system (process, active magnetic bearings and anti-surge).
Compressor testing for Åsgard began at K-Lab in 2008, with a number of endurance tests being carried out, including liquid tolerance testing with 1-5 weight % liquids in the gas. Considerably larger quantities of liquids were also injected for short periods, with no ill effects observed. During 2008 to 2013, the compressor and motor rating was increased from 8 MW to 11.5 MW, with verification testing of the 11.5 MW compressor design for Åsgard carried out from 2012. From 2011 to 2013, the K-lab facility was upgraded to include a shallow-water test pit for testing of a complete compressor module. Submerged testing of one of the compressor units was successfully conducted in 2014.
The motor and topsides VSD were also tested at K-lab, using a cable simulator in order to confirm electrical stability over the relatively long step-out for a range of operating conditions. The cable simulator has also been used in the testing of the condensate pump and control system.
Installation
The Gullfaks marine operations and topsides modification work has been ongoing since 2012. Topsides and the final subsea construction work, including tying in the subsea compressor station to existing pipelines with new spools, was finalized during the planned maintenance period on Gullfaks C in the summer/autumn of 2015.
The subsea compression station and protective structure were installed in May and June 2015 using the monohull crane vesselOleg Strashnov, capable of lifting up to 1,600 metric tons (1,764 tons). The umbilical and umbilical termination assembly was installed in May 2015 by the Normand Oceanic. Retrievable cooler and compressor modules were then installed via the moonpool of Seven Viking in June 2015. The tie-in spools and GRP covers for the protective structure were then installed using Skandi Acergy in June/July.
The Åsgard marine operations at Åsgard were a major project in themselves, mainly taking place during normal operations in the field between 2011 and 2015.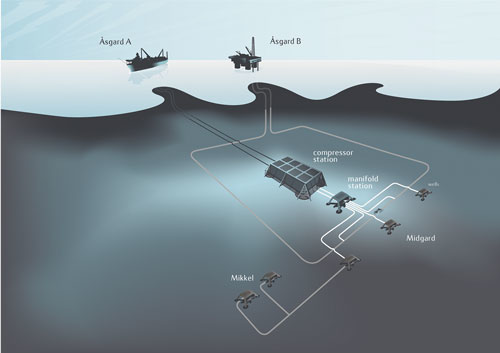 Åsgard field lay-out. (Image courtesy Statoil)
Considerable seabed preparation and flowline modification work has been required, including survey, rock/cover removal, rock dumping, pipeline/PLEM installation, trenching, spool installation and tie-in, riser base installation, RFO, heavy lift, and trenching. The flowlines from Midgard to Åsgard were completely reconfigured.
Installation activities involved 12 vessels for a period of around 1,600 vessel days. Around 60 km (37 mi) of new pipeline was laid, together with installing 12 pipeline end manifolds, 18 spools (involving 36 tie-ins) and one hot tap tee.
The timeline is as follows, with the topsides modifications taking place during the planned maintenance period:
Modification to the Åsgard A swivel to provide high-voltage power to the umbilicals (2011)
Hot tap tee retrofit installation on Midgard pipeline with full gas flow (2012)
Heavy-lift installations of subsea compressor station template and subsea compressor manifold station, plus power/control/barrier fluid module on Åsgard A (2013)
Pipeline, PLEM and around half of the spool installations (2013)
Subsea transformers, umbilical termination assemblies with power cables and power umbilical (2014)
Åsgard B fiber optic link (2014)
Remaining spools, MEG lines, service umbilical (2014)
Cassette base frames 1 and 2 (2014/2015)
Subsea compression modules.
From April to September 2015, 20 modules were installed in the compressor station, carried out by the specially modified construction vesselNorth Sea Giant. Modules weighing less than 70 metric tons (77 tons) and less than 6 x 6 x 11 m (19 x 19 x 36 ft) were installed using the vessel's moon pool. For larger modules, including the spool module inlet/anti-surge coolers, scrubbers, compressors and outlet coolers, installation took place over the side of the vessel, utilizing a special handling system (SHS). The SHS includes a 420-metric ton (462-ton) crane and a guide frame system to allow installation through the splash zone in significant wave heights (Hs) up to 4.5 m (14.7 ft).
North Sea Giantperformed nine trips to install all 20 modules. Most of these trips have included one large installation using the SHS, with the other, smaller modules installed using the moon pool. The SHS was successfully tested with a Hs of 4.2 m (13.7 ft) with good control of a 400-metric ton (440-ton) test weight observed near the seabed.
All installations have used ROVs for monitoring and assistance where necessary. It was intended that all installations should also use guide-wires, however the SHS installations were carried out without them, thanks to good weather allowing for time to be saved.
The marine operations activities have been a resounding success, completed without damage to the crew, environment, or equipment. Some minor issues and challenges were encountered during installation of some components, but these were all resolved.
It is interesting to note that the installation of the modules in the compressor station account for less than 5% of the total vessel days used.
Commissioning and start-up
A key risk for both projects is the amount of onshore testing that has been carried out, prior to the commissioning of the installed systems this year.
The Gullfaks system integration testing was carried out in July 2014, involving topsides equipment, a power umbilical simulator, and a subsea transformer and one compressor unit in a submerged pit. Stack-up testing was also conducted on the load-out barge. A further successful system integration test was then performed in December 2014/January 2015 including a fully equipped, submerged manifold station and two compressors operated both in parallel and series.
Following installation offshore, the compressors are being commissioned and started up from the Gullfaks C control room, with necessary commissioning personnel located offshore. Start-up has involved bringing wells into production and then introducing the flow into the compressor station (then closing the bypass valve).
An extra compressor module has been built as part of the project in the event that intervention is required. This is stored at OneSubsea's facilities near Bergen.
Functional testing of Åsgard's pilot compressor unit and the delivery compressors was carried out in a new test pit built for the project at K-lab. Similar tests were conducted in Aker Solutions' facilities for the control system in Aberdeen and the liquids pumps at Tranby (near Oslo). A system integration test of the compressor trains was then carried out at Egersund, Norway. These all took place in 2014.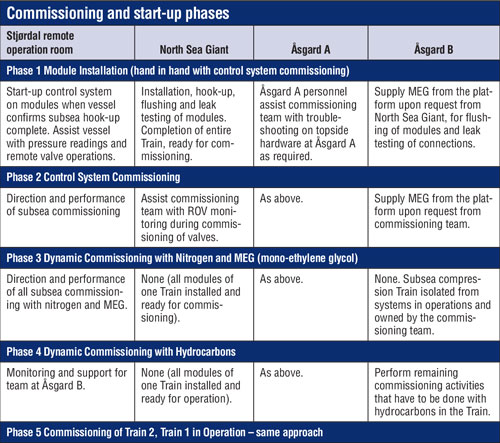 Offshore commissioning has taken place from 2013, involving the topsides module, subsea manifold template, and the subsea compressor station. Commissioning of the subsea compressor station in 2015 has been conducted primarily from land, using the remote operation room at Statoil's Stjørdal offices, which operated as land-based support for Åsgard operations).
The subsea compressor station has two trains. On Sept. 16, Train 1 was successfully started up and is now in operation, representing the first subsea gas compression plant in the world to come online. All modules in Train 2 were installed prior to start-up of Train 1. Train 2 is planned to be started up by in February 2016. Afterwards, it will be handed over to operations once all commissioning tests are completed and the punch status is acceptable.
Conducting compressor commissioning from land, rather than from Åsgard A or B, was a positive experience. Proven technology has been utilised to help realize remote commissioning, including Access@Plant (Statoil's solution for connecting to technical systems in Statoil plants/facilities), standard firewall solutions, along with selected operations personnel with specialist competence in safety and automation systems.
Overall, onshore commissioning provided a more cost-effective, safer solution, with faster mobilization of people and teams. The need for offshore certification was minimized, and a larger number of multi-disciplinary support personnel have been available when needed. This was made possible through use of a "commissioning network" and active use of access control to manage access to platform systems.
Selected central control room operators have been involved onshore to focus on the project, while normal operations continue on Åsgard A and B.
In the operational phase, the new Vestbase facility in Kristiansand, northern Norway, will play a key role. Vestbase comprises an office building, washing room for receiving any equipment that has to be retrieved, storage hall, workshop, and a test pit. A spare compression train (cassette base frame and all modules) will be kept in the storage hall, ready for deployment if needed.
Intervention
In the event that intervention is required on the subsea compression station,North Sea Giantwill remain available in Statoil's pool of available intervention vessels. Typical intervention time is in the order of two to three weeks including collecting the necessary replacement modules at Vestbase, disconnecting the module needing attention, and installing and the replacement module.
The module that needs attention can be temporarily parked subsea in a dedicated wet parking frame in order to speed up replacement time. The vessel has a subsea process intervention system installed to manage flushing of residual hydrocarbons from retrieved modules using MEG or nitrogen as required.
It is also anticipated that the condition monitoring systems (including temperature and vibration monitoring) will provide indication of problems in good time before any failure occurs. This should help minimize intervention and off-line times through prediction of likely failures.
Future opportunities
Statoil is actively looking at other opportunities for gas compression both in the Norwegian sector and in some of its international field developments.
Assuming that the units operate as planned, technology readiness level 7 (technology proven for re-use in Statoil within defined operating limits) will be achieved in late 2016 for both Gullfaks and Åsgard. This, together with the operating experience which Statoil will gain when operating the subsea compression stations and monitoring the condition and performance of the subsea equipment, will further improve confidence to re-use the technologies and ensure that learnings and improvements from these first installations are implemented in future designs.
It is also believed that a period of successful operation for the subsea compressors on Gullfaks and Åsgard will make it easier for other operators to gain confidence to apply this technology.
Acknowledgment
Based on a paper presented at the Deep Offshore Technology International Conference held in The Woodlands, Texas, Oct.13-15, 2015.
To hear co-author Rune Mode Ramberg further discuss Statoil's advances in subsea compression, accessOffshore's on-demand webcast, entitled "Gullfaks and Åsgard: advancing the art of subsea compression," at www.offshore-mag.com.