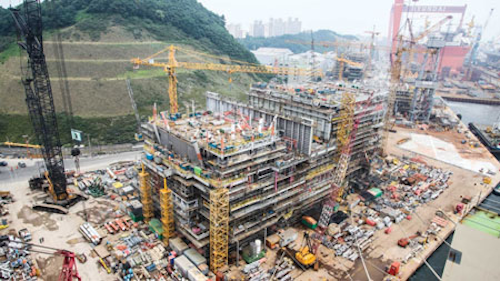 Brownfields: making the most from mature fields
Ahmed Hashmi
BP
The final Clair Ridge modules left South Korea last month, on their way to the West of Shetlands in the North Sea. This is a greenfield development, loaded with new technologies, that includes the world's first offshore deployment of the LoSal enhanced oil recovery (EOR) technology.
BP has a strong portfolio of greenfield projects like this, with approximately 800,000 boe/d of new production globally from projects starting up by 2020. That said, the bulk of our business is in managing brownfields. BP's portfolio has been dominated by supergiant and giant oil fields in the Middle East, the North Sea, Gulf of Mexico, Alaska, Russia and Azerbaijan. In some cases, we are coming full circle, involved with fields we helped discover, like those in Iraq and Kuwait.
We have played a role in more than half of the world's 20 largest oil fields - through discovery, operatorship, joint venture and technical support. In that time we have learned a thing or two about managing brownfields.
With the initial, and usually biggest, investment already made, the focus of brownfield management is incremental, continuous improvement - in performance and reserve recovery. A supergiant, like Prudhoe Bay in Alaska, is characterized by waves of enhancements over its life, each with a new technology focus edging up the recovery factor.
When we discovered the Prudhoe Bay field in the 1970s, its recovery factor was expected to be under 40%. Today, we expect it to exceed 60%. That 50% increase equates to 5 Bboe being recovered.
Brownfield management calls for a comprehensive approach, involving three elements: reliability and integrity, production optimization, and life-cycle reservoir management.
Reliability and integrity requires sustainable investment in the long-term health of the infrastructure we operate. In 2011, BP's plant reliability worldwide was 85%; today it is 95%. This is good business in any oil price environment.
Production optimization removes bottlenecks, easing constraints right across the system. A production optimization system allows an operator to look across its wells and facilities to compare current with optimal performance, and identify improvement actions for field teams to execute. The value gains can be significant - up to 4% increase in production at a very low incremental cost.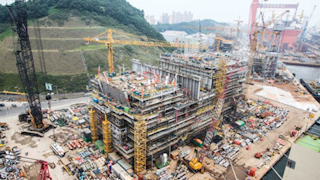 The final set of eight Clair Ridge drilling platform modules left Hyundai Heavy Industries' yard in April for west of Shetland, where they should arrive in May. Clair Ridge is the Clair field's second development phase, where BP is targeting 640 MMbbl of recoverable resources. (Image courtesy BP)
At the supergiant Rumaila field in Southern Iraq, where BP is lead operator in partnership with Petrochina and the Iraq Southern Oil Company, hundreds of new wells have been drilled while updated and new technologies for artificial lift, remote telemetry, in-well sensing, advanced collaboration and waterflood optimization have been deployed. This has contributed to a 40% increase in production since 2009 - a good example of business impact from investing in reliability and integrity, and production optimization.
Last but not least, life-cycle reservoir management entails building a detailed understanding of the reservoir and optimizing its recovery mechanisms. The 30-year-old giant Valhall field in the Norwegian North Sea has recently undergone redevelopment to extend field life by another 30 years. This investment was justified by reserves illuminated by 4D repeatable surveys using its life of field seismic arrays.
Enhanced oil recovery technologies present opportunities to access and accelerate reserves as brownfields mature. BP's long-standing focus on low-cost EOR has delivered a suite of Designer Water and Designer Gas EOR technologies, such as Nalco Champion's Bright Water technology.
This technology has been deployed more than 100 times at Prudhoe Bay, and costs less than $4 a barrel. Miscible gas injection has been deployed at the Magnus field in the North Sea, generating more than 30% of its production.
Technologies such as LoSal EOR, which we are designing into greenfield projects in the North Sea and Gulf of Mexico, can also be retrofitted into brownfield operations, and we are exploring these today with resource holders in the Middle East and North Africa.
Finally, an increasingly broad range of digital technologies are becoming available to enable brownfield management. They are usually low cost, certainly low in capital spending, yet often pay back quickly.
BP's 2050 Technology Outlook, published last year, singled out digital technologies as offering more potential than any other technology area to transform the cost of supply, as well as crucially, to improve energy efficiency.
Digital technology and digitization are themes that all brownfield operators must embrace.
If our industry is to respond to a greater than 30% growth in energy demand by 2035, as most projections suggest, brownfields barrels will have to a large role to play in supplying this demand. This will require a disciplined and integrated approach that encompasses reliability and integrity, production optimization, and life-cycle reservoir management, and waves of technology - including digital - to drive investment and energy efficiency in our brownfield operations.
Today's greenfield projects are tomorrow's brownfields opportunities. Maximizing their value requires a relentless focus on recovering every barrel safely, for the lowest appropriate cost. In today's challenging environment, "making more from mature" needs to be a core competence for every operator.
The author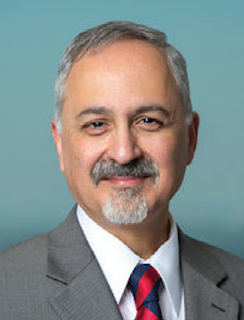 Ahmed Hashmi is Head of Upstream Technology for BP. He leads the Upstream Technology organization which comprises scientists and engineers, technology centers and laboratory facilities in USA and UK, and a global network of research and technology suppliers. Hashmi serves on the Boards of the International Centre for Advanced Materials at the University of Manchester, UK, and the Energy Biosciences Institute at the University of Berkeley, USA. He is co-founder of the US Energy Policy Coalition, a non-profit organization which develops scientifically vetted industry material in support of educational awareness. Hashmi enjoys working on and reviewing the intersection of strategy, technology, and policy. He authored BP's Technology Management Handbook and is a frequent speaker at industry events. Hashmi holds an undergraduate degree in Mathematics and Physics, an MSc in Computer Sciences (Operations Research) and an MBA in Finance and Economics.