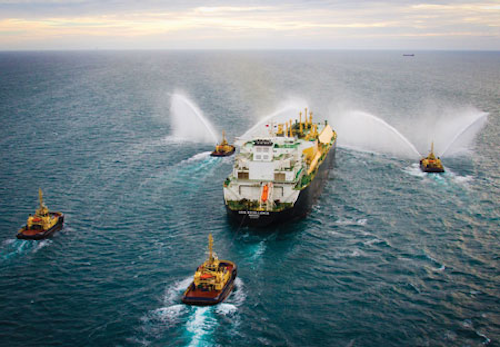 Jessica Tippee
Assistant Editor
At the beginning of 2016, China National Offshore Oil Corp. outlined its goals for the year ahead. It targeted global net production of 470-485 MMboe, with roughly two-thirds coming from offshore China fields. So far this year the company has reached first oil from many projects.
In the southern Bohai region, the Kenli 10-4 field, in an average water depth of 15 m (49 ft), field has been developed via a wellhead platform connected to existing facilities serving the Kenli 10-1 field. Currently six Kenli 10-4 wells are on production, delivering around 6,540 b/d of crude oil. The company expects to attain plateau output of 9,600 b/d later this year.
In the Beibu Gulf basin in the South China Sea, the Weizhou 12-2 project, in an average water depth of 36 m (118 ft), takes in the Weizhou 12-2 and Weizhou 12-1 West oil fields and the northern part of the Weizhou 11-2 oil field. The main production facilities include three wellhead platforms and 18 wells, all of which are in production, providing total output of around 16,000 b/d. The Weizhou 11-4 North oil field Phase II project is in water depths averaging 40 m (131 ft). Two wellhead platforms and 15 producer wells are linked to existing adjacent facilities. Currently one well is on production, producing around 500 b/d of crude. Later this year output is expected to increase to the designed peak of around 8,000 b/d.
Petronas expects the world's first floating LNG facility to enter production on the Kanowit field, 180 km (112 mi) offshore Sarawak, Malaysia, this year. ThePFLNG SATU vessel has a capacity to produce 1.2 million metric tons per annum (mtpa) of LNG. The 365-m (1,198-ft) x 60-m (197-ft) x and 33-m (108-ft) vessel is expected to be ready for sail-away from the Daewoo Shipbuilding & Marine Engineering Co. Ltd. shipyard in Okpo, South Korea, in 2Q.
Offshore eastern India, the ONGC board of directors has approved a $5.1-billion field development plan for the Cluster 2 oil and gas fields in the deepwater block KG-DWN-98/2. Located in the Krishna-Godawari basin, Cluster 2 is divided into two parts: Cluster 2A and Cluster 2B. The company plans to develop the Cluster 2A oil fields with 15 producer and 12 water injection wells, and foresees peak production at a rate of 77,305 b/d of oil and 3.81 MMcm/d of associated gas. Oil from Cluster 2A will be produced through an FPSO. Peak production rate of free gas is envisaged at 12.75 MMcm/d from eight wells of Cluster 2B. The development will also include a gas processing platform with a bridge-connected living quarters platform; 430 km (267 mi) of subsea pipelines of various sizes from 6-in. to 22-in.; about 151 km (94 mi) of umbilical and 10 manifolds and riser-based manifolds; and an onshore gas-handling terminal. First gas is planned by June 2019, with first oil by March 2020, and overall completion in June 2020.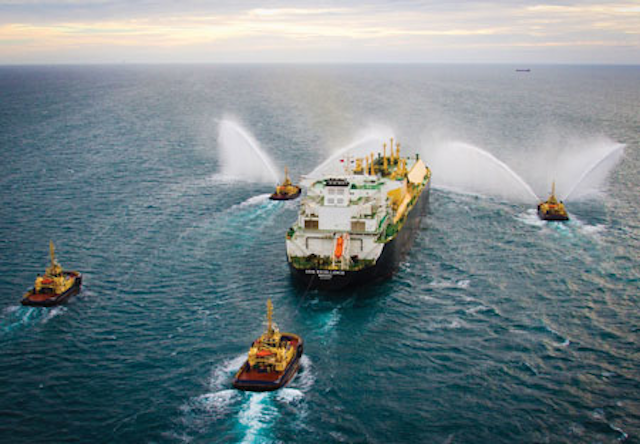 The first LNG cargo departed the Gorgon project on Barrow Island offshore Western Australia onboard theAsia Excellence. (Photo courtesy Chevron Corp.)
In the Gulf of Thailand, KrisEnergy completed development drilling on the Wassana oil field in the G10/48 license. The field now has 13 producer wells and one water disposal well operational, connected to the MOPUIngeniumand the FSO Rubicon Vantage. The company also finished development drilling on the Nong Yao oil field in G11/48. The field has 14 producer and two water disposal wells, a wellhead processing platform and a minimum facility wellhead platform, with crude exported via an FSO.
Development of mega projects is also continuingoffshore Western Australia. In early March, Chevron Corp. started producing LNG and condensate at the Gorgon project on Barrow Island offshore Western Australia. By mid-March first LNG cargo, onboard the Asia Excellence, set sail for Chubu Electric Power for delivery into Japan. The project is supplied from the Gorgon and Jansz-Io gas fields, located between 130 km (80 mi) and 220 km (136 mi) off the northwest coast. It includes a 15.6 mtpa LNG plant on Barrow Island, a carbon dioxide injection project, and a domestic gas plant with the capacity to supply 300 terajoules of gas per day to Western Australia. The Chevron-operated Gorgon project is a joint venture between the Australian subsidiaries of Chevron (47.3%), ExxonMobil (25%), Shell (25%), Osaka Gas (1.25%), Tokyo Gas, (1%) and Chubu Electric Power (0.417%).
While INPEX Corp. delayed the production start-up of the Ichthys LNG project from December 2016 to 3Q 2017, the operator increased the annual production capacity by from 8.4 to 8.9 mtpa. Recently, Heerema Marine Contractors completed the infield flowlines installation scope for the project using its deepwater construction vessel Aegir.
Samsung Heavy Industries contracted Clough to provide hook-up services on the Ichthys LNG project central processing facility (CPF), the world's largest semisubmersible platform with a topsides weight of 70,000 metric tons (77,161 tons). The completed CPF will be towed 5,600 km (3,479 mi) from Geoje, South Korea, to the Ichthys field in the Browse basin where it will be permanently moored for the projected 40-year lifespan of the development.
Woodside Energy and its partners in the North West Shelf project offshore northwest Australia have approved the Greater Western Flank Phase 2 (GWF-2) development. This will harness 1.6 tcf of gas from the Keast, Dockrell, Sculptor, Rankin, Lady Nora, and Pemberton fields through new subsea infrastructure and a 35-km (22-mi), 16-in. subsea pipeline connecting to the Goodwyn A platform. Woodside estimates the cost at around $2 billion, and foresees start-up during the second half of 2019. GWF-2 is the fourth large-scale development for the North West Shelf project over the past seven years. The other partners are BHP Billiton Petroleum, BP, Chevron, Japan Australia LNG (MIMI), and Shell.