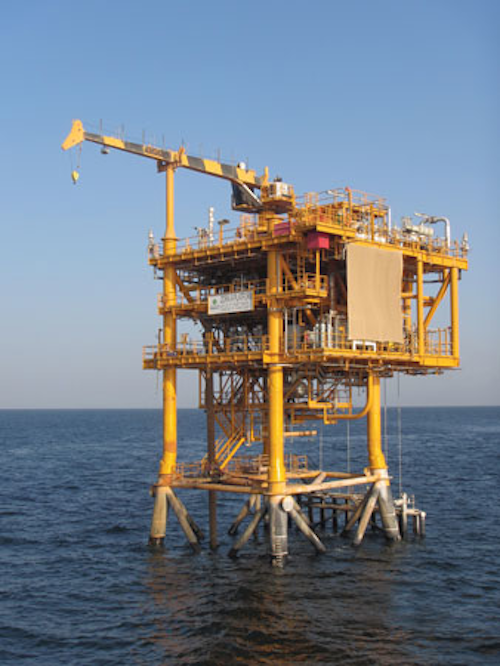 Jeremy Beckman
Editor, Europe
Lower oil prices have had less impact in the Middle East than elsewhere, with national oil companies and majors pressing ahead with offshore production expansion schemes in shallow and mid-depth waters. The region also provided one of the world's largest deepwater discoveries last year, the play-opening Zohr in the Egyptian Mediterranean.
Later this year the first two jackets are due to be installed at the new offshore central complex for Qatar Petroleum's Bul Hanine field redevelopment, 120 km (74.5 mi) east of Qatar. The program is designed to increase production from the field, discovered and developed in the 1970s, to 90,000 b/d by 2020. The state oil company is also preparing for future activity at Qatar's Al Shaheen oil field, 80 km (50 mi) offshore, which Maersk Oil has operated since 1992 under an agreement that expires next year. The next phase of operation and development is currently out to tender.
Over the past two years ADMA-OPCO has started oil production from the first phases of the Nasr and Umm Lulu field developments, respectively 130 km (81 mi) northeast and 30 km (18.6 mi) northwest of Abu Dhabi. Work continues on the Nasr Phase II full field project, involving the construction of multiple platforms with excess gas to be exported to Das Island and the Umm Shaif super-complex for power generation. Phase 2 activities on Umm Lulu, due to be completed in 2018, should push this field's oil production beyond 100,000 b/d.
Offshore Saudi Arabia, Saudi Aramco is pursuing further facility expansion programs, and last year executed long-term agreements with some of its favored offshore contractors. One of these, McDermott, is fabricating 12 jackets for the company, three of which were due to be installed earlier this year. Additionally, McDermott expected to complete installation of a 115-kV subsea composite power cable - the longest in the region - for Aramco's Marjan Power Systems project.
The Middle East's newest offshore producer is Dana Gas, which in January started gas production from the Zora field, 35 km (22 mi) offshore Sharjah and Oman, via two lateral extended-reach horizontal wells drilled from a platform. The gas will allow the Emirate of Sharjah to reduce its reliance on diesel fuel for power generation.
Offshore Egypt, BP and partner DEA are aiming to develop 5 tcf and 55 MMbbl of condensates from five fields 65-85 km (40-53 mi) offshore in 800 m (2,624 ft) of water in the North Alexandria and West Mediterranean Deepwater concessions. Phase 1 of the West Nile Delta project involves tying 21 production wells and associated subsea facilities to the Burullus offshore infrastructure and the onshore Rosetta gas plant. BP recently commissioned Subsea 7 to perform two stages of subsea installations for Phase 2, starting in 2017.
The Zora gas platform offshore the UAE. (Photo courtesy Dana Gas)
Egypt's Ministry of Petroleum and Mineral Resources has granted Eni a development lease for its giant Zohr field, discovered last August in the deepwater Shorouk concession in the Mediterranean Sea in more than 1,460 m (4,800 ft) of water. Eni has completed the first of four planned appraisal wells to delineate the field, which could hold up to 30 tcf of lean gas. The company aims to start production by end-2017, building to around 75 MMcm/d by 2019.
Despite the excitement generated by the find, the Egyptian General Petroleum Corp. has reportedly decided to postpone a bid round including concessions in the Gulf of Suez until international oil prices recover. The decision is also thought to have been affected by a lukewarm response to Egypt's previous Mediterranean bid round, although the Egyptian Natural Gas Holding Co. is understood to be keen to forge ahead with a new round that would include exploration in deepwater areas.
Also in the eastern Mediterranean, Cyprus is reportedly considering a third exploration round. The island's sole discovery to date remains the Noble Energy-operated deepwater Aphrodite gas field in southern block 12, estimated to contain 142 bcm. The partners have held talks with the government on developing the field for domestic needs and also for potential export to Egypt.
Earlier this year, Noble submitted a revised, lower-cost development plan for the giant deepwater Leviathan gas/condensate field offshore Israel to the country's Ministry of National Infrastructures, Energy and Water Resources. The first phase calls for eight production wells connected via a subsea to a fixed platform housing all gas treatment systems, with processed gas conveyed to a connection point to Israel's onshore grid. The facilities would have capacity for throughput of around 21 bcm/yr, and the platform would feature a connection for a future subsea pipeline exporting further supplies to neighboring countries.
Numerous European, South American, and Asian oil companies are reportedly courting Iran, after the country introduced its new oil contracts model to attract foreign investors. One of National Iranian Oil Co.'s priorities is to develop the 57 tcf-plus North Pars gas field in the Persian Gulf, 10-15 km (6.2-9.3 mi) southeast of Bushehr province. Exxon was one of the companies involved in the original development prior to the country's revolution in 1979. NIOC envisages four phases for North Pars, potentially including LNG, at an estimated overall cost of more than $16 billion.
Another state-owned company, Kepco, wants western technical input to advance exploratory drilling in the deepwater Iranian sector of the Caspian Sea. On the western side of the Caspian, BP was aiming to start a 3D seismic survey recently over and outside its Shallow Water Absheron Peninsula contract area offshore Azerbaijan, where water depths range from 0-2 m (0-6.5 ft) in the transition zone to around 25 m (82 ft). BP would use the results to characterize subsurface targets for planned exploration.