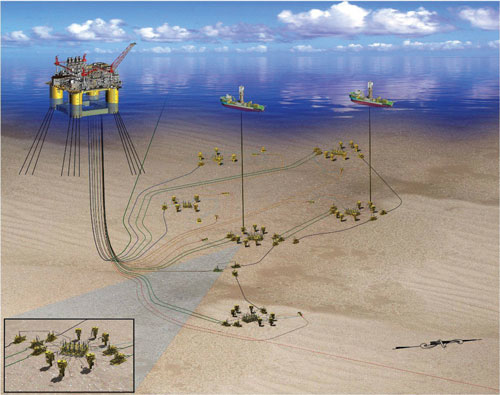 Bruce Beaubouef
Managing Editor
While lower oil prices are taking their toll on exploration and drilling activity in theUS Gulf of Mexico, field development activities are continuing on several projects sanctioned before the downturn.
Perhaps most notable of these is Shell's Appomattox project in the Mississippi Canyon area of the deepwater Gulf. Shell sanctioned the project last July, and has awarded a number of contracts in recent months to advance its development. The project involves the construction and installation of Shell's eighth and largest floating platform in the GoM.
The project will be located some 80 mi (129 km) offshore Louisiana, in approximately 7,200 ft (2,195 m) of water. The platform and the Appomattox and Vicksburg fields will be owned by Shell and Nexen Petroleum Offshore U.S.A. Inc.
The Appomattox development host will comprise a semisubmersible, four-column production host platform, a subsea system featuring six drill centers, 15 producing wells, and five water injection wells. The Appomattox development initially will produce from the Appomattox and Vicksburg fields, with average peak production estimated at 175,000 boe/d.
The project also calls for the construction of the 90-mi, 24-in. Mattox Pipeline, which will transport crude oil from the Appomattox host to an existing offshore structure in the South Pass area, and then connect onshore through an existing pipeline.
In March, Williams announced that it had reached an agreement with Shell and Nexen to provide deepwater gas gathering services for the Appomattox development. Williams says it will provide offshore gas gathering services to its existing Transco lateral, which will provide transmission services onshore to the Mobile Bay processing facility.
Shell has also awarded contracts to Yokogawa for process control/process safety equipment and associated software; Oceaneering for electro-hydraulic steel tube control umbilicals; Danos for three boarding valve skid assemblies; and Lankhorst Ropes for the mooring lines. Production from Appomattox is reportedly scheduled to start by 2020.
Stampede is another notable deepwater Gulf project that is moving forward. Hess and its partners sanctioned the development of the project in October 2014. The project calls for six subsea production wells and four water injection wells from two subsea drill centers tied-back to a TLP. First production is slated for 2018. Development is expected to cost $6 billion.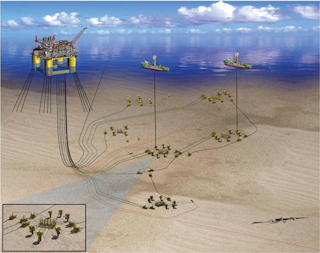 The Appomattox project will include Shell's eighth and largest floating platform in the Gulf of Mexico. (Image courtesy Shell)
Discovered in 2005, Stampede is situated 115 mi (185 km) south of Fourchon, Louisiana, in Green Canyon blocks 468, 511, and 512. The field lies in about 3,500 ft (1,067 m) of water with a reservoir depth of 30,000 ft (9,144 m).
In January 2015, Enbridge announced plans to build a 16-mi, 26-in. crude oil pipeline that would connect the Stampede development to an existing third-party pipeline system. The lateral pipeline is expected to cost $130 million and to be operational in 2018.
Last September, Hess ordered 14,000 tons of tubular goods and line pipe from Vallourec for use on Stampede. The contract calls for Vallourec to supply more than 5,000 tons of oil country tubular goods including high-performance premium grades and 9,000 tons of seamless steel line pipe for flowlines and steel catenary risers.
2H Offshore has been awarded two separate contracts, by Hess and Enbridge, to verify the design, fabrication, and installation phases of the SCRs for the project.
Oceaneering has won a contract to supply electro-hydraulic steel tube umbilicals totaling approximately 8.9 mi (14.3 km) in length, as well as umbilical termination assemblies, hydraulic and chemical distribution units.
Wood Group Mustang has received a contract to provide front-end engineering and design services for the TLP.
Subsea 7 has received a contract for the installation of flowlines, steel catenary risers, umbilicals, jumpers, and associated subsea architecture which will tie back two drill centers to the TLP. The main offshore installation phase is expected to begin 3Q 2016, concluding in 1Q 2017.
And other GoM projects are moving forward as well. Deep Gulf Energy III LLC has awarded Technip a lump-sum contract for the development of the South Santa Cruz and Barataria fields in the ultra-deepwater GoM. These fields are located in Mississippi Canyon acreage, offshore New Orleans, in approximately 2,000 m (6,651 ft) of water.
The contract consists of project management and engineering services; fabrication and installation of approximately 23 km (14 mi) of pipe-in-pipe flowline; design, fabrication, and installation of flowline end terminations, fabrication and installation of jumpers; and pre-commissioning.
Technip's operating center in Houston will manage the overall project, which covers all aspects of the field development from engineering to design, manufacturing and installation. The flowline system will be fabricated at the group's spoolbase in Mobile, Alabama.