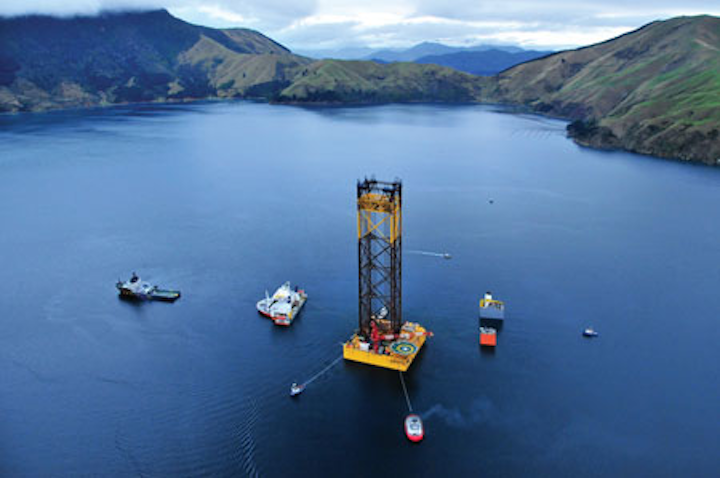 Jeremy Beckman
Editor, Europe
A recent report from Britain's National Subsea Research Initiative suggested that around 5% of the UK North Sea's remaining reserves, or 1.8 Bboe, are in small or stranded hydrocarbon accumulations.
According to Alison Pegram, managing director of the Marginal Field Development Co. (MFDevCo), "this is just one of the many and varying estimates of the volumes contained within developable marginal fields. However, such estimates, although stressing the importance of these reserves in terms of future UK production, disguise important interpretations - namely, the lower the oil price, the greater the number of stranded accumulations and the size of fields deemed marginal."
Even before the oil price collapse, MFDevCo (formerly ABT Oil and Gas) was working on ways of creating value from marginal fields, Pegram added. "These fields have long since been recognized as a large potential source of hydrocarbons, but the key factor has been to determine low-cost solutions and technologies which can be adapted for that purpose.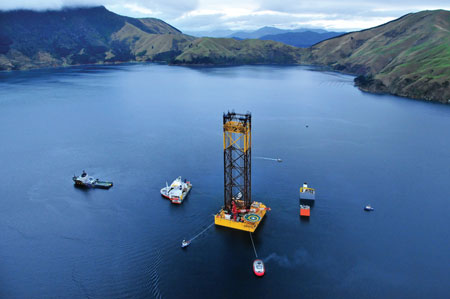 Maari wellhead platform en route to field location offshore Taranaki, New Zealand. (All photos courtesy Arup/MFDevCo)
"The evolution of this initiative, which has included the assembling of the Marginal Field Delivery (MFD) Consortium, has been complex due to the significant amount of research undertaken to evaluate economics, appropriate and proven technologies, and field opportunities," Pegram noted. "We have assessed various technologies ranging from gas-to-wire to unmanned buoys to current formulations with investment from a number of sources, but primarily from RMRI and NU-Oil and Gas (formerly Enegi Oil)."
While MFDevCo, with the consortium, continues to promote fixed and floating concepts, its main focus is on lowering opex through reliable, normally unattended operations. This approach, the company claims, can help realize the greatest savings in marginal field projects, dwarfing possible capex reductions, as costs associated with maintenance and intervention crews typically constitute the heaviest opex burden on manned offshore facilities.
Recruitment process
Following an evaluation of the various ways of structuring and advancing the initiative, initial steps to establish the MFD consortium started early last year with an approach to integrated controls system specialist Kongsberg Maritime. Others to come onboard over the following months were structural engineering groups Apollo and Arup; well engineering provider AGR; Netherlands-based process technology specialist Frames; shipbroker Braemar ACM, responsible for organizing project financing and managing shipyard negotiations; engineering and risk management consultants RMRI, which had worked previously with ABT Oil and Gas; and most recently Aibel, an EPC contractor best known for construction of platforms in the Norwegian sector. Aibel will undertake a dual EPC/project management role for the consortium once project negotiations have finished, ensuring timely delivery and providing liaison between MFDevCo, which leads the consortium and other members.
The group includes three Norwegian companies, and discussions are also under way with Norwegian investment broker Fearnleys. "They see our Norwegian connections as a positive," Pegram said, although the nationality is coincidental. "Norway is more open than most countries to changing configurations of offshore technologies," she added, "so their mindset fits well with ours." Last year, for example, the Norwegian Petroleum Directorate (NPD) called for operators offshore Norway to consider normally unmanned minimal platforms for certain new projects as an alternative to subsea tiebacks, which can amass high opex costs in intervention and maintenance.
"We now think we have all the necessary expertise in the key areas," Pegram continued. "We have also been approached by other companies to get involved and we will bear them in mind if suitable opportunities arise. We're also open to various ways of looking at projects and being creative in making things work - in the past, for instance, we have had conversations with duty holders that could operate the facility on our behalf. At this stage, however, our focus is mainly on delivery."
All members of the consortium have signed collaboration agreements which establish a way of working within the partnership and these are converted to specific contract arrangements, depending on the project's nature and characteristics. The various consortium members involved then commit to provide resources and to work at their own cost where necessary in order to implement the proven technology concepts, with formal collaboration part of the process of advancing a project. "At this stage, however," Pegram explained, "we're only asking the members for effort, with the prospect of guaranteed work if a contract arises."
MFDevCo is currently working on studies for two projects that even in the current low oil price stand a good chance of going forward next year, she added. "When the oil price started really falling, some operators told us that all their projects were effectively now marginal. A lot of oil companies are cautious about taking decisions that involve committing upfront capex, so we are investigating a more flexible approach that could, for instance, follow the model of an FPSO lease.
"We recognize that it is never certain that our conceptual work will lead to a firm project as that will depend on factors such as the oil price at the time, the offshore location, and the costs of building and operating the production facility. But the industry is looking for ways to cut costs across the board, and lower-cost solutions increase the chance of an asset being developed.
"What companies are looking for is concepts for projects that work now, and which provide the potential to be very attractive at higher oil prices. We use publicly available data such as Brent forward prices in our sensitivity analyses to show clients the potential in different scenarios. At current prices some projects don't work, but clients are nevertheless undertaking work that will allow them to retain licenses in some parts of the world with a view to reactivating these projects in future."
Normally unattended options
MFDevCo's focus is on normally unattended topsides which, for fields in water depths of up to around 125 m (410 ft), would be supported either by the NU-ACE - based on the Arup Concept Elevator (ACE) self-installing, relocatable platform - or the NU-SIFT (Normally Unattended Self-Installing Fixed Tower), which stores produced oil in three tubular columns supporting the topsides.
The NU-SIFT, although still to be deployed in an offshore field location, is a configuration of proven technology, Pegram said, "and will therefore be considered when it represents the most suitable structure for a development." The Arup concept, in contrast, has been in use for over 10 years and features in four offshore projects, the most recent being the Depletion Compression Platform (DCP) that started operating last summer on Shell's Malampaya gas field off the Philippines. Previously Arup designed and engineered the ACE for the Maari wellhead platform in the Taranaki basin offshore New Zealand, one of the world's tallest vertical jacked structures, and the Hang Tuah gas production/compression platform in the West Natuna Sea, offshore Indonesia.
The self-installing, relocatable ACE is said to combine the advantages of a fixed platform with the flexibility of a mobile unit. Installation can be performed quickly without the need for a specialized heavy-lift vessel: the design allows the structure to be lowered to the seafloor and raised to final elevation within 48 hours, supported only by strand jacks and tugs. The topsides are said to be easy to expand or reconfigure, depending on requirements over time, and at the end of field life, the concept allows for either simple relocation or swift decommissioning. In addition, fabrication is said to be possible at most local yards, which is one of the selling points also for the NU-ACE.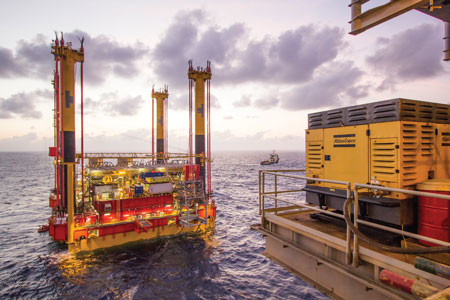 DCP platform for Shell's Malampaya gas field project.
"From our point of view, however, all we need is a suitable structure to support normally unattended topsides," Pegram said. "The projects we have been looking at recently are all in water depths of 100-120 m [328-394 ft], but we are also working with Arup and Apollo to develop the concepts for deeper water - which would impact the amount of steel required - and with different storage capacities. In addition, the NU-ACE works with gas, and we are looking at a study for a gas field, although gas projects typically require investments in pipelines. An oilfield version has the advantage of being a standalone facility with storage."
Further, Pegram noted that Arup is proposing a Drill ACE version of its platform which may not have drilling facilities, but which allows for conductors within the structure to enable drilling from the platform. "Otherwise, we don't see the need for any significant differences, in terms of structure, from the facilities that Arup has already designed and delivered," she said.
During the previous era of sustained high oil prices and large-scale developments, there was little incentive for operators to reduce manning levels on production facilities. This is no longer the case in today's high-cost, low oil price environment, with operators and regulators both accepting an increased need for reliable, normally unattended operations.
MFD is endeavouring to facilitate this in various ways, including:
Designing process facilities in a way that removes unnecessary complexity but adds redundancy (Frames/MFDevCo)
Increased use of technologies for remote control and monitoring from shore (Kongsberg Maritime) to minimize the need for offshore intervention
Selecting materials to minimize fabric maintenance, such as specialized coatings
Detailed analysis of uptime/reliability vs frequency/cost (RMRI)
Demonstrating to regulators that the design addresses practical safety, environmental and production issues.
Typically, MFDevCo's solutions suit projects with production rates in the range 10-20,000 b/d, Pegram said, "although they are potentially economic at 2-3,000 b/d. We feel that there are a huge range of opportunities even with the oil price as it is. We can minimize costs by dispensing with the need for heavy-lift vessels, or in other ways such as arranging for a shorter tow to the field, depending on the yard location.
Following the shock of the oil price decline, it will take a long time for the industry to regain confidence, Pegram observes. "What we're not trying to do is to reduce the costs of everything, but rather to put in place appropriate costs. To operate unattended with our model, oil companies may have to spend more upfront in some areas on redundancy and remote equipment monitoring, focusing instead on through-life efficiencies. But we think there is an appetite for that."