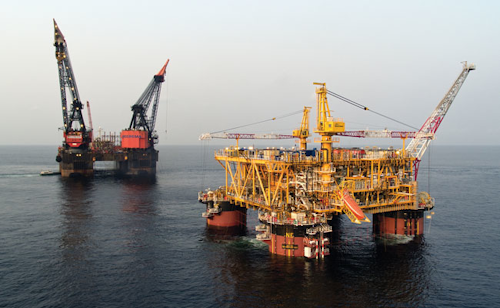 Largest simultaneous investment for Total in Africa
Jeremy Beckman
Editor, Europe
Africa accounts for around one-third of Total's oil and gas production, and in 2015 attracted around half the company's capital investments. It was also one of three priorities highlighted by Chairman and CEO Patrick Pouyanné last year, the others being LNG and deep offshore.
While other majors have scaled back their commitments in the continent, Total has forged ahead with three giant deep offshore projects off Republic of Congo, Nigeria, and Angola. The Moho Phase 1b project in Republic of Congo started up last December and will be followed by Moho Nord in 2017. Kaombo's two FPSOs in block 32 offshore Angola will start up in 2017 and 2018, with Egina offshore Nigeria projected to go onstream in 2018. All three projects were sanctioned before the fall in the oil price, but there has never been any question of suspending activity, according to Abiodun Afolabi, Total's Exploration & Production Secretary General for Africa.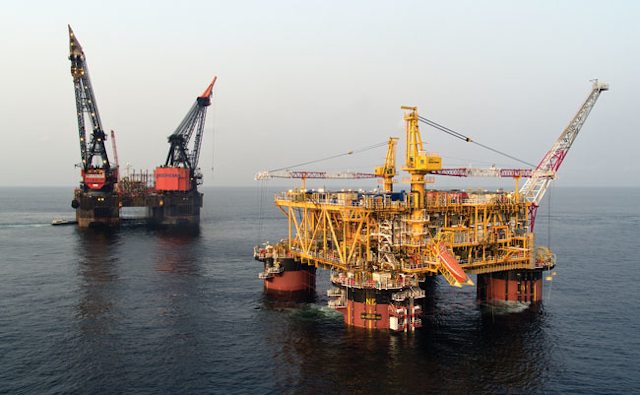 The recently installed TLP at the Moho Nord field offshore Republic of Congo. (All photos courtesy Total)
"Patrick Pouyanné has stated that the group will maintain its commitments while ensuring that all three projects are profitable," Afolabi pointed out. "To an extent, our continued investment has helped all three nations going through a difficult period. Kaombo, for instance, is providing upward of 4,000 jobs in Angola during a time of economic hardship triggered by the oil price."
Afolabi's mandate includes Sub-Saharan countries. Total's production in this region currently comes from Nigeria, Angola, Congo and Gabon, while its discoveries onshore Uganda are under study. The company has exploration interests in seven other countries, including offshore Côte d'Ivoire, South Africa, and Mozambique.
Moho Nord
In March 2013, Total and partners Chevron and state-owned SNPC initiated two projects with a total capex of more than $10 billion that collectively represent the largest-scale development to date offshore Republic of Congo. The first - Moho-Bilondo Phase 1b - involved drilling 11 new subsea wells in Miocene reservoirs in the southern part of the Moho-Bilondo license. These are tied back to the existing floating production unit (FPU)Alimawhich has been in operation since 2008 and the start-up of the Moho-Bilondo field, exporting oil through a pipeline to the onshore terminal at Djeno. As part of the campaign Total raised the FPU's processing capacity by 40,000 boe/d. The company also commissioned new flowlines to import injection water from the Nkossa field barge in order to sustain production from Phase 1 b and to send gas to Nkossa for reinjection.
Phase 1b came onstream in late 2015. Work continues on the parallel Moho Nord project in the northern part of the license in 750-1,200 m (2,460-3,937 ft) water depth, 75 km (46.6 mi) offshore, with start-up expected during the first half of 2017. Total is drilling 17 wells in the Albian interval - 12 producers and five injectors - from a new tension leg platform (TLP); and 17 subsea wells in Miocene reservoirs - 11 producers and six injectors - connected via four manifolds to the newbuild FPULikouf. Production from the TLP will be sent to the Likouffor processing; the vessel will be equipped with wash tanks to handle the heavier Miocene as well as the light Albian crude, a technique Total has pioneered for other mixed-crude applications at Pazflor in block 17 offshore Angola and at Usan off Nigeria.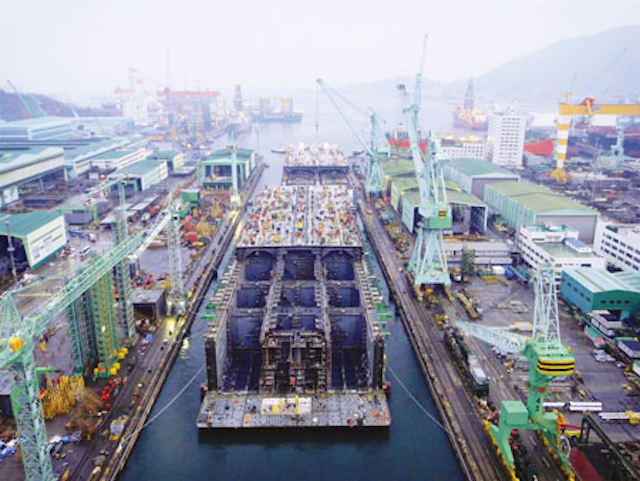 The Egina FPSO hull afloat in the dock at Samsung's Geoje Island facility in South Korea.
Hyundai Heavy Industries built the unmanned wellhead TLP, which was installed at the Moho Nord location in 780 m (2,559 ft) of water earlier this year. The Albian reservoir is much deeper, at 3,400 m (11,155 ft) below the mudline and is therefore more complex to produce, with high temperatures and reservoir pressure issues. For these reasons surface wellheads were considered a better solution for the Albian drilling campaign.
There are no processing facilities onboard and no accommodation - a first for a TLP, according to Hyundai's co-designer Doris Engineering - although personnel will come onboard for drilling and coiled tubing operations. It is also the first TLP to feature a BOP and coiled tubing. The drill floor is 17.5 m (57 ft) above the upper deck, higher than normal, to accommodate the coiled tubing equipment below, with the BOP housed in a cage between the upper and lower decks. An open wellbay with five center slots will allow the drilling riser to be skidded from one slot to another during the sequential drilling program without the need for dismantling.
Alongside, a new tender-assist semisubmersible rig, provided by Bassdrill, will control the TLP's modular drilling package. Overall operations on the platform will be monitored and controlled by staff on theLikoufvia a flexible umbilical connection. The FPU, which will also supply much of the TLP's power generation needs, will arrive later this year at the offshore location. The 250-m (820-ft) long vessel will be bigger than the Alima, with capacity to produce up to 100,000 b/d of oil and 2.5 MMcm/d of gas. Oil will be exported through a new subsea pipeline to Djeno and the gas to Nkossa for reinjection. Technip's construction vessels G1200 and Deep Pioneer have been installing the network of rigid and flexible pipelines, umbilicals, and subsea structures in phases since 2014.
Egina
Aside from Egypt,Nigeria has Africa's widest-ranging capabilities for offshore engineering and construction. Local input into the Egina project, 130 km (81 mi) offshore, is probably the highest for any deepwater Nigerian project to date.
Total discovered the field in 1,750 m (5,741 ft) of water in the OML 130 block in 2003, and initially considered a tieback to the Akpo field FPSO. However, strong results from further drilling in the area persuaded the company to purse a standalone development, which Total and partners CNOOC, Sapetro, and Petrobras finally sanctioned in mid-2013.
Samsung Heavy Industries in South Korea is building the 330-m (1,082-ft) long, 61-m (200-ft) wide and 33.5-m (110-m) deep FPSO, which will be the largest in Total's fleet, with a total weight of 34,000 metric tons (37,478 tons). This will have capacity to produce 200,000 b/d of crude at plateau, initially solely from Egina, later possibly supplemented by production from the nearby Preowei field.
Six of the topsides modules are under construction at the SHI-MCI yard at the deepwater LADOL complex in Lagos, namely:
P1: Chemical injection package, foam and tote tanks area
P4: Production manifold and pigging (Egina South and future hub)
S1: Seawater booster pumps and MINOX water treatment package
S2: Water injection, fine filtration and variable-speed drives/transformer
P8: Oil export and oil metering/prover loop
S8: Pancake for future development.
All will be installed on the FPSO following its anticipated arrival at the yard during 3Q 2017. This will also be the first such installation on a deepwater FPSO in Nigeria.
Saipem was awarded the EPCI contract for the subsea flowlines, risers and umbilicals, and the contractor is also responsible for mooring of the FPSO and the oil loading terminal buoy at the Egina location. The Saipem Rumoulumeni yard and Aveon Offshore in Port Harcourt are handling much of the fabrication (Technip is supplying the steel tube umbilicals). FMC Technologies has the $1.2-billion EPCC contract for the subsea production systems.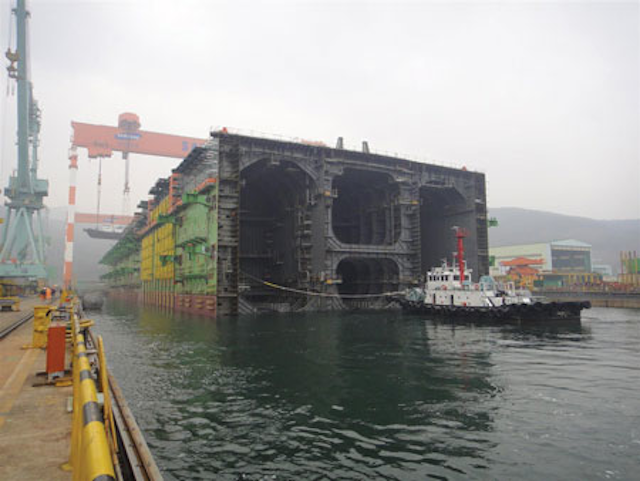 Tugs preparing for Egina hull tow-out.
The subsea spread will comprise 52 km (32 mi) of oil production and water injection flowlines; 12 flexible jumpers; 20 km (12.4 mi) of gas export pipelines; a 2-km (1.2-m) oil export line; and 80 km (50 mi) of umbilicals. The sole offshore installation completed to date has been the long baseline arrays required for the start of the drilling campaign. Discussions continue with Saipem on the main installation planning, depending on the available marine spread, but work should get under way in 4Q or early next year.
In addition, Egina will export 360 MMcf/d of gas at peak through a new 20-km (12.4-mi), 14-in. pipeline and associated subsea structures connected to the Akpo field FPSO. The new pipeline will tie into the existing Akpo-Amenam subsea gas line via an in-line tee assembly that has already been installed, with provision for a subsea tie-in of Egina using a pipeline end manifold and connecting spool.
According to a Total spokesman for the project, the composition of Egina's reservoir fluids presents two main challenges. One is the potential for souring during field life. The maximum hydrogen sulfide content reaches respectively 130 ppm and 60 ppm in the production and gas-lift risers. The impact is very stringent specifications and designs for the pipe materials and welds, which include:
Effective Fatigue Design factor of 100 (10 is standard but due to the potential souring from the reservoir, an additional Knock-Down Factor of 10 has been added). For a design life of 25 years, the acceptable fatigue life is 2,500 years.
All riser welds in contact with fluid and gas are characterized as severe sour service and are subjected to extensive sulfide stress corrosion cracking qualification testing for 720 hours, in line with NACE standard requirements.
Full-scale laboratory testing of all weld types in the production (riser and flowline) system.
There is also potential for sand production during field life. With continuous sand production from the reservoir estimated at a maximum of 20 ppm and a sand particle maximum size of 140 microns - combined with injected lift gas and produced gas in the production riser - there is the risk of erosion at the top of the risers. However, this is mitigated by the fact that:
The production risers top assemblies are made of duplex stainless steel
The flexible jumpers and their extremities are made respectively of stainless steel and CRA-clad carbon steel.
Kaombo
Kaombo is Total's fifth deep offshore development in Angola and its first in block 32. Its two FPSOs will also bring the total number operated by Total off Angola to six, following the single facilities installed for the Girassol, Dalia, Pazflor, and CLOV projects on block 17.
The company and partners Sonangol P&P, Sonangol Sinopec International, ExxonMobil, and Galp Energia opted for two FPSOs to develop six fields in an 800-sq km (309-sq mi) area in the central and southeastern part of block 32. "It is perhaps our largest project area-wise," Afolabi said, "and it is the first time that Total has chosen to convert two VLCCs as opposed to commissioning a newbuild floater. This was done primarily for reasons of costs and scheduling efficiency."
Saipem has an EPCI contract to convert the two tankers, with the contractor's Floaters Business Unit west of Paris managing the program. Each vessel will have oil treatment capacity of 115,000 b/d; water injection capacity of 200,000 b/d; gas compression of 100 MMcf/d; and oil storage of up to 1.8 MMbbl.
"It's a D1B2 - design one, build two - conversion," said a Total Kaombo project spokesperson, "so both FPSOs are almost twins. We say 'almost' since marginal adjustments are unavoidable to cater for the different production loops they are connected to. Some minor adjustments might also be made toKaombo Sul, the second floater to be deployed, following lessons learned from the first one, Kaombo Norte.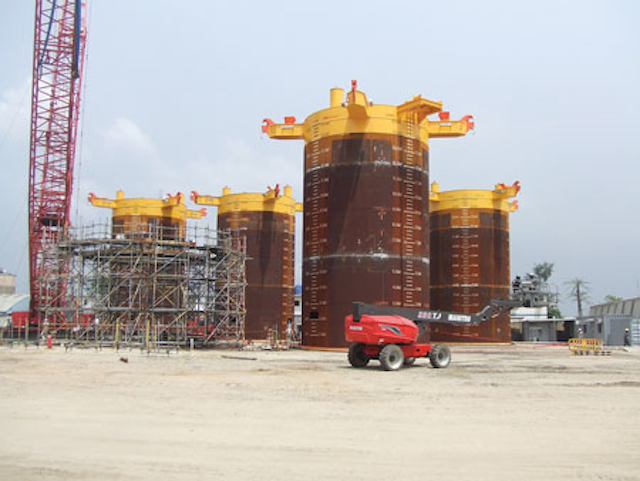 Fabrication of FPSO piles at SNCL Yard, Port Harcourt.
The six fields are Gengibre, Gindungo, and Caril, to be produced viaKaombo Norte, and Louro, Mostarda, and Canela for Kaombo Sul. The FPSOs will both be moored in 1,650 m (5,413 ft) of water, nearly 20 km (12.4 mi) apart. There will be an eight-month interval between first oil from Kaombo Norte and Kaombo Sul. Start-up, ramp-up, and plateau of field production will follow a very specific, already-defined strategy, and different production loops will come onstream in various stages.
Saipem is performing most of the topsides fabrication at its Karimun Island yard in Indonesia, although the Petromar yard in Ambriz, Angola, is constructing two topsides modules forKaombo Sul: the 700-metric ton (771-ton) S5 subsea methanol injection and dead oil system and the 882-metric ton (972-ton) S2 with chemical injection and fiscal metering systems.
Integration of the Indonesian-built topsides onto the converted FPSO hulls should start this summer at the Sembawang shipyard in Singapore. Following its subsequent voyage to Angola,Kaombo Sulwill stop off at the Paenal yard for integration of the two "made in Angola" modules.
During 4Q, the Technip/Heerema Marine Contractors joint venture should start installation of Kaombo's subsea umbilicals, risers and flowlines network which will be the most extensive to date in the Gulf of Guinea and one of the largest in the world. This will feature 300 km (186 mi) of rigid and flexible production and injection pipelines, with Angoflex's spoolbase in Barra do Dande, Angola, fabricating the reel-laid, rigid lines; 115 km (71.5 mi) of umbilicals; 18 rigid single-top tension risers suspended at the upper sections with large buoyancy tanks, similar to the arrangement at Egina (to be manufactured by Lamprell); and riser jumpers and riser base spools.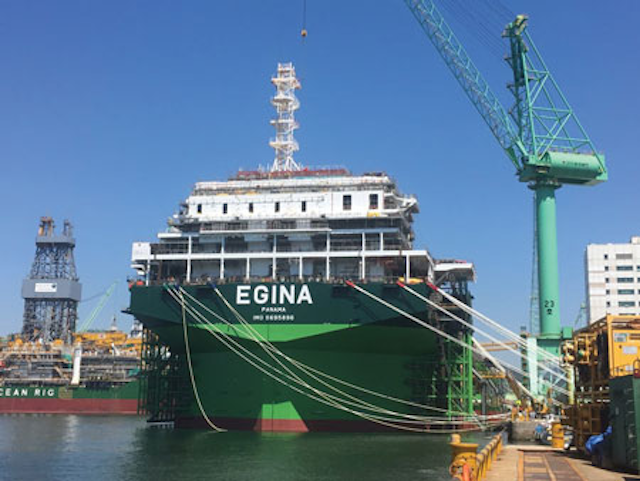 The completed Egina FPSO hull berthed at the quayside in South Korea.
Aker Solutions is supplying the subsea production system, comprising 65 vertical subsea trees, 20 subsea manifolds, controls, and workover/tie-in systems. TheEnsco DS8 and Ocean Rigs Skyros are drilling the wells. Currently progress on the development is nearing the halfway point. First production fromKaombo Norte should flow next year, and the subsea installation campaign for both the South and North fields is due to be completed during the first half of 2018. Saipem has a further contract to operate and maintain both FPSOs for their first seven years.
The Kaombo Ultra-Deep Offshore project was designed to extract around 660 MMbbl of oil and associated gas, for export to the Angola LNG plant in Soyo. Following a period of optimization and re-design it was sanctioned in April 2014, with a price tag of $16 billion. Even at that time the partners were concerned about the size of the investment, but they had managed to cut the original estimate by $4 billion, Afolabi said, "through efforts with all stakeholders, from vendors, subcontractors to the Angolan authorities, to rein in costs and improve the project's economics." Since the fall in oil prices that started in late 2014, Total and the Angolan government have agreed to modify the fiscal terms on Kaombo in order to improve the economics and ensure the project's profitability.
According to the Kaombo spokesperson, "savings were achieved by revising and adapting our 'new-built' technical standards to 'conversion' standards, drawing on contractors' experience in this domain; international and local scope optimization; and renegotiation of vendor and subcontractor tariffs."
One of the chief issues impacting engineering of the development wells has been the presence of salt domes, principally at Louro and Mostarda, combined with the subsurface depth of the reservoirs (the same applies at Egina). "The presence of salt reduces the seismic visibility," the spokesperson explained, "so we needed all Total's in-house geosciences expertise to mitigate uncertainties, notably using the company's high performance computing system Pangea with 6.7 petaflops computing power to crunch the block 32 data. We can say that we came up with some very innovative and original solutions to expand our comprehension of subsalt imagery.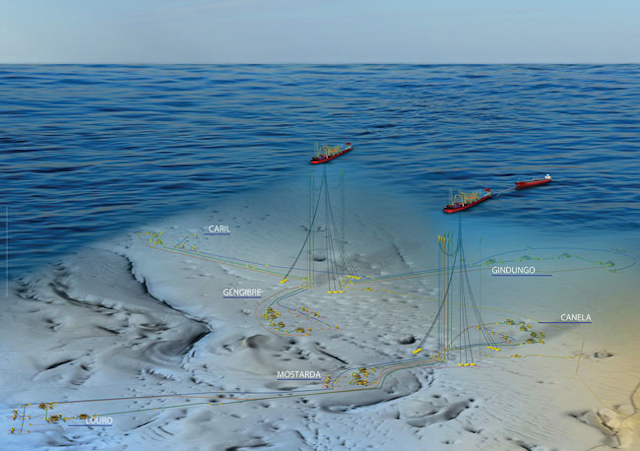 Reserves from Kaombo's six fields will be produced through two FPSOs, which will be moored in 1,650 m (5,413 ft) of water.
"Total's other main challenge for this project has been the water depth, which is greater than at CLOV in block 17. Appropriate flow assurance solutions were therefore integrated into the design from the start, from robust, field-tested subsea production equipment to implementation of a hybrid loop. This involves use of a service line to allow injection of inert fluids during shutdowns to prevent hydrates forming.
"To prevent calcium carbonate and asphaltene deposits in the wells, injection of inhibitors will be performed from the FPSOs. This will mitigate the risk of well intervention with drilling rigs that would be costly. The Kaombo subsea wells are designed to be intervention-free during their production life." Afolabi added: "This is one of the benefits of a low oil-price environment, in that it forces us to think a lot more about potential cost efficiencies during project scoping."
Total has discovered six more potentially commercial accumulations in block 32, and there is exploration potential elsewhere in the southeast/central part of the block, Afolabi said. Any future finds in this area might therefore warrant tie-ins through the new infrastructure.