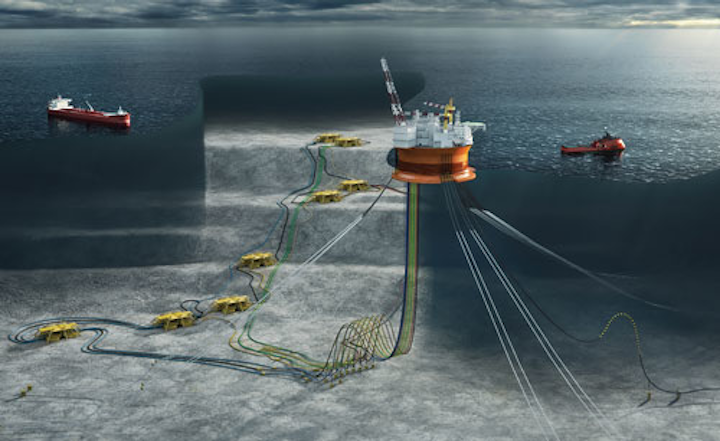 Novel environmental measures for winterized platform

Jeremy Beckman
Editor, Europe
Goliat in the Barents Sea, which came onstream last March, is Norway's most northerly offshore oilfield development to date. It is also the first in the world to feature a fully winterized version of the circular FPSO, developed by Sevan Marine.
The field is in production license (PL) 229, awarded under a dedicated Barents Sea licensing round in 1997 that was designed to promote interest in the area. Goliat is in 381 m (1,250 ft) of water, 88 km (55 mi) northwest of Hammerfest on the northern Norwegian coast. The initial discovery well, drilled in 2000, was followed by sporadic appraisal drilling over the next five years, and the field is thought to extend into the adjacent PL 229B, also operated by Eni. Estimated recoverable reserves are around 179 MMbbl of oil and 8 bcm of gas.
In mid-2009, Norway's Parliament (Storting) approved the company's plan for development and operation. Following a design competition for the platform - Aker Solutions' concrete-hulled Condeep MonoFloater was also in the running - Eni and partner Statoil selected a steel-hulled, geostationary Sevan 1000 FPSO which was also the largest platform of its type that Sevan had designed to date. This would feature a processing plant, oil storage capacity, water and gas injection facilities, and accommodation, with a long-distance subsea cable importing electricity from the shore to supplement energy generated onboard the platform.
The partners chose the concept for various reasons. These included lower energy consumption; reduced risk of damage to the environment in the event of an accidental oil spill; lower safety risks associated with the topsides systems, which would be adapted to withstand low temperatures and icing; faster to fabricate than a monohull floater weathervaning around a turret, and easier to receive power from shore; high rates of recovery and efficient reservoir drainage; and flexibility to tie in other discoveries in the area.
Due to the northerly location, most of the platform's systems have been adapted to ensure safe and reliable oil production in harsh weather. This involved extensive evaluation and characterization of the local weather conditions, drawing on the support of various leading Norwegian technical centers. However, analysis by the Norwegian Meteorological Institute, NTNU, and Saipem showed that Goliat's location is less exposed to severe conditions than other parts of the Barents Sea. The field is within the path of the Gulf Stream, so the designed operating limit is a not-too onerous -18°C (-0.4°F), and major icing arising from fog and rain is improbable. In addition, the circular design of the platform with its 20-m (65.6-ft) freeboard makes icing as a result of seaspray unlikely.
The platform is constructed so that ice, snow, or rain will drain and slide down walls and roofs, allowing the facility to withstand all anticipated ice loading. There are heating cables in the floors of exposed areas such as evacuation routes and the helideck to prevent the build-up of too much snow or ice. Extra lighting has been installed to compensate for long periods of winter darkness. And to minimize the risk of explosions in the process plant, the outer walls of the process comprise partly overlapping vertical steel plates. This arrangement is said to provide effective ventilation while at the same time protecting personnel from the elements.
The circular Goliat FPSO. (Image courtesy Eni Norge)
Pressure issues
Goliat comprises two separate main reservoirs in the Realgrunnen group, 1,100 m (3,609 ft) subsurface, and in the Kobbe formation, at a subsurface depth of 1,800 m (5,905 ft). Both reservoirs contain oil with an overlying gas cap, and both have hydrostatic pressure - 120 bar (1,740 psi) for the Realgrunnen and 190 bar (2,756 psi) for the Kobbe. According to Eni, this is positive in terms of well control, but complicates production. The company anticipated a ramp-up during the first year of operation to 5.4 MMcm (full-year production), followed by a steady decline in subsequent years. Initially, the plan was to re-inject produced gas into the Kobbe reservoir, with commercial gas production following two years after start-up. Produced oil would be stored on the FPSO for periodic offloading to shuttle tankers, with produced water re-injected subsurface. The reservoir drainage strategy called for eight well templates with 22 wells - 12 producers, seven water injectors, and three gas injectors.
Eni awarded the first major EPC contract in 2009 to Aker for the supply of eight four-slot steel subsea templates, each weighing around 300 metric tons, and manifolds - both manufactured by Aker Egersund in western Norway, and installed during 2011-12; 20 km (12.4 mi) of steel-tube umbilicals; a tie-in and connection system, and workover equipment. GE Sensing was subcontracted to supply more than 130 wellhead sensors. The same year, Eni handed Technip a NOK1.7-billion ($205-million) EPC contract for pipelay and subsea construction, with offshore operations taking place during 2011-14. There are 19 km (11.8 mi) of in-field production flowlines fitted with direct electrical heating systems; five 10-in. flexible water injection lines with a total length of 14.3 km (8.9 mi); one 6-km (3.7 mi), 10-in. gas line, and four 6-in. flexible lift-gas lines totalling 7.6 km (4.7 mi) in length.
In February 2010, Hyundai Heavy Industries (HHI) in South Korea won the NOK6.9-billion ($830-million) EPC contract to build the 64,000-dwt FPSO, which would provide a production capacity of 100,000 b/d of oil and 3.9 MMcm/d of gas, and oil storage capacity of 950,000 bbl. HHI in turn subcontracted CB&I for detailed engineering of the process and utility modules, the topsides/hull interface, and the flare boom. The company also contracted ABB to supply electrical, automation, instrumentation, and telecoms systems. The same year, Eni assigned Sevan to manage engineering and early operations preparations.
Originally, Eni had hoped to start production from Goliat in 2013, but the schedule was disrupted by fabrication delays. The completed FPSO eventually departed South Korea in February 2015 onboard Dockwise's newbuild transportation vesselDockwise Vanguard, reaching Hammerfest two months later, followed by a towout to the field location in May 2015. There it was connected to the pre-installed mooring system, comprising 14 suction anchors, supplied by Aker Pusnes, attached to chain/polyester rope mooring lines manufactured by Lankhorst Ropes.
Norway's government has pressed increasingly for power from shore in the country's major new development projects for environmental reasons. In Goliat's case, the 106-km (66-mi), 75-MW AC subsea power cable reduces the field's carbon-dioxide emissions by up to 50%, Eni claims, compared with a conventional full-scale platform-based power generation arrangement.
ABB started work on the NOK676-million ($81.4-million) contract for supply and installation of the cable in 2010. At the time of construction this was the longest of its type ever made, Eni said. EMAS AMC's vesselLewek Connector completed the offshore installation in mid-2014. The cable is designed to initially provide 20-40 MW of the Goliat's power needs, with the remaining 20-30 MW supplied by a gas turbine-power generator and a heat recovery unit on the platform.
Total dependence on power from shore from the start was an alternative option but it could have been risky, given the limitations of the regional grid in northern Norway. However, the government has since sanctioned expansion of the grid so that by 2019, theoretically all of Goliat's power needs can be met through the shore link. Siemens was responsible for the onshore part of the power-from-shore system, including construction of a new substation near Hyggevatn. Local utility Hammerfest Energi and Statnett have upgraded the local electricity supply grid and increased transmission capacity. Eni has also made arrangements for the power supply to be adapted to provide electrical energy in the future to other offshore oil and gas installations in the area.
The FPSO employs an oil offloading system that has been adapted for arctic conditions. The geostationary design allows the visiting tanker to move relative to the platform according to prevailing weather conditions. The offloading system is housed in an enclosure to guard against icing. It comprises a 12.5-m (41-ft) diameter hose reel, a 400-m (1,312-ft) hose - longer than most conventional FPSO hoses - and a hose suspension system hanging off the outside of the hull, ensuring a safe distance between the hose and hull.
Hyundai also constructed the two dedicated shuttle tankers,Torill Knutsen and Hilda Knutsen, operated by Knudsen NYK Offshore Tankers on Eni's behalf. These are designed to call at Goliat once a week to offtake 850,000 bbl. Statoil collects its share of produced oil using its own tanker, Eagle Barents.
Eni commissioned Esvagt to supply a new oil platform supply/spill contingency vesselEsvagt Aurora, equipped for both mechanical oil recovery and dispersal operations. Oil-detecting radars and infra-red cameras allow the vessel to operate in any daylight conditions. Its dual emergency life-saving intervention and oil spill handling capabilities are unique on the Norwegian shelf, Eni claims. For the first time, the company adds, the local fishing fleet in northern Norway is also part of the emergency preparedness organization.
Saipem's winterized semisubScarabeo 8began development drilling in earnest in spring 2013 - the first planned development/appraisal well drilled earlier that year found oil, but was subsequently P&A'd. When production started on March 12, 2016, 17 wells had been completed, with five remaining.
Eni estimates Goliat's productive life at 20 years, with upside potential. In time the platform could serve as a hub for other fields in the area, possibly including the company's Alke gas discovery, 60 km (37 mi) to the west. Aside from boosting the company's Norwegian offshore production, the development has created substantial ripple effects in northern Norway, with regional suppliers responsible for around NOK1.3 billion ($156 million) of the project's goods and services. The company has formed its own operations organization in Hammerfest, employing 60 people, with 120-140 more based on the platform. Eni values annual operations and maintenance contracts for the field at around NOK1.5 billion ($180 million).