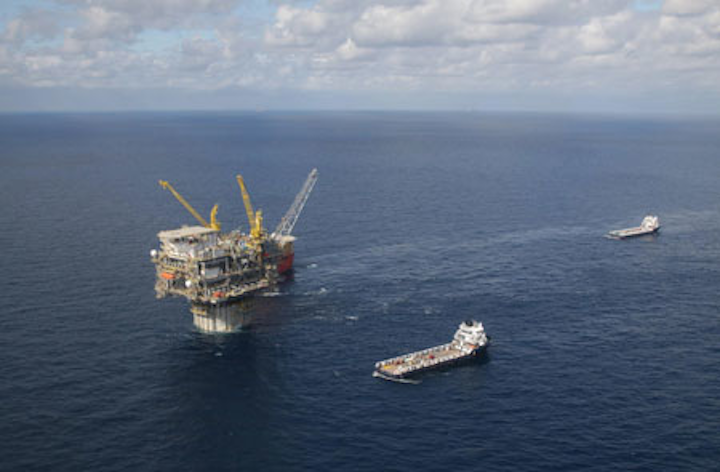 Sarah Parker Musarra
Editor
Anadarko Petroleum Corp. marked first oil at its deepwater Heidelberg project this January, just weeks into 2016, and nearly one year to the day after turning the taps on at its sister truss spar development Lucius.
Thedeepwater Gulf of Mexico project is about 140 mi (225 km) offshore Port Fourchon and comprises Green Canyon (GC) blocks 859, 860, 903, 904, and 948. Located in 5,300 ft (1,615 m) of water, Heidelberg is estimated to hold 200-400 MMbbl of recoverable resources. Development consists of a standalone truss spar with a capacity of more than 80,000 b/d of oil and 2.3 MMcm/d (81 MMcf/d) of natural gas, six production wells, two drill centers (in GC859 and GC903), dual-looped 8-in. flowlines, and 16-in. oil and gas export lines.
A successful model
Anadarko employed its "Design One, Build Two" strategy on the spar, modeling Heidelberg after Lucius, itself the recipient of anOffshore Top 5 project in 2015. The company attributes the development's accelerated timetable to this strategy. As with Lucius, only around three years passed from sanctioning Heidelberg to first oil, with the explorer noting that its austere philosophy abbreviated the second spar's expected development cycle by about 18 months. This approach also reduced other aspects including concept selection and other schedules; change and regulatory risk; fabrication resources; along with engineering resources throughout the design cycle.
Information from Anadarko said that first steel was cut on the hull in five months' time from concept selection, with first steel cut on the topsides in just 12 months. Between the hull and topsides, Anadarko claimed a reduction in fabrication manhours of 40% and a reduction in engineering manhours of 52%. Overall, it said the anticipated date of first oil was accelerated by about 18 months.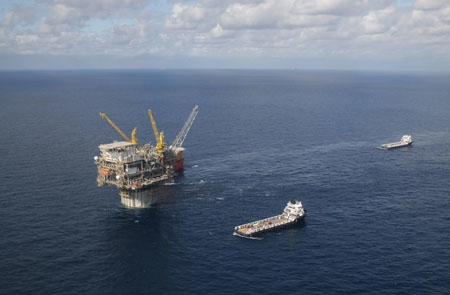 The Heidelberg spar is a replica of its Lucius facility, part of the company's "Design One, Build Two" philosophy, which Anadarko says shortened development time considerably. (All images courtesy Anadarko Petroleum Corp.)
In addition, this philosophy was said to have enhanced safety as well as scheduling and operational efficiencies and synergies.
As Heidelberg's spar was designed after Lucius, Anadarko similarly elected to mirror the previous spar development's financing arrangement. In March 2013, the company entered into a carried-interest arrangement with an unnamed party for a portion of its ownership in the Heidelberg development project. As a result, Anadarko would be carried for $860 million, which covered nearly all of its expected capital requirements through Heidelberg's anticipated first oil date (then established as mid-2016). In exchange, Anadarko conveyed a 12.75% working interest in the Heidelberg development, dropping its stake to 31.5% and retaining the operatorship.
Under the agreement, the operator could mitigate some of the project risk and limit its exposure to capital burden. Originally carried out onshore, Anadarko first brought the model offshore with Lucius with its $556 million capital-carry arrangement.
Path to production
Heidelberg was discovered in 2009, one of eight announced by Anadarko that year, in a class that included the prolific Tweneboa discovery. In its announcement, the company said that the discovery well encountered more than 200 ft (60 m) of net oil pay in several high-quality Miocene sands. Drilled in GC 859, the well encountered same-age sands and reservoir characteristics similar to the company's Caesar and Tonga discoveries.
Appraisal drilling began in late 2011 in GC 903. In February 2012, the Heidelberg-2 appraisal well encountered around 250 ft (76 m) net of oil pay. Two months later, partner Eni said that the discovery had been confirmed with an appraisal well and side track in Green Canyon block 903. that the oil/water contact was found to be 700 ft (213 m) deeper than the previous well, indicating that the field could be larger than originally thought. Anadarko later said in its 2Q 2012 operational update that an extension of up to 1,500 acres had been established. Results pointed to more than 200 MMbbl in estimated resources; although the idea to produce Heidelberg through the nearby Constitution spar had previously been floated, these numbers were deemed sufficient to proceed with a standalone project.
As it had for Lucius and multiple other spars, Anadarko turned to long-time partner Technip in November 2012 to begin construction and early works on the Heidelberg spar. The contractor said that the letter of intent it received allowed for actions such as the purchase of long-lead items for the hull and start of fabrication, even in advance of the expected project sanction date in 2013. Once that had occurred, the project could be entered into its backlog, where detailed hull design and fabrication would be carried out at its Pori, Finland yard.
The project was formally sanctioned in May 2013. With the project greenlit and financing arranged, the Heidelberg consortium almost immediately began handing out a string of awards for the development. Among those announced in the following weeks were FMC Technologies Inc., contracted to supply subsea equipment orders, including five enhanced horizontal trees, tree-mounted controls, two manifolds, and other associated tooling and equipment. Subsea 7 was also awarded a contract for the engineering, fabrication, and installation of risers, pipelines, and flowlines.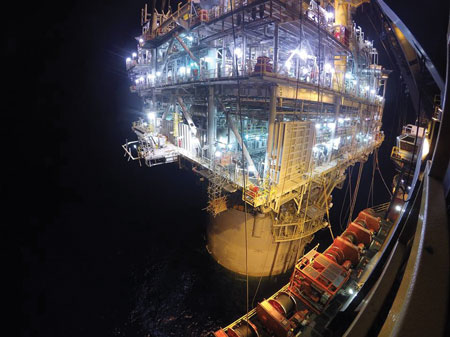 Anadarko brought its Heidelberg development into production quicker than it expected, and on budget.
Technip contracted Lankhorst Ropes to supply 20 Gama 98 polyester deepwater mooring ropes, each about 1,100 m (3,700 ft) in length.
BMT Scientific Marine Services was contracted to provide the spar with an environmental and platform response monitoring system and an independent remote monitoring system.
Dockwise Shipping BV's heavy-lift vesselMighty Servant I transported the spar hull a distance of 7,300 nautical miles from Technip's Pori facility to Ingleside, Texas, over a period of 27 days beginning in September 2014. Anadarko says its topsides operating weight is 16,000 tons, with its length totaling 605 ft (184 m), and a hull weight of 23,000 tons (20,865 metric tons).
Its facility now stateside, the operation continued to speed along. In June 2015, the spar hull departed the Ingleside yard to its Green Canyon job site. The upending of the spar had been announced completed the following month.
After having fabricated nine 63-metric ton suction piles in February, InterMoor Inc. stepped in to assist another contractor with performing hook-up services in August. InterMoor connected the spar to three mooring lines in GC860 before the original contractor resumed and completed the job on the remaining six mooring lines.
In September 2015, Subsea 7 completed subsea installation works. The company tied the trees back to the spar as well as to the export flowlines. Among other items, its June 2013 contract scope had included the fabrication and installation of four production and two export steel caternary risers and the design, fabrication, and installation of pipeline end manifold and pipeline end terminal structures. Following the pipeline installation, it fabricated and installed nine hold back piles, followed by two umbilical control systems and the jumper tie-ins.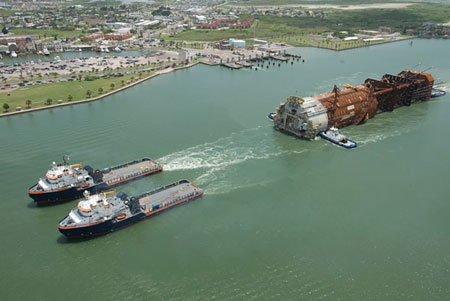 Thialf.">
Topsides installation on the Heidelberg spar, shown here, was completed with Heerema Marine Contractors' semisubmersible crane vesselThialf.
Topsides installation wrapped up in October. Completed by Heerema Marine Contractors with the semisubmersible crane vesselThialf, the 9,255 metric tons (10,201 tons) main topsides were heaved in place. MatthewsDaniel, part of Bureau Veritas, announced it had completed its marine warranty services shortly thereafter.
First Subsea Ltd. installed subsea mooring connectors in the final days of 2015, with the truss spar moored by nine Series III Ballgrab ball and taper mooring connectors attached to polyester mooring lines.
Heerema Marine Contractors' Balder deepwater construction vessel aided in hull and mooring installation.
First oil was announced on Jan. 19, 2016, when Heidelberg began producing through an initial three of its six producing wells - just one week after Anadarko said that it would bump up its first oil date from the expected 2Q timeframe to 1Q.
Another two wells were planned by the end of the year. In its 2Q operations report, Anadarko said that both wells had been spudded that quarter. The fourth well encountering nearly 185 net ft TVT of oil pay in high-quality sands. Both were anticipated at that time to produce between 8,000 and 12,000 boe/d.
In the operator's next (and most recent) quarterly operational report, it revealed that the fourth producer was brought online and is expected to ramp to more than 10,000 b/d. The fifth Heidelberg well spud encountered wet sands, defining the northern extent of the field.
The well was being sidetracked into the reservoir and is expected to be completed and brought online early next year.