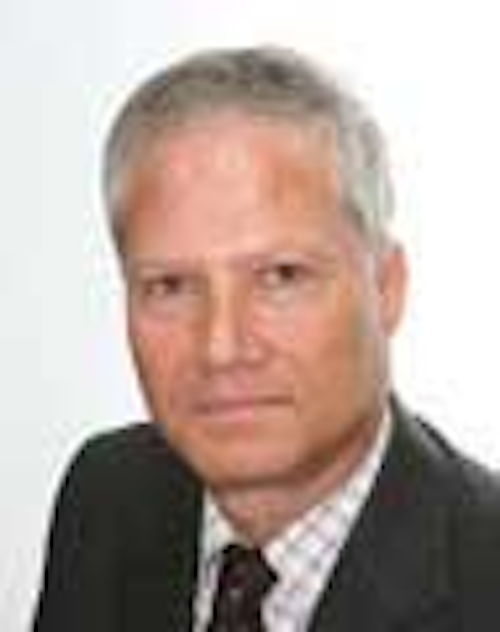 | | | |
| --- | --- | --- |
| | | Jeremy Beckman London |
Britain's Oil & Gas Authority (OGA) has invited bids for more than 1,200 blocks under the UK's 29th offshore licensing round. Some are in frontier regions such as the Rockall Trough off western Scotland and the Mid-North Sea High, both covered by last year's government-funded 2D seismic surveys. OGA said the resultant data-sets, which were made available to the industry in April, were downloaded more than 3,000 times.
A new feature of this round is the "Innovate Licence," developed by a task force formed by the MER (Maximizing Economic Resources) UK Exploration Board. This is designed to give licensees more flexibility in devising their work programs with OGA, and should lead to more appropriate phasing of activity and better monitoring of progress. Bids are due by Oct. 26.
With future licensing rounds in mind, the Authority has commissioned WesternGeco and PGS to acquire new 2D data over frontier areas offshore southwest Britain and the East Shetland Platform in the UK northern North Sea.
OGA has also published its Enhanced Oil Recovery (EOR) Strategy, designed to assist development of 250 MMboe of incremental reserves from UK offshore fields, primarily through application of polymer EOR, which Chevron has studied for the next phase of its Captain heavy-oil project in the central North Sea. Other goals include a proven offshore operation of low-salinity EOR, which BP will deploy shortly on the Clair field west of Shetland, and to encourage evaluations for other new projects.
Next month, the government will establish OGA as an independent regulator, with new powers to act more quickly to help drive investment and safeguard jobs on the UK continental shelf.
Pioneering Spirit passes initial tests
Allseas' new DP single-lift decommissioning/pipelay vesselPioneering Spirit successfully completed its first test run-out last month, installing a 5,500-ton test platform topsides on a substructure at the K-13 field in the Dutch North Sea. The motion-compensated topsides lift system beams positioned the load accurately and as planned. A fortnight earlier, the 12 lifting beams had been tested to their full lift capacities at Rotterdam's Alexia harbor, lifting a total load of more than 44,000 metric tons (48,502 tons).
Further installation/removal trials were planned with the test platform topsides, following which the vessel was due to sail to the Norwegian North Sea for its first commercial project, removing the 13,500-metric ton (14,881-ton) Yme production platform for Repsol. Thereafter,Pioneering Spirit should return to Rotterdam for installation of the final for topsides lifting beams, in preparation for the Shell Brent Delta topsides removal in the UK northern North Sea next summer.
Statoil steps up drilling at Snøhvit
The fourth and final newbuild "Category D" semisubmersible commissioned by Statoil from Songa Offshore has started drilling a replacement carbon-dioxide (CO2) injection well at the Snøhvit gas/condensate field offshore northern Norway. Snøhvit, a subsea-shore development which came onstream in 2007, remains the only LNG project in the world to capture and store CO2 separated from the wellstream in a dedicated formation offshore. Remaining production is processed at the Melkøya LNG complex at Hammerfest.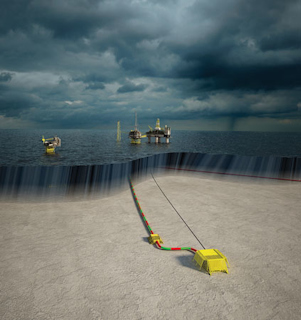 Artist's impression of the Utgard-Sleipner subsea tieback. (Image courtesy Statoil)
After completing this well, the rig will drill a new producer. Statoil added subsea pipelines and a template during summer 2015 in readiness for this project, at a cost of $294 million. The operator's next goal is to develop the Askeladd field through the existing facilities to help sustain the LNG capacity - production here should begin in 2020/21.
In the North Sea, the company has submitted field development and operation plans for the 1982 Utgard (ex-Alfa Sentral) gas/condensate discovery to the UK and Norwegian authorities, as the field straddles the boundary between the two countries. Statoil estimates recoverable reserves at 56.4 MMboe with capex of NOK3.5 billion ($423 million). The company plans to drill two wells in 100 m (328 ft) of water on either side of the median line, with the UK well drilled from the subsea template serving the other well on the Norwegian side. Production will head to a new pipeline to the Sleipner complex for processing and onward transportation to western Norway. Utgard's gas too has a high CO2 content, which will undergo cleaning and storage at Sleipner. Statoil anticipates start-up in 2019, with peak production of 7,000 cmoe/d.
Greater Stella Area nears start-up
Following numerous delays, the refurbished floating production platformFPF-1 finally departed the Remontowa Shipyard in northern Poland last month and was heading to the UK central North Sea, where it will serve Ithaca Energy's Greater Stella Area (GSA) gas/condensate development.
Ithaca aims to start production before year-end, and is already looking ahead to potential satellite tie-ins. The company recently acquired ENGIE E&P's 75% operated interest in the Upper Jurassic oil/gas-condensate Austen discovery, 30 km (18.6 mi) southeast of the GSA hub location. Ithaca and partner Premier Oil aim to progress subsurface studies and are targeting approval for a development in early 2019. Various other transactions have given Ithaca 100% of license P1588 containing part of the Vorlich field, 10 km (6.2 mi) north of GSA. BP operates the main part of the structure in P363.
Erskine pipeline back in action
Gas/condensate production has re-started at Erskine in the North Sea, the UK's first high-pressure/high-temperature field development, which came onstream in 1997. Operations had to be suspended initially following a blockage earlier this year in the BG-operated Lomond to Everest condensate export pipeline, caused by lodging of a pig due to wax build-up. Following a review of clearance procedures, the adopted solution involved pressure pulsing using diesel from both ends of the pipeline and injection of a wax solvent. A further two-month shut-in followed to accommodate maintenance on the Lomond platform and the CATS export/processing facilities that handle Erskine's gas. After flushing of the export line in July and a subsequent clean-up campaign production should revert to previous unconstrained levels. The partners, led by Erskine operator Chevron, have agreed to increase regular pigging and wax inhibitor injection to prevent any future re-occurrence of wax build-up. They also plan a survey to determine the potential for extending the infrastructure's operating life, said partner Serica Energy.