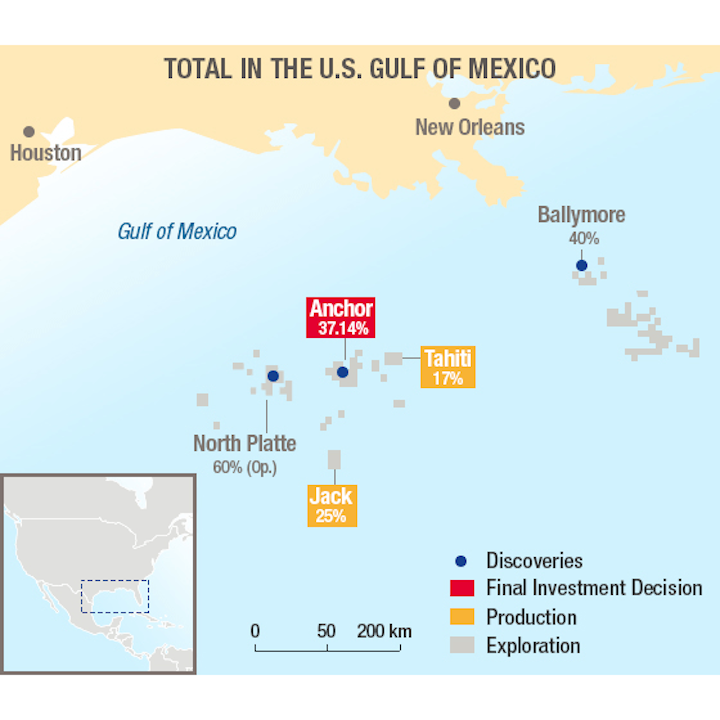 (Map courtesy Total)
Offshore staff
PARIS – Total has started front-end engineering and design (FEED) for the deepwater North Platte discovery in the US Gulf of Mexico.
The North Platte field straddles four blocks of the Garden Banks area, 275 km (171 mi) offshore Louisiana in about 1,300 m (4,265 ft) of water.
According to the company, the reservoir is of high quality, both in porosity and permeability, with thickness in places exceeding 1,200 m (3,937 ft).
Like Anchor, North Platte requires the use of 20,000 psi technologies. The field development plan is based on eight subsea wells and two subsea drilling bases connected via two production loops to a newbuild, lightweight floating production unit (FPU). Production will be exported through existing oil and gas subsea networks.
Total operates North Platte with a 60% working interest, alongside Equinor with 40%. Oil production at plateau level is expected to average 75,000 b/d. Output will include associated gas.
Total also holds interests in high-potential exploration acreage in the Greater North Platte Area, and the FPU design provides for a possible future tie-in.
12/12/2019