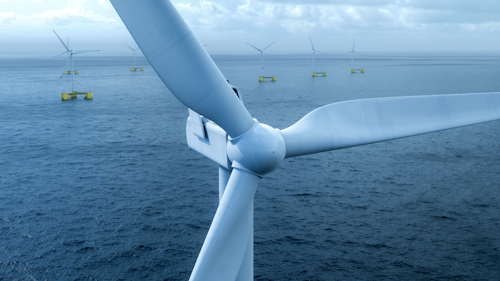 (Courtesy Aker Solutions)
Consortium aims to develop floating wind farm offshore South Korea
WindPower Korea, EDP Renewables, and Aker Solutions have formed a consortium with the ambition to develop an initial 500-MW floating wind farm offshore Ulsan, South Korea.
The consortium was formed as EDP Renewables and Aker Solutions have invested in the development company Korea Floating Wind Power (KFWind), joining founding shareholder WindPower Korea. Principle Power, which had a role in originating the KFWind project portfolio, will supply its WindFloat foundation technology for the project.
South Korea aims to have 13 GW of offshore wind installed by 2030, and has set a target of at least 30% renewable energy by 2040.
In January 2019, KFWind signed a memorandum of understanding with the City of Ulsan to cooperate on the development of floating wind projects and support the industrial development of the Ulsan region to serve as a manufacturing hub for domestic and export offshore wind markets.
The Ulsan area is said to be well-suited for commercializing floating wind, due to the combination of shipyards, maritime expertise, and port facilities in the region.
Ideol, Taisei sign floating offshore wind MoU
Ideol and Taisei Corp. have signed a memorandum of understanding (MoU) for the joint development and promotion in Japan of concrete foundations for floating offshore wind using Ideol's patented Damping Pool technology.
According to the companies, the potential of floating offshore wind is three times larger than for bottom-fixed offshore wind farms in Japan. Therefore, floating offshore wind is a promising market where the use of concrete will enable Ideol and Taisei to further reduce the cost of floating foundations.
Through this MoU, the companies intend to cooperate to proactively develop concrete floating offshore wind foundations in Japan and contribute to the acceleration as well as the growth of the domestic floating offshore wind market.•