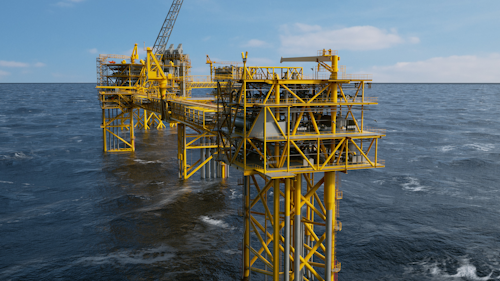 (Photo courtesy Total E&P Denmark)
Offshore staff
ESBJERG, Denmark – Total E&P Denmark has contracted Emerson to provide wellhead pressure monitoring technology for its Tyra gas field redevelopment in the Danish North Sea.
The redevelopment is due to seabed subsidence at the Tyra complex. Since production started in the 1980s, the seabed has subsided by more than 5 m (16.4 ft), reducing the air gap between the sea level and the bottom of the platforms.
Total has therefore committed to replacing the wellhead platforms with new and elevated topsides supported by 13-m (43-ft) high jacket extensions.
During the two-year field shut-in, Emerson will monitor wellhead casing pressures as a safety measure. As power and cable infrastructure will be unavailable, a wireless and battery-powered solution will be needed.
The company will supply more than 200 Rosemount wireless pressure transmitters for installation on the four riser platforms.
These will transmit data to two Emerson DeltaV PK controllers that will be installed on the accommodation platforms. Data will be presented to construction workers locally and relayed to an onshore monitoring point.
11/25/2019