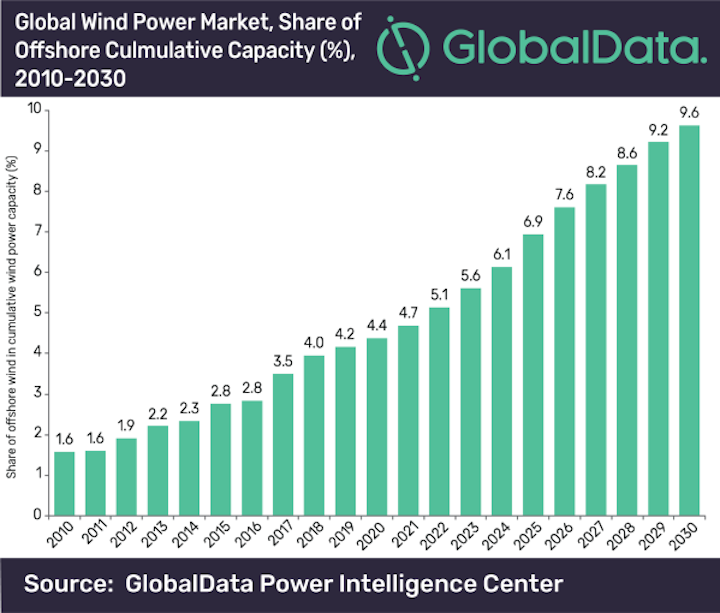 Offshore staff
LONDON – Global wind power market size increased from $71.6 billion in 2010 to $96.4 billion in 2018. During the 2019-2030 forecast period, capacity additions in the Asia/Pacific (APAC) region are expected to drive that market, increasing the market size to $124.6 billion by 2030, according to GlobalData.
The company's latest report, 'Wind Power Market, Update 2019 – Global Market Size, Average Price, Turbine Market Share, and Key Country Analysis to 2030', revealed that China was the global leader in terms of both capacity additions and in terms of cumulative wind capacity in 2018.
The report also found that offshore wind power will gain popularity and increase its share of total capacity during 2019-2030.
Harshavardhan Reddy Nagatham, Industry Analyst at GlobalData said: "The APAC region was the largest market in terms of cumulative installed wind power capacity with 262.2 gigawatts (GW) in 2018. Europe and North America also had significant cumulative capacities with around 200 GW and 100 GW, respectively, in 2018. The South and Central America and Middle East and Africa regions had smaller capacities but are expected to see growth during 2019-2030. However, China and the US will continue to dominate."
China installed over 20 GW of wind power capacity in 2018, taking its cumulative capacity to over 200 GW. With mounting international pressure to cut emissions, China will continue to add large wind power capacities of around 20 GW each year during the forecast period to reach over 400 GW cumulative capacity by the end of 2030.
Nagatham added: "Onshore wind power has been the dominant technology in the wind power space so far, and offshore installations have been miniscule in comparison. This is set to change significantly with a few countries' large-scale offshore installations that are already under way.
"China, the UK, and Germany will lead the way in offshore installations during 2019-2030. The concerted research and development efforts of various bodies globally are expected to drive down the cost of installing offshore wind farms."
Nagatham concluded: "Germany and the UK have had significant offshore capacity additions during 2015-2018 with annual additions as high as 2.3 GW in Germany in 2015 and 1.7 GW in the UK in 2017. Both countries will make large offshore capacity additions between 2019 and 2030. China has had increasing offshore capacity additions during 2010-2018 and will add 1-3 GW each year between 2019 and 2030.
"The US on the other hand doesn't have any significant offshore capacity currently, but is set to add 1-2 GW of offshore wind capacity each year during 2023-2030."
11/12/2019