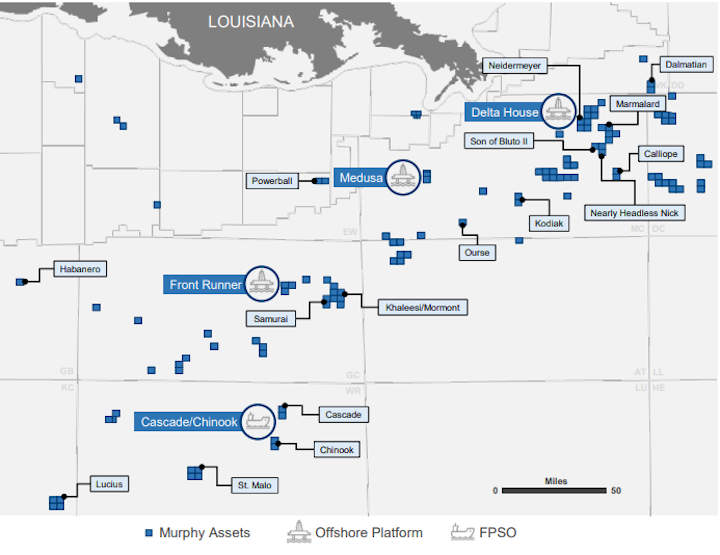 (Map courtesy Murphy Oil Corp.)
Offshore staff
EL DORADO, Arkansas – The prime minister of Vietnam has approved Murphy Oil Corp.'s outline development plan for the Lac Da Vang (LDV) field on block 15-1/05 in the Cuu Long basin, the company revealed in its 3Q results statement.
Front-end engineering design work (FEED) has started.
Analysis of the LDT-1X oil discovery well continues, and it has the potential to add bolt-on resources to the LDV field development, the company said.
Murphy subsidiary Murphy Cuu Long Bac Oil Co. Ltd. is the operator of block 15-1/05 and holds 40% working interest. Partners in the block include PetroVietnam Exploration and Production Co. with 35% carried interest and SK Innovation with a 25% interest.
The company received initial government approval on the production-sharing contract for block 15-2/17 and expects formal signing by the end of the year.
In the Gulf of Mexico, the company completed the Nearly Headless Nick well on Mississippi Canyon block 387, which will be tied back to the Delta House FPS, and completed a workover on a Medusa well in 3Q. First oil is expected from both wells in 4Q.
It also tied-in the new Dalmatian #2 well on Desoto Canyon block 4, as well as the non-operated Lucius #3 well on Keathley Canyon block 875.
In 4Q, the company expects to start a workover project at the Chinook #5 well on Walker Ridge block 425 and launch three-well rig campaign at Front Runner.
In August, Murphy successfully bid on Green Canyon block 522 in Lease Sale 253.
Murphy expects to award subsea engineering and construction contracts for the Khaleesi/Mormont field development in the near term. Pre-FEED work for the Samurai field is ongoing.
Offshore Brazil, the company bid on blocks 505, 575 and 637 in the Sergipe-Alagoas basin, increasing total gross acreage in the basin to 1.7 million acres across nine total blocks. The company holds a 20% working interest with ExxonMobil's Brazilian subsidiary at 50% as operator and Enauta Energia S.A. holding 30%.
Finally, the company farmed into blocks POT-W-857, POT-W-863 and POT-W-865 in the Potiguar basin. The company holds 30% and, operator Wintershall Dea holds 70%.
11/01/2019