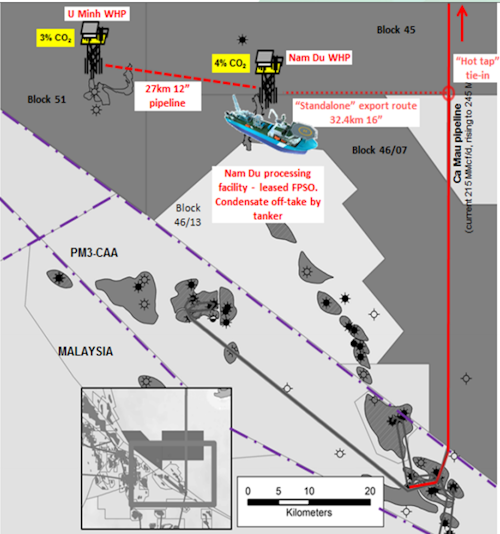 (Courtesy Jadestone Energy)
Offshore staff
SINGAPORE – Jadestone Energy Inc. has submitted a development plan for the Nam Du and U Minh gas fields offshore southwestern Vietnam.
Assuming PetroVietnam's endorsement, the plan will then require approval from the Vietnamese government, but Jadestone expects to get the go-ahead later this year.
The company has finalized its bidder selection process for the facilities engineering, procurement, and construction contract, with a binding letter of intent issued to the successful bidder.
It has also selected an FPSO provider, the terms including leasing, operations, and maintenance.
Jadestone plans a reserves audit for the two fields in the next few weeks – the last estimate, issued on Dec. 31, 2017, was 2C of 171.3 bcf of gas and 1.6 MMbbl of liquids.
Previously, the company said it planned to produce the gas through an existing 18-in. pipeline owned by PetroVietnam which has a throughput capacity of 215 MMcf/d.
Once the fields are in production, the gas will be used for existing installed power generation and the manufacturing of fertilisers.
10/21/2019