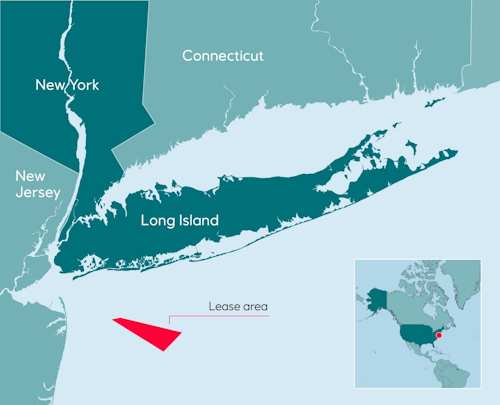 (Courtesy Equinor)
New York selects two offshore wind projects
New York Governor Andrew M. Cuomo has announced Equinor's Empire Wind and Ørsted and Eversource's Sunrise Wind as the winners in the state's first large-scale competitive offshore wind solicitation.
The companies have been selected to negotiate a long-term contract with the New York State Energy Research and Development Authority (NYSERDA) for offshore wind renewable energy certificates.
The Empire Wind site extends 15-30 mi (24-38 mi) southeast of Long Island, spans 80,000 acres, and covers water depths between 65 and 131 ft (20 and 40 m). The 816 MW project is expected to be developed with 60-80 wind turbines, with an installed capacity of more than 10 MW each. Equinor estimates total investments will be about $3 billion.
Project development is expected to begin as early as spring 2021, with construction expected in 2022, and commercial operation beginning in December 2024. According to Equinor, the project will be able to power more than 500,000 homes in New York.
The 880 MW Sunrise Wind project is expected to be developed 30 mi (48 km) east of Montauk Point, Long Island, and operational in 2024. It is expected to power more than 520,000 homes in New York. Sunrise Wind will be adjacent to Eversource and Ørsted's South Fork Wind Farm and Revolution Wind projects.
Siemens Gamesa Renewable Energy (SGRE) has conditionally received a record order for 1.714 GW from Ørsted and Eversource for their Northeast project portfolio: Sunrise Wind (880 MW into New York), Revolution Wind (704 MW into Rhode Island and Connecticut), and South Fork Wind Farm (130 MW into Long Island, New York).
According to SGRE, the signed conditional contract is the largest US offshore wind power order to date. It encompasses the supply, delivery, and installation of SG 8.0-167 DD wind turbines including service agreements. All deliveries are subject to Ørsted and Eversource's final investment decision. 
Located 15 mi (24 km) offshore Rhode Island, Revolution Wind is expected to be online by 2023.
Located 35 mi (56 km) offshore Long Island, New York, South Fork is expected to be operational by the end of 2022. It will deliver power to the Long Island Power Authority.
Tim Charters, National Ocean Industries Association's Vice-President of Government and Political Affairs, said the announcement "signals that offshore wind is set to boom off our Atlantic coast and that developers and companies in the offshore energy supply chain need to get ready to build…"
Saipem to build floating wind farm offshore Saudi Arabia
Saipem has signed a memorandum of understanding and an exclusive agreement with Plambeck Emirates LLC for the development and construction of a 500 MW floating offshore wind farm in Saudi Arabia.
The project phases will begin in the coming weeks via Plambeck Saudi, a Plambeck company located in Riyadh.
The company can start operations after finalization of the financial agreements at the end of the planning phase, following which the contract will be signed for Saipem to undertake the engineering, design, construction, and installation of the entire project and related services.
Francesco Balestrino, Renewables and Green Tech Product Manager of the Xsight division, said: "We believe that the wind market in Saudi Arabia can be supported by innovative solutions for the construction of offshore wind farms, such as the Saipem technology Hexafloat, with an accelerated program and reduced costs.
"Initiating the new market in Saudi Arabia is an important opportunity to be seized and we are ready with Plambeck for this new challenge."
Floating wind farm proposed for South Korea
Equinor has formed a consortium with two Korean partners for the proposed Donghae 1 floating offshore wind project off Ulsan.
The company, Korea National Oil Corp. (KNOC), and Korea East-West Power will undertake a feasibility study for what could be the world's largest floating wind farm, generating 200 MW of power, and located close to the KNOC-operated Donghae natural gas field. It could involve use of the Donghae 1 platform as a substation for a wind farm.
If the conclusions are favorable, the consortium will start construction in 2022, with start-up potentially in 2024.
According to Stephen Bull, senior vice president for the wind and low carbon cluster of New Energy Solutions at Equinor, it would be more than twice the size of the Hywind Tampen wind farm that the company has commissioned offshore Norway.