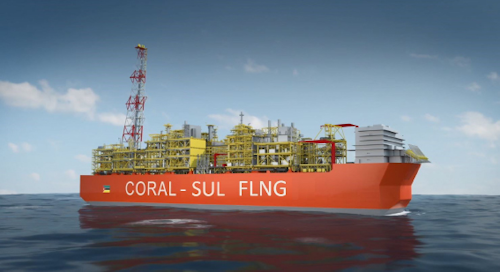 Eni
Offshore staff
SAN DONATO MILANESE, Italy – Eni has started installation works on the hull of the Coral Sul floating liquefied natural gas (FLNG) treatment and liquefaction unit that will be moored offshore Mozambique.
The unit is part of the Coral South project, which will put in production 450 bcm of gas from the Coral reservoir in Area 4 in the Rovuma basin. The hull is expected to be launched in 2020, in line with the planned production startup in 2022.
When completed the Coral Sul FLNG facility will have a gas liquefaction capacity of 3.4 MM tons/yr and will be the first FLNG vessel to be deployed in the deepwaters of the African continent. The vessel, which will be 432 m (1,417 ft) long and 66 m (217 ft) wide and weigh about 220,000 tons, will be able to house up to 350 people in its eight-story accommodation module. It will be anchored in 2,000 m (6,562 ft) of water by 20 mooring lines that weigh a combined 9,000 tons.
Construction works on the Coral Sul FLNG started in 2018 and are ongoing in seven operational centers across the world. Construction of the mooring turret began in March; construction of the hull's 24 modules that contain the LNG storage tanks and sections of the treatment facilities began in September. Construction of the topsides, consisting of 12 gas treatment and LNG modules, started last November, along with the living quarters.
According to Eni, by the end of the year the overall progress of the project is expected to exceed 60% completion with the total man-hours worked soon expected to reach 10 million.
Drilling and completion for the six subsea wells that will feed the liquefaction unit are expected to begin in September 2019. The wells will have an average depth of about 3,000 m (9,842 ft) and will be drilled by the ultra-deepwater drillship Saipem 12000 in about 2,000 m of water depth. The activities are expected to be completed by the end of 2020.
07/22/2019