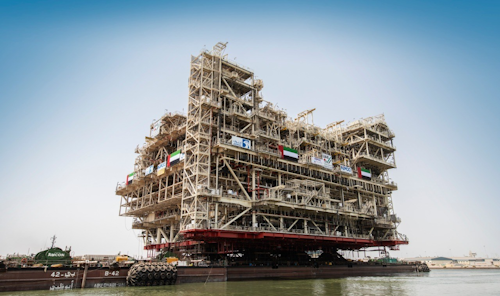 PRNewsfoto/NPCC
Offshore staff
ABU DHABI, UAE – National Petroleum Construction Co. (NPCC) has completed construction of the new 32,000-metric ton (35,274-ton) Umm Lulu gas treatment platform (ULGTP) for ADNOC.
This was part of an EPC contract awarded to the NPCC/TechnipFMC consortium for the Umm Lulu Package 2 full field development (process facilities).
The ULGTP will mainly handle gas including compression, dehydration, and sweetening while the field will have an oil production capacity of more than 100,000 b/d in 2020, supporting ADNOC's goal of increasing output from 3 MMb/d to 5 MMb/d by 2030.
As consortium leader for Umm Lulu, NPCC is responsible for detailed engineering, procurement, fabrication, offshore installation, commissioning and start-up of an offshore 'super complex' that will include an accommodation platform (ULAP), utilities platform (ULUP), water disposal platform (UMWDP), separation platform (ULSP), riser platform (ULRP), and the completed ULGTP.
Total weight of the six facilities is over 102,648 metric tons (113,150 tons).
Previously, NPCC had commissioned eight platforms for Umm Lulu Package 1. The two phases incurred investments of over $2.5 billion.
NPCC's scope under the contract extends to installation of over 2,555 km (1,587 mi) of cable and 150 km (93 mi) of pipeline.
The ULGTP, which measures 77.7 x 83.5 m (255 x 274 ft), was built by a global team that included Emirati engineers and professionals.
All raw materials were sourced mainly from within the UAE. Emirates Steel was the major steel supplier.
The ULGTP will now sail to the Umm Lulu field, after which NPCC will undertake commissioning, including installation of the platform via the float-over method.
06/27/2019