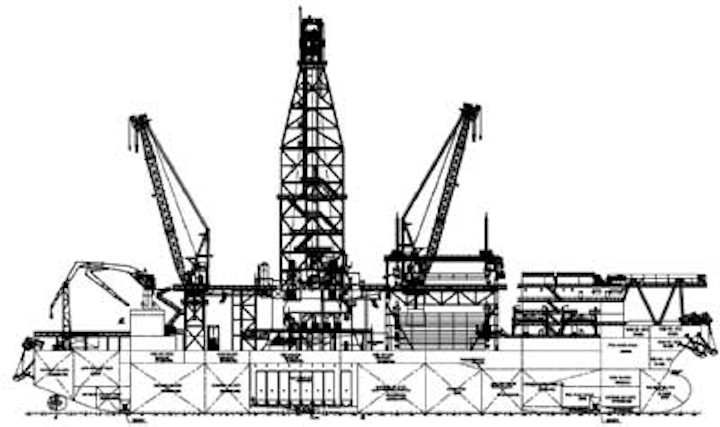 Robin Dupre
Sr. Technology Editor
Opus Offshore is a newly established offshore drilling services provider that has committed to using newbuild and fit-for-purpose vessels, specifically the Tiger drillships, with the aspiration to be a full-fledged drilling contractor that both owns and operates assets.
The company's three founding members, coupled with investments from the Reignwood Group, have positioned Opus Offshore to enter a niche market that has been largely ignored, thus far, in the Asia/Pacific region and globally. The company's mission was to fill an existing gap in the market by providing midwater drillships with new and updated equipment. Opus Offshore created the Tiger rig series in a concerted effort to include only the technologies that are truly required to drill a well, rather than expensive additions, the company states.
Recently,Offshore met with Graham Buchan, business development manager, to discuss the company's vision, goals, and strategic plan.
•••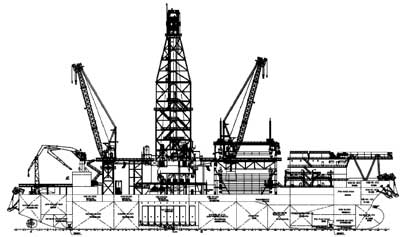 Opus Tiger 1 (short spec) (Drawing courtesy Opus Offshore)
Offshore: Last year, Songa Offshore sold two rigs to Opus while forming a joint venture drilling management company. Please discuss this strategy and vision behind the establishment of the new company.
Buchan: Opus strives to become the preferred mid to deepwater driller, exceeding client expectations, increasing shareholder value and providing motivating employment. To achieve this, Opus will deliver outstanding operations built on the foundation of quality systems and best practices and commercial astuteness.
The company will provide best in class support for supply chain management; business development; health, safety, and environment; human resources; and finance. Opportunities to grow the business in the mid to deepwater mild environment niche will be continually sought.
Further, we noticed that midwater rigs were all getting older, while most companies were focusing on deepwater, ultra-deepwater rigs and jackups. We decided to enter this market niche, specifically focusing on building midwater drillships with new and updated equipment. The Tiger rig series was thus born from this wager.
Additionally, due to the scarcity of rig workers, we have consciously chosen to focus on simple to use technology, thus our "simple is best" motto. Thanks to this decision, we do not have to rely on highly qualified electronic technicians or third-party contractors to make all repairs on our drillships.
Our own rig mechanics and electricians will not only be able to undertake preventive maintenance, but also to complete most repairs since the equipment we have sourced is familiar and easy to use. Overall, having exactly the necessary parts to function, the Tiger drillship is a fit-for-purpose rig with ideal specifications to complete midwater projects.
Finally, our drillships will have to compete against older rigs when they enter the market, which has made capital costs a major consideration, especially since the current drilling contractors could decide to bid their older rigs at lower prices. As such, we have to ensure our own financial viability over the next two to three years until operators realize the value of our product and are willing to pay for our new rigs.
Offshore: How do the Tiger rigs differ from midwater rigs on the market today?
Buchan: The Tiger class is a conventionally moored drillship for operations in 5,000 ft (1,520 m) water depth and have several features that most midwater rigs don't have. For instance, a high variable deck load of 18,000 tons; offline tubular handling facilities in the derrick from 27⁄8 to 133⁄8 in.; and also dedicated offline christmas tree handling facilities in the moonpool.
The rig can accommodate 150 personnel with state-of-the-art cabins and dining facilities; as well as a mud handling system that handles three different fluids at any time.
It is equipped with a Rolls Royce anti-roll system that can reduce the roll characteristics by up to 42%.
Lastly, it houses a Cameron 18¾-in. -5 Ram EVO 15,000 psi BOP with Cameron Load king 3.5 riser and Cameron multiplex control system conforming to the new API STD 53. Opus Tiger rigs are the only sixth-generation moored midwater drillships on the market today.
Offshore: Will each rig be equipped with a unique motion composition system?
Buchan: Yes, each Tiger drillship has a crown mounted compensator (CMC) that can act in either passive or active mode. The CMC is from Drilling Technological Innovations (DTI) in Houston. In January 2012, DTI was awarded a contract to supply fully integrated drilling motion compensation systems for the company's Tiger 1 and Tiger 2 drillships, with an option for a second pair.
The motion compensation package for the Tiger series includes DTI's slim-design single wireline tensioners with true 200,000-pound capacity at mid-stroke, advanced riser recoil system, full tension system control and crown-mounted compensator.
Offshore: How will the new drillships compete against older rigs when they enter the market? How does the company plan to stay competitive, especially in a down cycle that the industry is currently experiencing?
Buchan: The Tiger drillships have been built for a very good cost, under $300 million, but the equipment on board is all state-of-the-art. With the build cost we can offset this and give our clients a one-of-a-kind sixth-generation drillship with offline capabilities, reliability, excellent safety systems, comfortable accommodations and office space, all for around the same operating cost that a third- or fourth-generation midwater mobile offshore drilling unit would cost. Our drillships can do more tasks more efficiently than the older drillships, so we believe the delivery of the Tiger opens a new type of contract strategy for oil companies.
Offshore: What is your assessment of the contracting market for drillships in Asia?
We believe that Opus' entry into the market will encourage longer term contracts. Companies in the region can easily handle a long-term contract with a new vessel such as the Tiger that has the flexibility to operate from 300 to 5,000 ft (91 to 1,524 m) and that can be mobilized much faster than a semisubmersible.
Offshore: What are the company's long-term goals? It has been said that Opus will not enter the North Sea market and will focus solely on the midwater segment. Are there plans to enter other markets and geographical areas?
Buchan: Opus' long-term goals are to own and operate 8-12 MODUs in the midwater segment. We do have plans to own semisubmersibles, and they will be targeted toward North Sea, West Africa, Southeast Asia, and Australia.
Offshore: How did the company save on build cost?
Buchan: We saved by building the drillships in China, where they charge for the cost to build, and don't charge by the market's current value. With that being said, the equipment installed is sourced from every major international supplier, such as Cameron, DTI, ABB Group, Hyundai, PH Hydraulics & Engineering, and Ingersoll Rand.
We are not adverse to spending money on operational items to keep our rigs safe, but we do mandate that money is well spent and that procedures are done correctly the first time. Opus Offshore is very particular about maintenance, details, and ensuring a visually appealing final product. Overall, they look good and they will operate well in a safe and efficient manner. Our aim is to reduce the clients' well delivery costs.
---
Principal Particulars
Length Overall (LOA): 170 m (559 ft)
Breadth: 32 m (105 ft)
Draft: 10.5 m (34 ft)
Moon Pool dimensions: 19.6 m x 11.8 m (64 ft X 39 ft)
Storage Capacities
Bulk Mud: 8 x 42 m3 (11,800 ft3)
Potable Water: 1,270 m3 (7,988 bbls)
Sack Material: 10,000 sacks
Base Oil: 470 m3 (2,960 bbls)
Diesel Fuel (MDO) 2,550m3 (16,039 bbls)
Variable Load: ~18,000 metric tons (19,841 short tons)
Liquid Mud: 4,145 bbl active & 7,900 bbl reserve