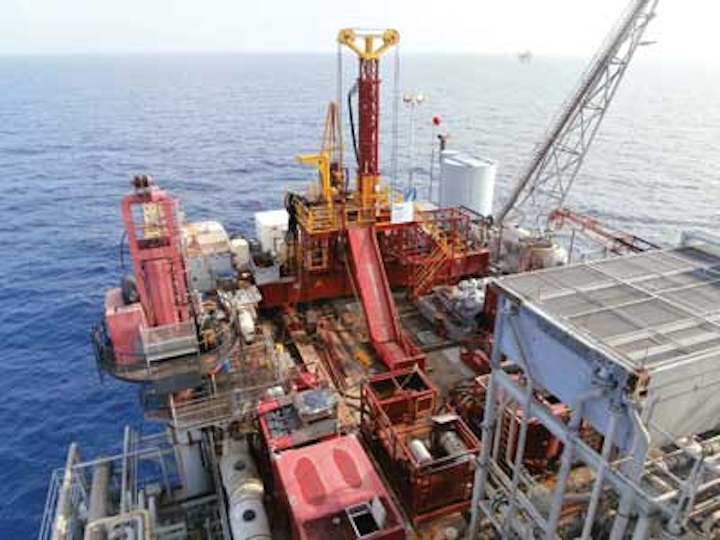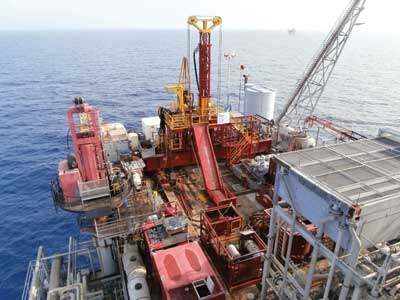 The Rig-Free Light Duty unit provides a solution for platforms with space and structural limitation. (Photos courtesy Weatherford)

P&A in maturing wells becoming a growing priority
Cham Soon Hoe
Weatherford
As an integral and critical component of well P&A, conductor removal requires efficiency and safety in order to ensure operating companies comply with increasing regulations and maintain environmental stewardship. Globally, Weatherford estimates 20,000 idle offshore wells are currently in need of P&A services, which account for around 43% of total well abandonment costs. The spend globally for decommissioning over the next 20-year period is estimated at $400 billion, the percentage of that associated with well abandonment and pre abandonment intervention is estimated at circa 40%.
Regulations require that wells must be abandoned when they have matured and are no longer productive due to depletion or damage, or cannot be revitalized cost-effectively. In some regions, governing bodies will not issue new permits to an operator until the company's idle wells are formally abandoned.
In the Gulf of Mexico, if a well has not been productive for three or more years, the operating company must develop an abandonment plan specifying a timeframe and methodology for the process. The maturing North Sea sector is also highly regulated when it comes to well abandonment. Stricter regulations are being developed for the Asia/Pacific region, where a large number of old wells are now candidates for P&A, the overwhelming majority of them on platform wells.
For service companies, P&A operations require thorough planning and operational excellence. Projects must be carried out in an efficient, safe, and in an environmentally-responsible way while complying with regulatory framework that varies from region to region.
In response to this growing market, Weatherford has developed a portfolio of services designed to facilitate single-source well P&A operations, including conductor removal from multi-well and single-jack platforms and mono-wells. In June 2014, the company completed a four-well conductor removal project for a major operator in Brunei, successfully recovering 24 joints and a total of 1,129 ft (60 m) of pipe in just over 100 hours.
The suite of services used for the operation provided a one-time solution, minimizing overall costs related to non-productive time (NPT) and additional remediation that can result from poorly-planned and executed projects. Safety was enhanced by using equipment that mitigated the risk of lifting and eliminated manual handling and gas torch/hot work issues.
Conductor removal
Removal of the conductor, the outer pipe casing that houses the internal casing string, can be facilitated with an existing rig at the well site, or by using a rigless solution with a light-duty pulling and jacking unit. If executed properly, conductor removal also provides a secondary benefit of facilitating slot recovery on multi-well platforms. After the conductor is removed below the mudline, the operator can install a conductor-type whipstock and drill a new well in the same platform, taking advantage of the existing infrastructure.
As the abandonment portion of a well abandonment project, conductor removal is essential, and requires a full suite of complementary tools and technologies. The conductor is typically run about 200 ft (61 m) below the mud line from an offshore platform, and its assembly consists of one or more strings cemented together. In a well P&A project, after the reservoir's production zone is successfully plugged to prevent any hydrocarbons from leaking back to the surface, conductors are abandoned, or removed, to a point 3 m to 5 m (10 ft to 16 ft) below the mudline in order to leave a flat, clear ocean floor surface. Operational complexity varies depending on the water depth, total weight, and number of strings.
The Weatherford conductor removal technology family includes boring, pinning, sawing, and lifting systems to remove multiple subsea casing strings safely and quickly. A four-unit conductor cleaning system eliminates the exterior casing of any marine growth. After the initial cuts to the external and internal multi-string casing, the system bores holes through the strings, enabling the installation of pins through the holes. This process also provides a lifting mechanism that binds and secures the group of strings together. The secured strings are lifted by blocks or casing jacks with no slippage. Depending on the weight, length and the ability to pull and lay down each section of casing safely, a predetermined length is for each section is cut.
An external reciprocating saw cuts 2-in. to 32-in. pipe to enable sectioning of most material or grade. The saw provides fully-automated clamping, cutting feed, and cutting speed capabilities that allow the operator to maintain cutting consistency and control remotely. All moving parts are equipped with guards.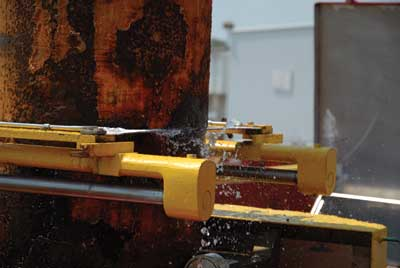 The conductor removal technology has enhanced safety by eliminating manual handling and hot work issues.
Brunei project
The four-well conductor removal project in Brunei was completed with an existing rig on a multi-slot platform, and involved the removal of multiple casing strings in various sizes and configurations. With each well, the time and efficiency improved. The first well involved laying down six 12 m (39 ft) sections of 133⁄8-in.-by-20 in.-by-26-in. casing. The job was completed in 38 hours, including 90 minutes average boring time and 60 minutes average cold-cutting time.
Based on lessons learned in the first well, the second operation was completed in 24 hours, and involved laying down five 12-m (39-ft) sections of 20-in.-by-30-in. casing. Average boring time was reduced to 60 minutes and average cold-cutting time maintained at 60 minutes. Conductor removal on the third well took 24 hours, with average boring time improving from 60 to 40 minutes. The job involved laying down six 12-m (39-ft) sections of 20-in.-by-30-in. casing. Average cold-cutting time remained at 60 minutes.
The fourth well showed the most improvement in time, with the operator laying down six 12-m (39-ft) sections of 185⁄8-in.-by-30-in. casing in 22 hours. Average cold-cutting time remained at 60 minutes; however, average boring time improved from 40 to 30 minutes. In all operations, the boring, pinning, cold-cutting, and laying-down activities were completed safely with no lost time incidents or environmental events, with total conductor removal completed in 108 hours.
In situations where a rig is not available or where space and structural limitations and/or downgraded and damaged derricks prevent the use of a rig, a light-duty pulling and jacking unit (P&JU) that can handle conductors up to 36-in., pull 13,607 kg (30,000 lb) and jack (13,607 kg) 1 million lb is available. The unit has a hydraulically-powered telescoping mast positioned just above the well center, allowing the BOP to be positioned underneath in compliance with regulatory requirements and the ability to accommodate changing well conditions. The P&JU also has an integrated jacking system and power swivel stand that requires minimal rig-up time. It is equipped with a self-clamping system and can skid from well to well on a platform.
Abandonment is the final and inevitable stage of every well. Safe and efficient P&A programs, including conductor removal, are increasingly becoming a priority for production companies to ensure they are in regulatory compliance, maintain high environmental standards, and can move forward with new exploration and production initiatives. An integrated portfolio that provides the necessary fit-for-purpose and latest technologies and expertise, as well as flexibility, is critical in carrying out complex conductor removal operations efficiently, while avoiding risk, and NPT remediation costs.