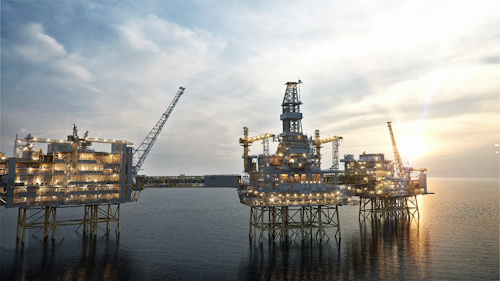 Offshore staff
STAVANGER, Norway – Statoil says the Johan Sverdrup Phase 1 development in the Norwegian North Sea is nearly 70% complete.
The current Phase 1 capex estimate is NOK88 billion ($11.21 billion), a reduction of NOK5 billion ($637 million) – close to 30% – since Norway's parliament approved the plan for development and operation (PDO) in August 2015. The break-even price has come down to less than $15/bbl.
Johan Sverdrup is also benefiting from Statoil's drilling and well improvement program, said Margareth Øvrum, evp for Technology, Projects & Drilling. "We've drilled more wells than planned, more than one year ahead of plan, which has contributed greatly to cost reductions in the project.
"The wells also make our production plans even more robust and have improved our knowledge of the reservoir. Based on this, we are now able to increase the resource estimate for Johan Sverdrup further."
Statoil now estimates recoverable resources for Phase 1 in the range of 2.1-3.1 Bboe.
The company expects to submit the PDO for Phase 2 in the second half of 2018, at a current cost of less than NOK45 billion ($5.73 billion). This has pushed the overall break-even for the full-field development to less than $20/bbl.
"The standardization of equipment packages, copying of good solutions, and doing things right the first time – in collaboration with our suppliers – has been critical to the positive developments that we see in the first phase of Johan Sverdrup. In Phase 2 we are taking this one step further, and we are starting to see the results of this," said Kjetel Digre, project director for Johan Sverdrup.
A more streamlined operation and maintenance model, combined with increased use of digital and automated solutions, has also helped lower estimated operating costs by nearly NOK1 billion ($127 million) annually.
Phase 1 is set to start up in late 2019 with production capacity of 440,000 b/d of oil. Phase 2 is expected to start up in 2022, with full field production estimated at 660,000 b/d of oil.
At peak, the field will supply 25% of all Norwegian petroleum production.
Rystad Energy analyst Matthew Fitzsimmons said the cost reduction were in line with recent offshore development trends.
"Their focus on simplification, design enhancements, and execution efficiencies have made their offshore prospects competitive with North American shale projects…
"On Sverdrup, Statoil has driven the breakeven cost down to about $15 per barrel – a truly remarkable achievement. North American shale, meanwhile, now has an average breakeven above $40, and is already feeling the impacts of a heated market.
"The number of completed wells per month has doubled since the trough in 2016. While this is challenging US shale costs with inflation, the northern Atlantic region appears protected thanks to long-term contracts for key services such as drilling, subsea and surface facilities. We anticipate these offshore projects to build on their recent advantages and deliver greater shareholder value over the next few years."
02/07/2018