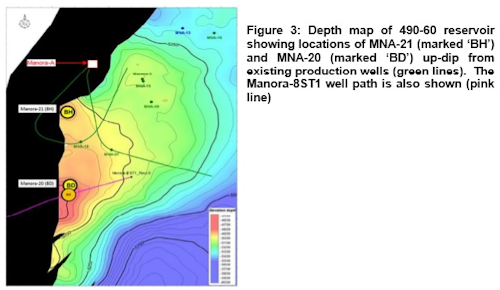 Offshore staff
PERTH, Australia – Mubadala Petroleum and its partners have approved a four-well program at the Manora oil field in the Gulf of Thailand, all to be drilled by the jackup Ensco 115.
According to partner Tap Oil, the sequence will be as follows:
Manora-8 exploration well to test the Manora Footwall prospect, a large aerial closure in the upthrown (footwall) side west of the Manora Central block. The well will also test two secondary exploration targets.
Manora-8ST1 to appraise the 300-reservoir, the 400 series sands, the 490-60 reservoir and the 500 series up-dip from MNA-18 in the eastern fault block.
MNA-20 development well drilled from the Manora platform to produce undeveloped attic and bypassed oil in the 490-60 reservoir in the eastern fault block south of MNA-18. Contingent on success at the previous two wells, there will be two deeper objectives: MNA-20 will likely be brought onstream from an existing slot on the Manora platform.
MNA-21 development well – again drilled from the Manora platform to produce potential bypassed and attic oil from the 490-60 reservoir. If Manora-8 is successful, the well will be deepened to test an additional objective in the footwall fault block to appraise and potentially produce from the footwall reservoir (VMIT-22). MNA-21 too will be brought into production from an existing slot on the platform.
05/08/2018