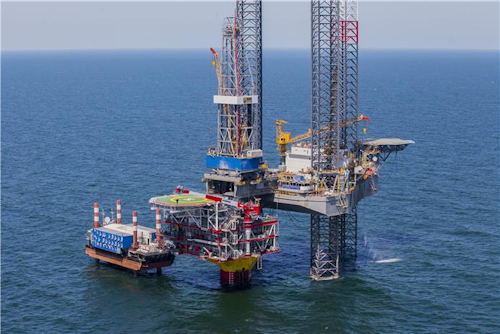 Offshore staff
MOSCOW – Lukoil has completed drilling of the first production well from the wellhead platform at the second-stage Yury Korchagin field development in the Russian sector of the Caspian Sea.
Stage 2 extends production into the eastern part of the field.
The single-bore well with horizontal completion was drilled from a jackup, with a reach of 4,235 m (13,894 ft) and an MD of 5,217 m (17,116 ft). Initial flow rate was around 500 t/d of crude oil - a lower completion system with multi-position inflow control valves should help maximize the well's potential, Lukoil said.
In addition, the company completed construction of a 1,408-m (4,619-ft) side track in the single-bore production well #14 under an additional Stage 1 drilling program.
The upgraded well with isolated bores will make it possible to produce oil from both the original bore and the side track, increasing the hydrocarbon recovery factor.
All current measures should also prolong the field's production plateau.
Yury Korchagin started production in 2010 via a fixed offshore ice-resistant platform with a drilling facility, a living quarter platform and an offshore transshipment facility.

Stage 2 includes new multi-phase intra-field pipeline and power cable connections with the Stage 1 drilling platform.
07/25/2018