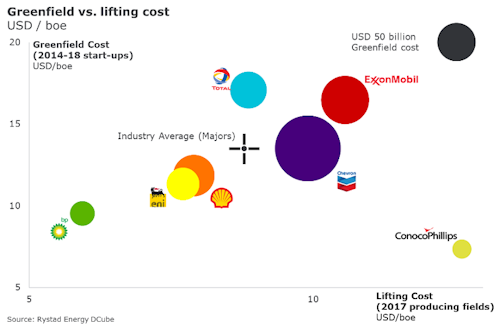 Offshore staff
OSLO, Norway – A Rystad Energy review of recent projects suggests three European oil majors are outperforming their peers.
For projects that have started up since 2014, the majors have achieved collective greenfield costs of $13.5/boe.
Those development costs were in addition to their collective lifting costs of $8.80/boe from 2017 onwards.
Matthew Fitzsimmons, VP at Rystad Energy, said: "It is remarkable thatBP, Eni, and Shell introduced over $109 billion of new greenfield projects below the industry average greenfield cost and still were able to still achieve industry-leading lifting costs in 2017."
Conversely, despite starting-up nearly $75 billion worth of project investments, ExxonMobil's greenfield performance on the PNG LNG Phase 1 and its lifting cost performance on Kearl Phase 2 brought down the company's overall score to trail industry averages (weighted average for majors), the review found.
"We've noticed that ExxonMobil's greenfield investments have been virtually non-existent since 2014," Fitzsimmons said. "Their only major greenfield project approval since 2015 was the $4.4-billionLiza Phase 1 FPSO project in Guyana."
He added, however, that "We've also noticed that ExxonMobil has improved its greenfield cost performance since 2014 as it gears up to take on the challenge put forth by the company CEO to double earnings by 2025."
During the downturn BP, Eni, and Shell have all been steadily approving greenfield projects, the collective value of which – since 2015 – is around $64 billion, with BP alone approving over $27.6 billion of projects during the recent downturn.
"BP's best-in-class lifting costs from 2017 of below $6 per producing barrel should give investors confidence when all these new projects come online," Fitzsimmons said.
"Eni's recent $25.4 billion greenfield approvals have exclusively been to bolster its offshore portfolio. The company's investments in several mega-offshore projects, such asCoral FLNG, Sankofa East FPSO and three phases of Zohr, are good news in relation to the offshore industry's attempt to rebound."
Overall the majors look set to approve more than $37 billion in projects during the calendar year, of which over 30% ($12 billion) were approved during the second quarter.
"It comes as no surprise that BP, Eni, and Shell have led the way in new project investments during the recent downturn. The three majors are well positioned to build on their industry leading greenfield and lifting cost performance," Fitzsimmons concluded.
07/24/2018