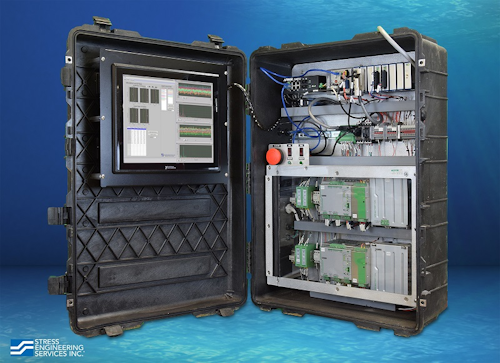 Offshore staff
HOUSTON – Stress Engineering Services Inc. (SES) has delivered a real-time drilling riser and wellhead monitoring system (RFMS), in conjunction with its condition-based maintenance (CBM) process for Noble Corp.'s ultra-deepwater drillship Noble Tom Madden.
The RFMS provides subsea measurements with a high degree of reliability for the drilling riser and wellhead systems. By recording the motion of the drilling riser, wellhead, and casing system at discrete points in a time synchronous manner, fatigue damage is determined and actionable information on the health of these components can be delivered to the rig crew.
SES's CBM process supports structural integrity evaluation and maintenance assessments of drilling risers to assess the condition of drilling riser joints, determine when important components will need service or replacement, and assess the remaining life of the component. This process is function-based on a tailored period, rather than time-based, which is said to improve performance economics for operators.

For this project, a life cycle CBM system will be deployed and performed on the MODU.
Chuck Miller, vice president, Stress Engineering Services, said: "Our ABS-qualified CBM process will remove uncertainties surrounding damage of the riser joints. We are proud that our CBM process and RFMS technology arms drilling engineers with innovative automation, digitalization and data analysis techniques and empowers them to make more informed decisions."
Orlan Lyle, Director-Worldwide Subsea & Maintenance, Noble Drilling Services Inc., said, "Using SES's CBM process together with their RFMS technology will allow us to make data driven decisions concerning the condition of our assets. The associated insight helps us focus on safety, identify measurable risks, manage our economics with actionable data, and ultimately provides us with better information on the health of our assets."
10/03/2018