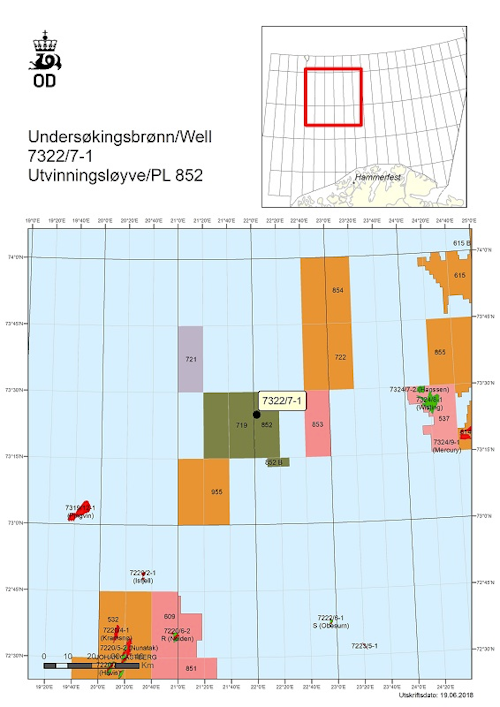 Offshore staff
OSLO, Norway – The Norwegian Petroleum Directorate (NPD) and Petroleum Safety Authority (PSA) have issued various permits for exploration drilling and facilities removal on the Norwegian shelf.
Spirit Energy Norge has NPD's approval to use the semisubmersibleIsland Innovator to drill well 7322/7-1, the first on license PL852 in the Barents Sea, which was awarded two years ago.
The location is roughly 70 km (43 mi) west of OMV's 7324/8-1 (Wisting) discovery and 110 km (68 mi) northeast ofEquinor's Johan Castberg development.
Drilling will start after the rig has completed appraisal well 6506/9-4 A for Spirit in Norwegian Sea PL433.
Aker BP's approval from the NPD covers appraisal wells 25/10-16 S, 25/10-16 A and the wildcat 25/10-16 B in the North Sea in PL028B.
All will be drilled by the jackupMaersk Intrepid after it has completed a production drilling program for Equinor on the Martin Linge field in the northern part of the North Sea.
In this case, the location for all three wells is around 10 km (6.2 mi) north of the Aker BP-operated Ivar Aasen field in the central Norwegian North Sea.
These are the first wells on the actual license, although two exploration wells were drilled when the oil and gas discovery 25/10-8 Hanz was proven and delineated for the first time in 1997.
Equinor has approval from the PSA to drill well 7324/3-1 in 452 m (1,483 ft) of water in the Barents Sea on the Intrepid Eagle prospect in PL 615, 172 km (107 mi) southeast of Bjørnøya.
The semisubWest Hercules is due to start the operation – which could last 28 days in the event of a discovery – in mid-August.
And the PSA has authorized Aker BP to remove subsea facilities on theJette field in the central Norwegian North Sea, 6 km (3.7 mi) south of the Point Resources-operated Jotun field in 127 m (416 ft) water depth.
Jette was proven in 2009, and the plan for development and operation was approved three years later. The field was developed using a subsea template with two production wells tied to Jotun A: production ceased in December 2016.
Removal of the facilities will start this summer and continue during 2019-20, after the wells have been permanently plugged.
06/22/2018